Finding the Fits: Speedy Seahawks even faster with Paul Richardson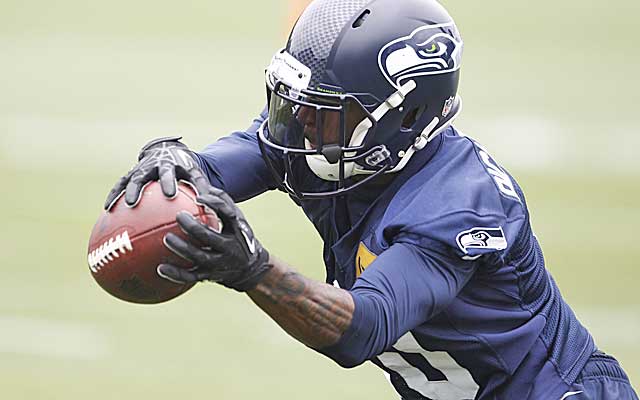 This article is one of a series called Finding the Fits in which NFLDraftScout.com will review some of the more intriguing picks made during the 2014 NFL Draft. The goal of the series is to identify one relatively unheralded player per team who appears to be a good schematic fit and, therefore, more likely to be a surprise contributor early in his pro career.
Seattle Seahawks' best fit: WR Paul Richardson, Colorado
Returning the core of players that guided Seattle to their first NFL championship in team history, there are limited opportunities for rookies to make an immediate impact for the Seahawks in 2014.
Only one rookie -- former Missouri offensive tackle Justin Britt -- is in realistic position to battle for a starting role, as he and second-year pro Michael Bowie will compete to replace free agent departure Breno Giacomini (New York Jets) at right tackle.
The only rookie that general manager John Schneider selected ahead of Britt was Richardson, a classic vertical threat expected to help fill the void left by another free agent departure Golden Tate (Detroit Lions), who quietly led the Seahawks in receiving and punt returns a year ago.
Head coach Pete Carroll, of course, is hoping that the dynamic but oft-injured Percy Harvin takes over as the Seahawks' primary receiver and that veterans Sidney Rice, Jermaine Kearse and Doug Baldwin continue to flourish in their roles. Each has become accomplished, reliable route-runners who have earned Russell Wilson's trust and likely will catch more passes in 2014 than Richardson. The impact that Richardson provides is likely to be on "shot" plays down the field, taking advantage of Wilson's touch on the deep ball and defenders attacking the line of scrimmage in an effort to slow down Marshawn Lynch.
Richardson is perfectly suited to star in this role. He was clocked at 4.33 seconds (hand-held) in the 40-yard dash at the NFL Combine and this speed translates onto the field, where despite a limited supporting cast he scored 21 touchdowns in 25 career starts at Colorado (averaging an eye-popping 40 yards per score).
In this big play, all-or-nothing complementary role Richardson won't so much be the icing on the cake as the candle, capable of drawing oohs and aahs from the raucous 12th Man as he burns opponents.
Other thoughts on the Seahawks' 2014 draft class:
Famously ignoring Wilson (and Earl Thomas') height, Richard Sherman's lack of experience at cornerback, Bruce Irvin's relatively slim frame or the fact that Lynch would keep Christine Michael sidelined, the Seahawks have made surprising picks on draft day the norm since Carroll and Schneider took the reins in 2010. In Seattle, the marriage of Carroll's coaches and Schneider's scouts has prioritized unique athletic traits, physical toughness and competitive spirit over more traditional attributes. Richardson's speed is the best example of this philosophy from the 2014 class but don't overlook Britt, a well-built 6-foot-6, 325-pounder who wouldn't have earned the No. 64 overall pick without a ringing endorsement from assistant coach and offensive line guru Tom Cable. Britt's conversion from left to right tackle and the fact that he starred out of the two-point stance in Missouri's spread earned him a fifth round grade from many in the media (including NFLDraftScout.com) but I liked him on tape enough to compare him to a "surprise" rookie standout last year) he was the steadiest of Seattle's rookies during early camps and is a legitimate candidate to overtake Bowie, should the former Northeast Oklahoma State (and previously Oklahoma State) product get complacent.
In part due to the Seahawks' unique rubric, the club has famously enjoyed great success in the middle and later rounds. Excellent depth could keep this year's later-round picks from making a significant statistical impact as rookies but UCLA defensive lineman Cassius Marsh, Alabama wide receiver Kevin Norwood and Boston College linebacker Kevin Pierre-Louis are good fits for Seattle's scheme. Marsh is a physical and relentless defender with experience playing inside and out in multiple alignments. Given the loss of defensive linemen Red Bryant, Clinton McDonald and Chris Clemons, Marsh (and youngsters Greg Scruggs and Jesse Williams) will be expected to add to Seattle's rotation. Norwood doesn't possess Richardson's game-breaking speed but he's actually a more reliable route-runner and hands-catcher at this point in his career. He was under-utilized at Alabama but consistently stepped up when called upon, especially in big games. Like Super Bowl XLVII MVP Malcolm Smith, Pierre-Louis' lack of ideal size was a concern for many clubs but his speed (clocked at 4.46 at the Combine) makes him perfectly suited to Carroll's fast-flowing defense. The Seahawks aren't as big - and may not prove as physical as the unit that simply man-handled most opponents a season ago - but there is no question that they are faster.
Seattle's impressive track record in undrafted free agency (Baldwin, Kearse, OL Alvin Bailey, etc.) could be enhanced this year with safety Dion Bailey and offensive tackle Garry Gilliam already generating plenty of buzz. Bailey proved to be a standout at linebacker and safety throughout his career at Southern Cal but concerns about where the 6-foot, 201-pounder projects best in the NFL were only enflamed when he was clocked at 4.62 seconds in the 40-yard dash. I believe Bailey will prove an example of a good player slipping through the cracks due to the paralysis-by-analysis that sometimes occurs when teams focus too much on measureables. Bailey, a three-year starter who left USC with 222 career tackles and 11 interceptions, may lack elite size or straight-line speed but he has very good instincts and changes directions fluidly. He's facing an uphill battle with the Seahawks because their secondary may just be the deepest and most talented unit in the league, but Bailey will, at worst, be signed to the practice squad, if he doesn't outright make the team. Gilliam, who until 2013 played tight end at Penn State, has the combination of size (6-foot-6, 303 pounds) and agility to make him an ideal developmental prospect for Cable to cultivate.
Seattle's 2014 draft class:
2nd Round - No. 45 overall - WR Paul Richardson, Colorado
2nd Round -- No. 64 overall - OT Justin Britt, Missouri
4th Round - No. 108 overall - DE Cassius Marsh, UCLA
4th Round - Np. 123 overall - WR Kevin Norwood, Alabama
4th Round - No. 132 overall - OLB Kevin Pierre-Louis, Boston College
5th Round - No. 172 overall - DT Jimmy Staten, Middle Tennessee State
6th Round - No. 199 overall - OT Garrett Scott, Marshall
6th Round - No. 208 overall - DB Eric Pinkins, San Diego State
7th Round - No. 227 overall - FB Kiero Small, Arkansas
Key Undrafted Free Agents Signed:
S Dion Bailey, Southern Cal
OT Garry Gilliam, Penn State
LB Brock Coyle, Montana
DE Jackson Jeffcoat, Texas
WR Kevin Smith, Washington

Read more about all of Seattle's picks here.