Finding the Fits: Lamarcus Joyner stands tall in loaded Rams' draft class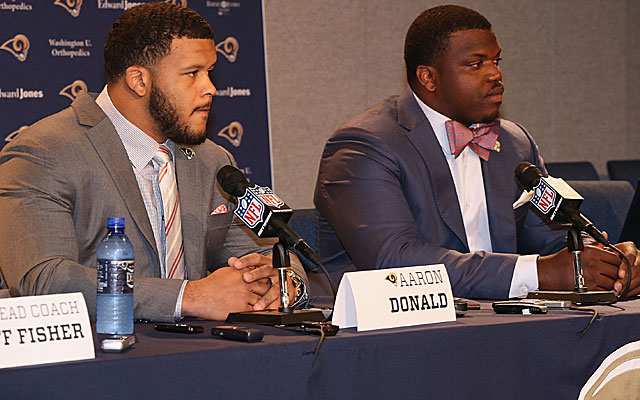 More NFL: Photos | Videos & GIFs | Stories | Training Camps | Manziel watch
This article is the last in a 32-part series called Finding the Fits in which NFLDraftScout.com will review some of the more intriguing picks made during the 2014 NFL Draft. The goal of the series is to identify one relatively unheralded player per team who appears to be a good schematic fit and, therefore, more likely to be a surprise contributor early in his pro career.
St. Louis Rams' best fit: DB Lamarcus Joyner, Florida State
Given that the Rams owned two of the first 13 picks in the most talented draft class in years, it isn't surprising that general manager Les Snead and head coach Jeff Fisher have been given plenty of kudos for the talent they brought to St. Louis via the 2014 draft.
To compete in the ultra-physical NFC West, the Rams had to improve along the line of scrimmage and this was accomplished with those first two picks, nabbing the draft's most talented offensive lineman in Auburn's Greg Robinson and most tenacious defensive lineman in Pittsburgh's Aaron Donald.
The Rams' next pick, Joyner, hasn't earned nearly as much attention since the draft as the two players selected ahead of him (or frankly, of a few players selected after him), but the second-round pick is expected to play a significant role immediately.
Fisher characterized Joyner as a "plug-in day one nickelback" after the Rams selected him with the 41st overall pick. A few years ago, a nickel cornerback might only get 10 snaps a game. With the rise of three and four receiver sets throughout the league, however, many teams are now employing five defensive backs (nickel) as their base defense. Whether he actually starts the game or not will have more to do with the opponent being played each week but make no mistake, Joyner -- and nickel cornerbacks throughout the league -- are now being considered the 12th starter by many defensive coordinators.
It isn't just schematics that make Joyner a good fit in St. Louis. He also possesses the work ethic and leadership skills to help unite a secondary starring "outside" corners Janoris Jenkins and Trumaine Johnson, two talented defenders who slipped in their respective draft two years ago primarily due to character questions.
At just 5-foot-8, 184 pounds, Joyner would be easy to write off as too small to make the transition to the NFL -- if he hadn't been so productive (197 tackles, 15 passes broken up, eight interceptions and 6.5 sacks) and durable for the Seminoles, the reigning national champs. Joyner is highly instinctive, athletic and surprisingly physical. He played in every game of his collegiate career (including starting the final 41 contests), logging time at free safety, strong safety, outside corner, nickelback and kick returner.
With Seattle's Earl Thomas and Arizona's Tyrann Mathieu already proving that size can be overrated, the precedence has been set for undersized defensive backs enjoying success in the NFC West. In fact, given that the 49ers made the 5-foot-11, 193-pound Jimmie Ward their first pick as well, every team in the division is banking on their "little" star to be the next big thing.
Other thoughts on the Rams' 2014 draft class:
It will only be scouts and coaches keeping score but the battles between Robinson and Donald in training camp this summer should be worth the price of admission into a game. Robinson is a mauler in the running game, whose length (35-inch arms), strength (32 reps) and remarkable athleticism could eventually make him the division's best offensive lineman. Donald's terrific quickness, however, is going to give him plenty of trouble as the No. 2 overall pick makes the transition from the left tackle role in which he starred at Auburn inside to left guard. Donald's agility and tenacity, in fact, makes him a terrific complement to star defensive end Robert Quinn, who finished second in the NFL a season ago with 18 sacks in just his third year in the league. Given the athleticism in the secondary and the aggressive play calling of defensive coordinator Gregg Williams, the Rams could boast the NFL's most ferocious pass rush in the NFL in 2014.
I highlighted Zac Stacy as the Rams' best fit a year ago and therefore I'm not the least bit surprised that he ultimately won the starting running back job and enjoyed success (973 rushing yards, seven touchdowns). Stacy is a no-nonsense, grinder of a back whose effectiveness should be only enhanced with the powerful Robinson inserted into the lineup. Third-round pick Tre Mason, however, is a more explosive runner who eventually could overtake Stacy as the Rams' primary back. Whereas Stacy is at his best running inside, Mason has the speed to beat linebackers to the edge, as well as a terrific jump-cut to attack cut-back lanes, making him a more dynamic big-play threat.
The talent along the Rams' defensive line is a blessing and a curse for Michael Sam. He'll certainly get one-on-one opportunities and his combination of burst, power and a high-revving motor could result in the big plays made during preseason games that help the seventh-round pick make the roster. With Quinn, Chris Long and a strong stable of veterans in Kendall Langford (entering his seventh NFL season), William Hayes (seventh), Eugene Sims (fifth) and Alex Carrington (entering his fifth NFL season) all currently ahead of him on the depth chart, Sam will very much have to earn a roster spot as the Rams may boast the league's deepest defensive line. Sam is particularly vulnerable because he doesn't offer much versatility. At 6-foot-2, 261 pounds, he's slightly smaller than teams would prefer at defensive end but doesn't possess the fluidity to drop back or the speed to play a significant role on special teams. Undrafted free agent Ethan Westbrooks (one of three standout prospects signed after the draft) is going to turn some heads in St. Louis, as well. He's raw but bigger (6-foot-4, 267), more explosive and versatile than Sam.
St. Louis' 2014 draft class:

1st Round -- No. 7 overall -- OG Greg Robinson, Auburn
1st Round -- No. 13 overall -- DT Aaron Donald, Pittsburgh
2nd Round -- No. 41 overall -- S Lamarcus Joyner, Florida State
3rd Round -- No. 75 overall -- RB Tre Mason, Auburn
4th Round -- Np. 110 overall -- S Maurice Alexander, Utah State
6th Round - No. 143 overall -- CB E.J. Gaines, Missouri
6th Round -- No. 149 overall -- QB Garrett Gilbert, Southern Methodist
7th Round -- No. 185 overall -- OT Mitchell Van Dyk, Portland State
7th Round -- No. 241 overall -- CB Christian Bryant, Ohio State
7th Round -- No. 249 overall -- DE Michael Sam, Missouri
7th Round -- No. 250 overall -- OC Demetrius Rhaney, Tennessee State
Key Undrafted Free Agents Signed:
WR Austin Franklin, New Mexico State
CB Marcus Roberson, Florida
DT Ethan Westbrooks, West Texas A&M
Read more about all of St. Louis' picks here.