2015 NFL Draft: Notre Dame Preview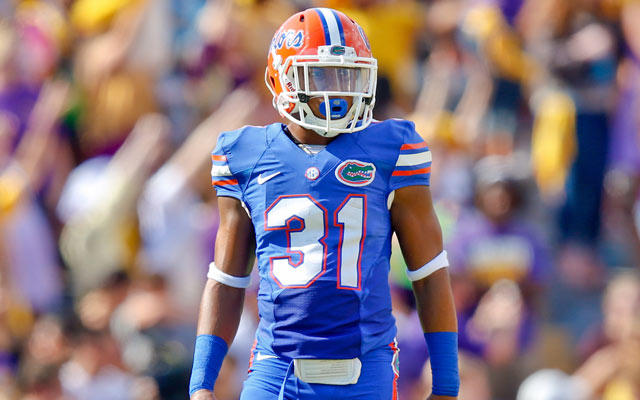 The Irish finished the 2013 season ranked 20th in the APs after posting a 9-4 record, in the school's final year of complete independence. Well...kinda. Though the football program will still technically maintain independent status, they'll be required to play as many as five ACC opponents per year in accordance with a new arrangement that puts all Notre Dame sports, except football and ice hockey, fully into the ACC.
Regardless, the number 20 ranking was the second ranked finish in Brian Kelly's tenure - a tenure that continues in 2014 without several key contributors from last season including eight who were selected in this year's draft, with five going before the fourth round.
Despite substantial losses, strong recruiting classes by Kelly and Co. have led to solid depth across the board, and several of the players who will be counted on to step up this season could draw significant interest from scouts at the next level, including seniors Ben Koyack (TE), Cody Riggs (CB/S) and Christian Lombard (OG) as well as a couple of talented underclassmen in CB KeiVarae Russell and explosive DT Sheldon Day.
Can Brian Kelly earn the sixth year that has eluded Notre Dame head coaches since 1991?
Notre Dame's top NFL Draft-eligible prospects to watch in 2014
*Indicates underclassman
TE Ben Koyack (6'4 | 261 | 4.77 | #18)
A John Mackey Award watch list member who started five games for the Irish last season catching 10 passes for 171 yards and three touchdowns, Koyack has a chance to be the next in an impressive line of Notre Dame tight ends to draw high draft selections as Kyle Rudolph (2011, 43rd overall), Tyler Eifert (2013, 21st overall) and most recently Troy Niklas (2014, 52nd overall) have all been among the top picks at their position over the last four years.
A thickly-built athlete who lined up primarily as a lead blocker in the running game both at H-back or fullback in 2013, Koyack demonstrates strength, flexibility and quickness at the point of attack, routinely sealing the edge or clearing the hole with leverage and physicality. As a receiver, Koyack shows impressive burst off the line, is able to sink and accelerate out of cuts, and possesses superb arm length, coordination and soft hands to pluck the ball off his frame. He also exhibits a strong second gear after the catch and the athleticism to break down and make defenders miss in the open field.
With Niklas now gone to the NFL, 2014 could be Ben Koyack's year to breakout and show NFL teams that, just like his predecessors, he's one of the more well-rounded tight end prospects in the nation.
CB Cody Riggs (5'9 | 190 | 4.56 | #-)
A Florida transfer and redshirt senior who arrives in South Bend as the Irish's most experienced member on defense with 25 starts and 40 games under his belt, Riggs made the move to safety last year for the Gators after registering starts at corner in each of his previous three seasons including three as a true freshman in 2010 and ten in 2011. He ended the 2013 season fourth on the team in tackles (51), including 10 tackles-for-loss and a sack. A foot fracture ended his season early in 2012, resulting in a redshirt, and affording him the ability now as a graduate to transfer and play without sitting out a year.
Riggs may not be physically imposing in size, but he's a tough defender with surprising physicality, good instincts and explosiveness. As a corner, he demonstrates the fluidity and strength to jam, flip and run from press, but also exhibits the quickness and agility to play off, or move inside and cover slot receivers. Add his safety experience to the mix, and you have one very versatile defender with the flexibility that defensive coordinators covet at the next level.
Riggs's most glaring drawback is his lack of big plays on the football when considering all the time he's had on the field, having only managed a single interception in 40 games, which came at the end of his true freshman season. If he can show better play-making ability as a senior, Riggs could be a top-100 selection next spring.
OG Christian Lombard (6'5 | 315 | 5.26 | #74)
After starting all 13 games in 2012 at right tackle, Lombard kicked inside to right guard in 2013 where he was a crucial part of an offensive line that allowed just eight sacks (2nd in the FBS) on the year, and started the first seven games of the year before suffering a season-ending back injury.
As a run-blocker, Lombard demonstrates nice initial quickness off the snap, and good awareness to identify, square up and explode into his target, and aims to finish each opponent into the turf. In pass-protection, he exhibits a fluid kick-slide and possesses the length and strong hands to keep rushers at bay. He could improve his overall blocking technique though as he has a tendency to get high in the pads too often, enabling defenders to get into his chest plate and control him, and he fails to routinely extend his arms off the snap.
The flashes of athleticism, strength and tenacity are definitely there with Lombard, and his versatility to play inside or out is certainly a plus, but to what degree he's able to improve in the area of consistency will determine whether or not he's a prospect worthy of a selection in the top half of the draft.
Other Notre Dame prospects to watch in 2014:
CB KeiVarae Russell (5'11 | 190 | 4.50 | #6)*
A two-time FBS All-Independent Team Honorable Mention and former FWAA Freshman All-American who posted 51 total tackles (40 solo), 1.5 tackles for loss, one interception, one fumble recovery and eight pass break-ups as a true sophomore. In 2012 was the first true freshman in Notre Dame history to start at CB in the season opener. Has length, quickness and ball skills to be one of the ACCs top CBs this season and could consider early-entry with a strong junior campaign. May have the highest ceiling of any 2015 Notre Dame prospect.
DT Sheldon Day (6'2 | 290 | 4.94 | #91)*
Athletic D-lineman who probably makes the move inside to DT in Notre Dame's 4-3 after starting 8 games last year at end when he tallied 33 tackles, 5.5 tackles for loss and a half sack. Day exhibits an explosive first step, strong hands, and nice closing burst, looking the part of a prototypical 3-technique prospect who has the natural talent to be an elite interior rusher. If he can put it all together this year, an early exit and high-round selection may be in his future.
K Kyle Brindza (6'1 | 236 | 5.17 | #27)
A two-time Lou Groza Award watch list member and Notre Dame's Special Teams Player of the Year in 2013, Brindza has appeared in all 39 games since his true freshman year, with two seasons as the team's full-time starting kicker. As a junior, Brindza went 20-for-26 on field goals including a school-record three of at least 50 yards and was a perfect 38-for-38 on extra point attempts. On kickoffs, 35 of Brindza's 75 attempts went for touchbacks (47.6%), and in his first year as the team's punter, he averaged 41.1 yards per punt. He also tied an NCAA bowl-game record converting five field goals against Rutgers in the New Era Pinstripe Bowl. Has a chance to be the first, if not the only kicker selected next year with another strong season.
OLB/DE Ishaq Williams (6'4 | 271 | 4.87 | #11)
A limited but dependable contributor thus far with only one start in 35 career games due to a surplus of defensive studs in South Bend in recent years. Williams is big, athletic, flashes natural ability as a rusher, and possesses impressive movement skills for his size. He makes the move to 4-3 DE from OLB now, and with the starting spot his for the taking, can he be disruptive enough as a senior to show up on the radar of NFL scouts?
SS Austin Collinsworth (6'0 | 205 | 4.62 | #28)
Boasting good size, athleticism and improving instincts, the son of former All-Pro WR and now NBC analyst Cris Collinsworth rebounded from a season-ending shoulder injury suffered in the spring of 2012, to start 11 games for the Irish as a junior, posting 43 tackles and three interceptions. Dynamic special teams contributor who earned Notre Dame's Special Teams Player of the Year award in 2011 after leading the team with 16 tackles on special teams and even returned two kicks for 67 yards including a long of 41.