2015 NFL Draft: Indiana Preview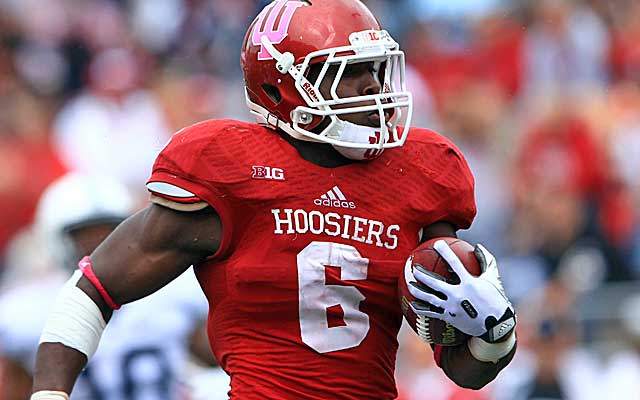 With only one bowl game appearance since 1994, the Indiana football program hasn't been a hotbed for talent over the last 20 years and that fact has been reflected in the number of players the Hoosiers have sent to the NFL as well. Indiana has two draft picks in the last three years, both coming in the 2014 class, including second round receiver Cody Latimer, who will be tough to replace this season.
Despite having some intriguing underclassmen, the senior talent at Indiana has a lot of work to do this season for the Hoosiers to be represented in the 2015 NFL Draft.
Indiana's NFL Draft-Eligible prospects to watch in 2014:
RB Tevin Coleman, Junior (6-0 | 205 | 4.62 | #6)
Indiana's big play threat on offense, Coleman led the Hoosiers in rushing last season with 958 yards over nine games, averaging an impressive 7.3 yards per carry. He finished with 1,275 all-purpose yards and became the first Indiana player to average over 100 yards rushing per game since 2001. Coleman had a lot of all or nothing plays ono tape, with several stops at or near the line of scrimmage, but he also recorded 14 runs of at least 20 yards. He has a wiry body type and lacks ideal bulk for the position with height that makes it tough for him to run with consistent pad level. Coleman has good vision to read blocks and find holes and is at his best in the open field when he can get his momentum going. He doesn't display dynamic explosion in his cuts, but picks up steam as he goes with a second gear to finish runs downfield. Coleman missed the final three games of 2013 due to an ankle injury and needs to stay health moving forward to show scouts he has NFL durability.
LB David Cooper, RS Senior (6-1 | 237 | 4.77 | #42)
After two seasons at Coffeyville Community College, Cooper transferred to Indiana where he's started all 24 games the past two years, lining up at both middle and strongside linebacker. He is the top returning tackler for the Hoosiers, finishing the 2013 campaign with 85 tackles, 6.0 tackles for loss and 2.5 sacks. Cooper is a smart and uses his eyes well to track the ball, but he will be fooled by misdirection and fakes, struggling to recover. He is more of a one-speed athlete with stiff hips and pedestrian redirection skills and although he doesn't show explosive movements, Cooper floats well in coverage and has the strength to finish tackles. He has a strong resume, but Cooper projects as a priority free agent entering the season.
OT Jason Spriggs, Junior (6-6 | 297 | 5.21 | #78)
Spriggs was recruited as a tight end out of high school, but Indiana saw him as an offensive tackle, keeping him at offensive line when he arrived in Bloomington. Spriggs won the starting left tackle job as a true freshman and has started every game the past two years (24 straight starts). He has adequate set up quickness off the snap with smooth body control and natural movements in space. Spriggs' base strength and technique need refined as he tends to pop upright off the snap with a soft punch, but he has the temperament for the trenches and fights through the whistle. He is still a work-in-progress, but caught my eye on tape as a player who could potentially develop into a draftable prospect with two full seasons remaining of college eligibility.
Other Indiana prospects worth watching:
QB Nate Sudfeld, Junior (6-4 | 230 | 4.96 | #7)
After sharing the quarterback duties each of the last two seasons, Sudfeld should be secure as the Hoosiers' starting quarterback moving forward with Tre Roberson transferring out of Bloomington. He completed 60.2-percent of his passes last season with a 21-to-9 touchdown-to-interception ratio, but he won't have Cody Latimer at his disposal in 2014.
WR Shane Wynn, Senior (5-6 | 167 | 4.38 | #1)
With Cody Latimer and Kofi Hughes no longer on the roster, Wynn is Indiana's top receiving option after recording career-bests last season with 46 catches for 633 yards and a team-high 11 touchdowns. His lack of size stands out with a frame that is close to maxed out, but his speed as a ballcarrier and return man make him dangerous.
CB Tim Bennett, Senior (5-9 | 186 | 4.52 | #24)
A JUCO transfer two years ago, Bennett saw part-time action as a sophomore, but made a name for himself as a junior last season, leading the FBS with 21 passes defended. He lacks ideal size and speed for the NFL level, but with another productive season in 2014, Bennett could be the first Indiana defensive back drafted since Tracy Porter in 2008.
S Mark Murphy, Senior (6-1 | 210 | 4.63 | #37)
One of the more experienced secondary prospects in the Big Ten, Murphy has 31 starts under his belt entering his senior season, finishing among the team leaders in tackles each of the last three seasons (230 career total). He is much better downhill than in deep coverage, but has a special teams mentality that will get him noticed.