2015 NFL Draft: Maryland Preview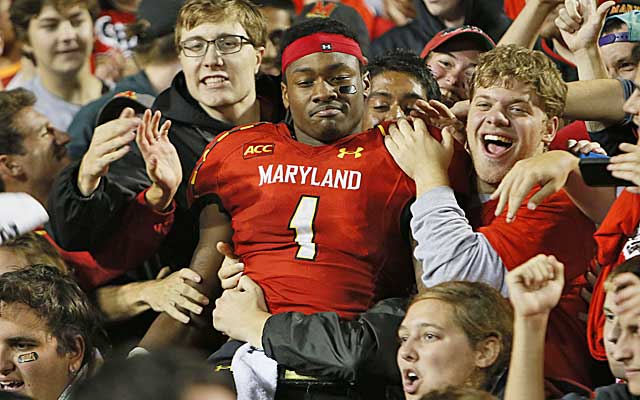 As Maryland makes the jump to the Big Ten Conference, the school's football program has been a roller coaster in recent years, something easy to see just by the win-loss records the last five years (2-10, 9-4, 2-10, 4-8, 7-6). Head coach Randy Edsall is entering his fourth season as the Terps' head coach and leads a talented, but oft-injured squad into the new conference.
Since Edsall took over as head coach, Maryland has produced only two draft picks, but the Terrapins should match that number in the 2015 NFL Draft, especially if talented wideout Stefon Diggs decides to skip his senior season and go pro.
Maryland's NFL Draft-Eligible prospects to watch in 2014:
WR Stefon Diggs, Junior (6-0 | 195 | 4.48 | #1)
A former five-star wide receiver recruit from Gaithersburg, Maryland, Diggs spurned offers from Ohio State, Florida and dozens of others so he could stay close to home and play for the Terrapins. He made an instant impact in College Park as a freshman with 1,896 all-purpose yards, which is the second-best season total in school history. Diggs was off to a productive sophomore season with 34 catches for 587 yards (17.3 average) before a leg injury prematurely ended his 2013 campaign. He returns as the top playmaker for the Maryland offense in 2014 and is arguably among the top skill players in the Big Ten along with Wisconsin's Melvin Gordon and a few others. Diggs has easy acceleration and is a home run threat any time he touches the ball with excellent quickness in his cuts and speed to finish. While athletic, he has a thin frame and lean muscle tone with limited growth potential to get much bigger or stronger than he is now. Diggs is still developing as a route runner with a bad habit of rounding off routes and while he can explode out of his breaks, he isn't overly fluid with some straight-line tendencies, reminding me of former Ohio State receiver Ted Ginn. He appears disinterested as a blocker too often on tape and an opposing coach pointed out to me the poor body language that Diggs tends to show on the field. Those concerns along with the fact that he is returning from a broken left fibula and Diggs has a lot of room to improve as a junior before he's ready for the NFL level.
DT Darius Kilgo, RS Senior (6-2 | 310 | 5.34 | #97)
The linchpin of Maryland's 3-4 base defense, Kilgo has started 23 games over his career, lining up mostly as the starting nose tackle for the Terrapins. He has had moderate production (37 tackles, 6.5 tackles for loss and 2.5 sacks last season) from the zero and one technique spots, generating movement with his brute strength to bully blockers backards. Kilgo is built like a bookcase with a stout, sturdy frame and flashes some lateral quicks to sidestep-and-go when working off blocks. He plays with heavy, aggressive hands, but is still learning how to use his big paws with inconsistent shed and rush moves. Kilgo tends to pop upright and needs to improve his pad level, relying on his ability to overpower rather than leverage or mechanics. He doesn't have much range and needs to show more instincts on the field, but his anchor and raw strength has garnered mid-round projections from some scouts.
LB Matt Robinson, RS Senior (6-3 | 240 | 4.68 | #40)
A player who started his career at safety, Robinson moved to linebacker last season and finished fourth on the team with 73 tackles, including 10.0 behind the line of scrimmage. The adjustment was smooth, but he also has a lot of developing left to do at the position. Robinson looks the part, but is leggy with little muscle definition and needs to groom his body more for the rigors at linebacker. He takes sharp, aggressive angles to the play with good pursuit speed to chase and a natural nose for the ball. Robinson's lack of functional strength is easy to spot on tape, struggling to shed or generate much pop at the point of attack, but his motor continues revving even when locked up. The biggest improvement he can make as a senior is simply staying healthy, which hasn't been a simple task for Robinson who has missed extensive time the past few years with a torn labrum, rotator cuff issues, groin injury and several of bumps and bruises.
Other Maryland prospects worth watching:
QB C.J. Brown, RS Senior (6-3 | 210 | 4.76 | #16)
Although the production has been pedestrian, Brown has some passing skills that translate favorably to the next level. However the big red flag with Brown is durability as he has had to deal with a number of injuries the past few seasons and desperately needs a healthy senior campaign if he has any hopes of playing professionally.
FB Tyler Cierski, Senior (5-11 | 260 | 4.74 | #49)
A traditional fullback prospect, Cierski is a smash mouth, downhill blocker who takes pride in clearing holes for running backs to pick up positive yardage. He has only 15 career rushing yards so his value will have to come on special teams if he hopes to stick on a NFL roster.
WR Deon Long, RS Senior (6-0 | 195 | 4.49 | #6)
Like Diggs, Long was off to a productive 2013 season before the injury bug ended his junior year after only seven games (broken right tibia and fibula). He isn't quite as dynamic as Diggs, but Long, who has had stops at West Virginia, New Mexico and Iowa Western, is a little more polished.
C Sal Conaboy, RS Senior (6-3 | 290 | 5.06 | #65)
The senior leader of an otherwise young offensive line, Conaboy has 22 starts on his resume entering his senior season. Maryland's offensive line has been an inconsistent unit the past few years, but Conaboy has been reliable and should grade as one of the conference's top centers in 2014.
DL Andre Monroe, RS Senior (5-11 | 270 | 4.81 | #93)
If players were drafted based on production, Monroe would be an early round pick, coming off a junior season when he led the team with 17.0 tackles for loss and 9.5 sacks. He has a tweener body type and skill-set, but plays with a nonstop motor and finds ways to be effective, drawing some comparisons to former Rutgers DT Eric Foster who went undrafted in 2008, but played meaningful snaps with the Colts for a few seasons.
CB Jeremiah Johnson, RS Senior (5-11 | 190 | 4.54 | #14)
Johnson was a full-time starting corner in 2012, but struggled with injuries last year, seeing limited action in only three games. He is quick and fluid with the length and aggressive nature to be a factor vs. the run and on special teams, but needs to stay strong in 2014 to bolster his NFL resume.