2015 NFL Draft: Michigan Preview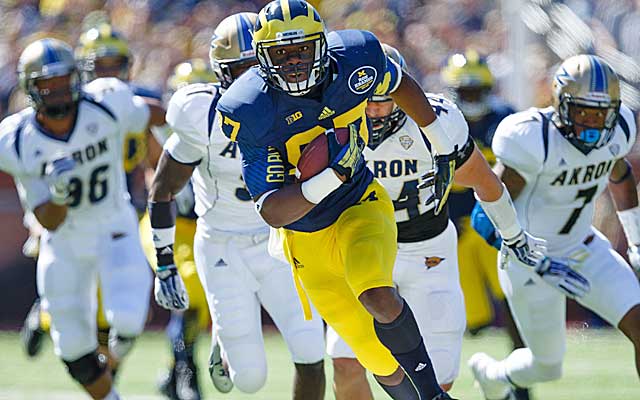 In his first season as head coach in Ann Arbor, Brady Hoke led the Wolverines to an 11-2 record in 2011, a signal that Michigan was back after a few bleak years. But with eight wins in 2012 and only seven last season, Hoke's first year is a distant memory and the Wolverines desperately need a bounce-back season in 2014.
Despite the team not matching the program's standards on the field recently, Michigan hasn't stopped sending talent to the NFL. The school has produced at least one draft pick every season since 1938, one of the longest active streaks in college football. And that streak has an excellent chance of extending another year with several quality draft-eligible prospects on the roster.
Michigan's NFL Draft-Eligible prospects to watch in 2014:
WR/TE Devin Funchess, Junior (6-5 | 235 | 4.73 | #87)
A player just scratching the surface of his potential, Funchess is an impressive athlete and is the Wolverines' top offensive playmaker with Jeremy Gallon now in the NFL. Funchess, who is in the WR/TE hybrid mold with a tall, workable frame and lean muscle tone, lined up at both receiver and tight end as a freshman and sophomore, but is expected to be a full-time wideout in 2014. He has excellent initial burst off the line to get vertical in a hurry with long, full strides, flashing flexible and easy movement skills rare for a player his size. Funchess tracks well with smooth body control to make natural adjustments on the ball, but has WAY too many drops on his resume and needs to improve his reliability and finishing ability through the catch point. The effort is there for him as a blocker, but his technique needs work as he's often caught off guard with his blocking assignments. Funchess is a mismatch nightmare against linebackers and smaller defensive backs and with improved consistency, he has all the makings of a future first-round pick, reminiscent of a younger Jermichael Finley at Texas.
LB Jake Ryan, RS Senior (6-2 | 240 | 4.68 | #47)
Even Ohio State fans can admit, Ryan is a darn good football player. He is the self-made type of prospect who somehow went under-recruited despite coming from St. Ignatius in Cleveland, one of Ohio's top high school football programs. After he redshirted in 2011, Ryan couldn't be kept off the field and blossomed into one of the Big Ten's top defenders, leading Michigan in tackles (88), tackles for loss (16.0) and sacks (4.5) in 2012. He tore the ACL in his right knee in March 2013 and missed the first half of last season, starting only five games in 2013 while working his way back from injury. Ryan processes information very quickly to read, react and attack with aggressive, decisive movements and has the athleticism to chase down ballcarriers and cover a large area. He has a high football IQ and it's no coincidence that he always seems to be around the ball, displaying the point-of-attack toughness to consistently finish. With a healthy and productive senior season, Ryan is viewed by scouts as a possible top-50 draft pick and a player who can line up at several linebacker spots in any scheme.
DE Frank Clark, Senior (6-2 | 273 | 4.68 | #57)
One of the more underrated pass rushers for the 2015 class, Clark is another Cleveland product on the Michigan defense who only knows how to play nonstop. He stepped up as a leader last season when Ryan went down with the ACL injury and finished his junior year as the only Wolverine with double-digit tackles for loss (12.0). Clark has good body thickness throughout with long arms and quick, active hands to engage blockers, but needs to load more ammo into his punch to generate movement at the point of attack. He goes hard off the snap with an energetic mentality, but doesn't always have a clear plan and needs to set up his moves better to fool blockers. Clark isn't the type of prospect who will receive much publicity, but he will prove to be a steal in the NFL if he ends up in the mid-round range.
QB Devin Gardner, RS Senior (6-4 | 210 | 4.64 | #98)
With an inconsistent-at-best run game last season, Michigan relied heavily on the passing game and Gardner stepped up with 60.3-percent completions, 2,960 passing yards and a 21-to-11 touchdown-to-interception ratio. But while the production was encouraging, his tape isn't as positive with a number of streaky tendencies that need improved in 2014 for him to be considered a viable draft pick. Gardner has NFL arm strength and the ball appears to jump off his hand, but his upper and lower body mechanics are a mess and he often releases while off-balance, causing his ball placement to end up all over the place. He holds the ball too long and has struggled in the past with anticipating the rush and not recognizing his keys to find favorable match-ups downfield. Gardner has the athleticism to scramble and pick up yards with his legs, but his poise and pocket presence is lacking at this point and he needs to do a better job working around the noise while keeping his eyes downfield. Without improvements as a passer this season, it's very possible Gardner will be evaluated at a different position with his size and athletic profile (17 catches, 268 receiving yards and four touchdown grabs in his career).
Other Michigan prospects worth watching:
OT Erik Magnuson, RS Sophomore (6-6 | 295 | 5.05 | #78)
Michigan's projected starter at left tackle, Magnuson will have the unenviable task of replacing Taylor Lewan, who was an All-American and top-12 NFL Draft pick. All seven of his career starts have come at guard, but he has the skill-set to kick outside and develop as an impact blindside protector.
OG Kyle Kalis, RS Sophomore (6-5 | 302 | 5.14 | #67)
Another Cleveland-area native, Kalis arrived at Michigan with five stars and a number of high school accolades. He redshirted in 2012 and cracked the starting line-up last season with nine starts at right guard, displaying the mirror quickness and core strength to be reliable in pass protection and as a run blocker.
LB Desmond Morgan, Senior (6-1 | 228 | 4.76 | #48)
Entering his fourth year as a starter, Morgan has steadily improved over his career in Ann Arbor and is one of eight starters returning for Michigan on defense. Although he doesn't stand out in any one specific area, he has a well-rounded skill-set and brings a leadership presence to the field.
CB Blake Countess, RS Junior (5-10 | 182 | 4.52 | #18)
After missing the 2012 season due to an ACL injury, Countess returned last year and was the most consistent member of the Wolverines' secondary, finishing with a conference-best six interceptions. He will have some hiccups when he takes chances, but Countess has the fluid body type and ballskills that make him an attractive pro prospect.
CB Raymon Taylor, Senior (5-10 | 183 | 4.49 | #6)
The starting cornerback opposite Countess, Taylor has 23 starts to his name and has collected six career interceptions. His size, speed and strength are all considered average, but he has the competitive mentality and awareness needed for the position.