2015 NFL Draft: Minnesota Preview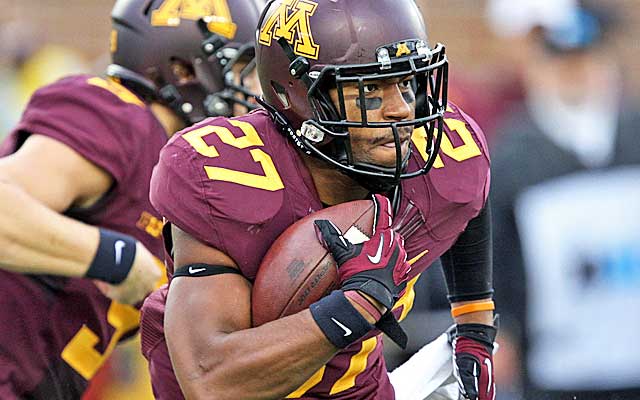 The Gophers are coming off an 8-5 season, the first time the program finished with eight wins since 2003. And after being shut out of the NFL Draft the previous three years, Minnesota produced two selections in the 2014 NFL Draft with DT Ra'Shede Hageman and FS Brock Vereen. The Gophers haven't produced multiple draft picks in back-to-back drafts since 2001-02, but enter the 2014 season with hopes of doing exactly that next spring.
Minnesota's NFL Draft-Eligible prospects to watch in 2014:
RB David Cobb, Senior (5-11 | 225 | 4.57 | #27)
The Big Ten produced seven 1,000+ rushers last season, including Cobb who recorded 1,202 yards on the ground, the first Gopher to reach that mark since 2006. With under 100 yards in his career entering last season, he was an unknown to most, but quickly made a name for himself as a reliable option out of the backfield. Cobb is built well and has the physical appearance of a NFL back with good body thickness and a compact frame. His offensive line doesn't do him many favors opening holes, but he shows enough vision to attack through creases and run downhill to the second level. Cobb struggles to do much after initial contact as an inside runner and lacks explosive qualities to consistently bounce runs outside or escape the pursuit of defenders. He is mostly a one-speed runner and isn't the type of player who wins with shifty moves in space. Cobb does an adequate job in pass protection but needs to deliver more pop at contact and play up to his strength. While he is productive, durable and reliable, there isn't much on tape that separates Cobb from other backs. Not too long ago, Minnesota was churning out running backs to the NFL, most notably Laurence Maroney and Marion Barber, and Cobb is pushing to be the first Gopher back drafted since Maroney in 2006.
LB Damien Wilson, Senior (6-1 | 254 | 4.79 | #5)
A cousin of Cobb, Wilson started his career at Alcorn State before moving on to the juco ranks and then transferring to Minnesota in 2013. He started 12 games last season at middle linebacker for the Gophers and finished second on the team in tackles (78), adding 5.5 tackles for loss and one sack. Wilson diagnoses the action quickly and attacks downhill with a thumping attitude, welcoming contact with pop. He has some tightness in his hips, but moves well for his size and never quits in his pursuit of the ball. Like most inside linebackers, Wilson can get hung up on blocks and has trouble working through the trash and needs to show improvement with his reach to disengage and make a play on the ball. He won't avoid contact and plays with the physical presence needed at the position, bringing his hips and momentum with him on tackle attempts. While no shoo-in to be drafted, Wilson played better than expected last season in his first year at the FBS level and put his name on the check list of NFL scouts as they scour the Big Ten for talent.
LB De'Vondre Campbell, RS Junior (6-5 | 238 | 4.73 | #26)
On the hoof, Ra'Shede Hageman looked like a future high NFL draft pick and the Minnesota coaches see similar potential with Campbell, who is competing for a full-time starting role in 2014. He started his career at Hutchinson Community College, where he played with current Minnesota Vikings receiver Cordarrelle Patterson, and was considered a three-star juco recruit, receiving offers from Texas, Kansas State and others before committing to Minnesota. Considered a raw player, Campbell started three games last year as he became familiar with the Gophers scheme, finishing the 2013 season with 41 tackles and 3.0 tackles for loss. He has the look of a future NFL player with the athleticism and movement skills to cover a lot of ground. Campbell looked uncomfortable at times last year, especially against the run, but the coaches are impressed with his motivation and he is a player to keep tabs on this season.
Other Minnesota prospects worth watching:
TE Maxx Williams, RS Sophomore (6-4 | 250 | 4.85 | #88)
A versatile offensive weapon, Williams started games at tight end, fullback and H-Back last season as a freshman and led the team in every receiving category with 25 catches for 417 yards and five touchdowns. He is only a redshirt sophomore, but keep an eye on Williams and his offensive versatility in the Gophers' offense.
OG Zac Epping, RS Senior (6-2 | 321 | 5.58 | #52)
One of the few seniors on the Gophers' offense, Epping is the most experienced player on the roster and enters the 2014 season with 34 starts under his belt. Epping started every game at left guard last season, earning All-Big Ten Honorable Mention honors, and will likely return to that spot as a senior, but he has also started games in the past at center.
C Brian Bobek, RS Junior (6-2 | 302 | 5.29 | #67)
After playing in a handful of games as a true freshman at Ohio State, Bobek fell out of favor in Columbus and decided to transfer, staying in the conference and suiting up for Minnesota. After sitting out the 2012 season due to transfer rules, Bobek missed all of last season due to a medical situation and has yet to play in a game for the Gophers, but should be the starting center in 2014.
DE Theiren Cockran, RS Junior (6-6 | 245 | 4.79 | #55)
The Gophers' sack leader a year ago, Cockran finished with 10.0 tackles for loss and 7.5 sacks as a sophomore, giving Minnesota a 1-2 inside-outside punch with him and Hageman. He is still growing into his frame and developing his strength, but Cockran has NFL size and a bright future ahead of him.
DT Cameron Botticelli, RS Senior (6-4 | 290 | 4.89 | #46)
Scouting Hageman last season, Botticelli stood out right next time, lining up as the Gophers' nose tackle. He is entering his third year as a starter and although his production hasn't been noteworthy (23 tackles and one sack in 2013), his ability to occupy blocks and clog run lanes will earn him looks from scouts.