2015 NFL Draft: Nebraska Preview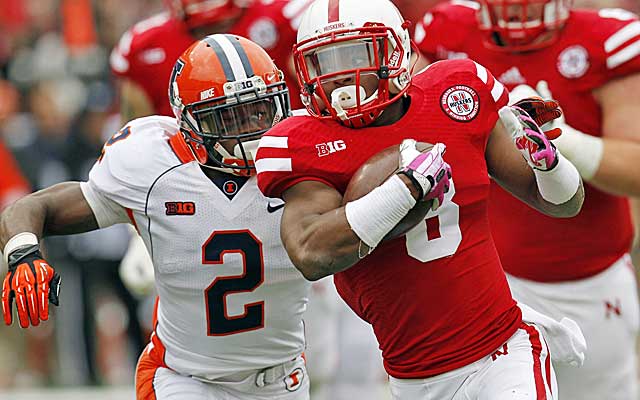 Nebraska hasn't won a conference championship since 1999, but that hasn't stopped the Huskers from producing quality NFL talent each year. Since 1966, Nebraska has produced at least two draft picks every year, one of the longest active streaks in the country for multiple draft picks.
The Cornhuskers will break in over a dozen new starters in 2014, but return several impact players and future draft picks led by RB Ameer Abdullah on offense and DE Randy Gregory on defense. Not only do those two players have All-Conference potential, but both are also highly graded by NFL scouts and two of my personal favorite prospects for the 2015 class.
Nebraska's NFL Draft-Eligible prospects to watch in 2014:
DE Randy Gregory, RS Junior (6-5 | 255 | 4.76 | #44)
One of the breakout stars in all of college football last season, Gregory quickly cemented himself in the Huskers' starting line-up and finished the 2013 season as the Big Ten leader in sacks (10.5). After originally committing to Purdue out of high school, Gregory struggled to qualify and enrolled at Arizona Western where he blossomed into one of the top JUCO recruits. He transferred to Nebraska in the summer of 2013 and although he was new to the program, he made an instant impact in Lincoln with 66 tackles, including 19 behind the line of scrimmage.
Gregory has a lean, lanky frame and needs to continue and develop his body strength and natural power, but uses his length well to extend and shoot his arms into blockers. He has explosive get-off and bursts upfield very quickly, displaying outstanding speed and closing burst in pursuit of the ballcarrier. Gregory has quick feet and easy lateral moves to avoid blockers, appearing natural in space and on his feet with smooth change of direction movements. He has active hands and never quits fighting to the ball, but needs to load more ammo into his hands to better convert speed to power. Gregory struggles to anchor and can be driven backwards, especially at the point of attack when attempting to leverage blockers who get under his pads. He has only been on the Nebraska campus for one calendar year and should be a more consistent finisher after a full 365 days in the Huskers strength and conditioning program. Nebraska hasn't had a top-15 draft pick since Ndamukong Suh went No. 2 overall in the 2010 NFL Draft, but Gregory has the type of potential to hear his name in the first half of round one.
RB Ameer Abdullah, Senior (5-9 | 190 | 4.49 | #8)
Arguably the top senior running back prospect in the 2015 draft class, Abdullah might be the best player in all of college football that doesn't seem to get much national attention. He led the Big Ten in rushing last season with 1,690 yards on the ground, averaging 130 yards per game and 6.0 yards per rush. With 2,977 career rushing yards, Abdullah enters his senior season within striking distance of reaching Mike Rozier's all-time school rushing mark (4,780), but at the very worst should finish in the top-3, passing Eric Crouch (3,434).
Abdullah has a leaner-than-ideal upper and lower body build, but is much tougher than he looks and lowers his pads at the point of attack. He accelerates quickly and runs with his feet on fire, controlling his momentum well to make sharp cuts and elude in the open field. Abdullah has flexible ankles and runs low to the ground with springs in his calves to make explosive jump cuts without losing speed. He has active feet and sees the field well to make proper reads and pick through the line of scrimmage without any hesitation and always appears two steps ahead. Abdullah is a quick-thinking runner with natural ballcarrier instincts and an excellent sense of his surroundings to force poor angles with his multiple gears. He has reliable hands out of the backfield and gives up his body in pass protection, but is obviously limited as a blocker and lacks ideal growth potential for the position in the NFL. Abdullah is a first-class person off the field as well with a well-respected, grounded personality and works his tail off in the weight room. While his size will immediately turn some off, Abdullah is extremely talented and polished with the ball in his hands and few run harder or more energetic, reminding me of a better version of Andre Ellington and has the skill-set to have a Warrick Dunn-type career at the next level.
WR Kenny Bell, RS Senior (6-1 | 185 | 4.55 | #80)
The top senior receiver in the Big Ten, Bell has led Nebraska in receiving each of the last three seasons and will look to make it four straight as a senior in 2014, a feat only a few receivers have achieved. He ranks third in school history in receiving yards (1,901) and needs only 578 yards this season to pass former Heisman Trophy winner Johnny Rodgers for the top spot in the Nebraska record books. Bell has adequate height, but is rail-thin and doesn't have the body type to get too much bigger. However he has deceiving strength for the position and is one of the best blockers in all of college football, exhibiting excellent leverage and effort to occupy defenders on the perimeter. Bell has the polish expected of a three-year starter and senior with crisp routes to create separation and the ability to track the ball and finish at the catch point. His average size and speed will limit how highly NFL scouts grade him for the next level, but Bell's work ethic, reliability and detailed approach will ensure he makes a living in the pros.
SS Corey Cooper, RS Senior (6-1 | 215 | 4.56 | #24)
Nebraska has had at least one defensive back drafted since 2010 and Cooper could make it six straight drafts next spring. He became a full-time starter last season at strong safety and brought consistency to the position, replacing Daimion Stafford. Cooper led the Blackshirts in tackles last season (91), adding 5.0 tackles for loss, 2.0 sacks, one interception and one forced fumble. He has solid triangle numbers (size/strength/speed) and has shown the range to play near the line of scrimmage or retreat and cover the deep half of the field. Cooper trusts what he sees and showed improved awareness as a full-time starter last season, but has room to sprinkle in more anticipation to gain an extra step towards the ball. Entering his final season in Lincoln, one could make the argument that he is one of the top-10 senior prospects at his position and potentially more with a productive 2014 campaign.
Other Nebraska prospects worth watching:
WR Jamal Turner, Senior (6-1 | 185 | 4.56 | #10)
With Quincy Enunwa off to the NFL, the Huskers need a pass catcher to step up and team with Bell on the outside and Turner has the talent to have a breakout senior season. He arrived at Nebraska as a four-star dual-threat quarterback out of high school and moved to wide receiver as a freshman. Turner had 32 catches as a sophomore and was poised for a breakout season in 2013 before a leg injury prematurely ended his junior year.
OG Jake Cotton, Senior (6-5 | 305 | 5.23 | #68)
Nebraska's offensive line is a question mark entering the 2014 season with Cotton as the lone returning starter up front. His career has been mired with various injuries, but when he's on the field, Cotton has the brute power and natural instincts for the position that enable him to be effective as a run blocker and in pass protection.
LB David Santos, RS Junior (6-0 | 225 | 4.64 | #41)
The Nebraska defense hasn't been a strength the last few seasons, but players like Santos give the Blackshirts hope for 2014. He finished second on the team last season in tackles (87), including 7.0 for loss, and is the tone-setter on that side of the ball, bringing his aggressive yet disciplined mentality to the field.
LB Michael Rose, RS Sophomore (5-11 | 240 | 4.84 | #15)
Another bright spot on an otherwise inconsistent unit in past years, Rose started only seven games last season, but finished third on the team in tackles (66) and quickly formed a formidable tandem with Santos. Rose is expected to start at middle linebacker in 2014 and is a name to watch this season.