2015 NFL Draft: Northwestern Preview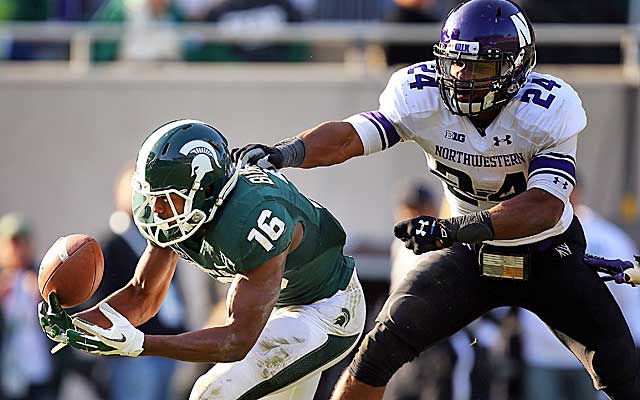 The Northwestern football program has gone back-to-back years without producing a NFL draft pick and will hope to snap that streak in the 2015 class and prevent it from extending to three straight next spring.
After starting 4-0 in 2013, Northwestern dropped seven straight and missed a bowl game last season for the first time since 2007. The Wildcats need a bounce-back season in 2014 and have the roster to be a darkhorse contender in the Big Ten with several pro-worthy prospects sprinkled throughout the depth chart. Northwestern hasn't had a top-100 draft pick since 2005 (Luis Castillo) and might not in the 2015 class either, but there are a handful of players in Evanston with the potential to hear their names called on day three.

Northwestern's NFL Draft-Eligible prospects to watch in 2014:
S Ibraheim Campbell, RS Senior (5-11 | 205 | 4.56 | #24)
One of the most reliable players on the Wildcats' defense the last three seasons, Campbell has started 37 games in Evanston and has recorded 262 total tackles, 29 passes defended and eight interceptions. All four starters in the secondary return for Northwestern in 2014 and Campbell is the unquestioned leader of both the defensive backs and the entire defense. He isn't the biggest or fastest player on the field, but he's one of the smartest and prides himself on playing assignment sound football with as few mistakes as possible. Campbell makes accurate reads and breaks down the action quickly to make plays, although he does have room to improve his functional strength and finishing ability when he's close to the ball. He is very well liked in the locker room and is a three-time All-Academic Big Ten player while majoring in economics. Campbell isn't elite in any one area on the football field, but is very steady and plays with a reliable presence that brings stability to the Northwestern defense.
RB Venric Mark, RS Senior (5-7 | 175 | 4.38 | #5)
An energetic jitterbug on the football field, Mark will return to Evanston for one more season of eligibility after he was granted a medical hardship waiver due to his 2013 injuries. He was limited by a hamstring injury to begin last season and suffered a broken ankle soon after returning to the field, playing in only three games in 2013. Mark started every game at running back in 2012 and led the team in rushing as a junior with 1,366 yards on 226 carries, earning the offensive MVP honors for the Wildcats. Some scouts view him as a receiver while others prefer to keep him at running back, but regardless, Mark is an exciting all-purpose weapon with the ball. He has light, explosive speed to fluidly change directions and make decisive cuts in the open field. Mark has the long-speed to run away from defenders and it won't be a surprise to see him put on a show at the NFL Combine next February. The biggest question mark is durability and at 5-7 and 175 pounds, his lack of size and growth potential makes it tough to project his future role in the NFL. Pro scouts know he is athletic and has speed to burn, but a full, healthy season in 2014 will be the biggest way for Mark to show NFL evaluators that he has legitimate next level potential despite his smallish frame.
WR Kyle Prater, RS Senior (6-4 | 225 | 4.58 | #21)
An Illinois native, Prater was a Parade High School All-American and five-star recruit, commanding attention from all the top programs in college football. He committed to USC and redshirted in 2010 due to hamstring and groin injuries and missed most of 2011 due to a broken bone in his left foot. After two injury plagued season at Southern California, Prater decided to transfer closer to home in the Midwest and was given a resident waiver from the NCAA to play immediately at Northwestern and not sit out a full season. The past two seasons for the Wildcats, Prater has seen limited playing time and registered only 19 catches, struggling to be much of a factor. He enters his senior season with one more chance to make a name for himself and show scouts why he was so highly touted out of high school, but he'll need to fight for playing time with incumbent starters and fellow seniors Tony Jones and Christian Jones. Nonetheless, Prater has the size, athletic ability and perceived upside that NFL evaluators love.
C Brandon Vitable, RS Senior (6-3 | 300 | 5.20 | #66)
What Ibraheim Campbell does for the defensive secondary, Vitable does for the Wildcats' offensive line. A senior and soon-to-be four year starter and two-time team captain, he is quick to engage off the snap and won't quit fighting until the echo of the whistle. Vitable has some hip tightness, but mirrors well in pass protection with patience and disciplined eyes to cut off rush lanes. He uses his eyes well to recognize multiple pressures and shows the football smarts to react accordingly. Vitable needs to improve his punch and has a bad habit of getting too high and allowing rushers to get under his pads, but he holds his ground admirably to prohibit interior pressures. He isn't the most mobile or strongest center prospect that scouts will evaluate this year, but his intelligence, motor and consistent play really stand out and a reason he is viewed as one of the top five senior center prospects for the 2015 draft class.
Other Northwestern prospects worth watching:
RB Treyvon Green, Senior (5-9 | 215 | 4.59 | #22)
With Venric Mark sidelined with injury most of last season, Green was the next man up and responded with a team-best 736 rushing yards and eight scores last season, averaging 5.4 yards per rush. Although not as fast or explosive as Mark, Green offers more pop at the point of attack and has some shiftiness himself to follow his blocks and elude defenders in the open field.
FB Dan Vitale, Junior (6-2 | 225 | 4.64 | #40)
The starting "Superback" for the Wildcats the past two seasons, Vitale is only a true junior but has already started 22 games and is plays a position that is able to show his versatility as a hybrid tight end/fullback. Whether lining up inline or in the backfield, Vitale is a reliable pass catcher with the vision and balance to do something after the catch.
WR Tony Jones, RS Senior (6-0 | 195 | 4.42 | #6)
The team leader in receptions last season with 55, Jones has excellent burst in his cuts and is at his best on crossing routes when he can catch in stride and be dangerous after the reception. He can be slowed down by defenders too easily, but has the short-area foot quickness to create some separation and the balance to shake off would-be tacklers.
WR Christian Jones, Senior (6-2 | 225 | 4.63 | #14)
The "other" Jones at receiver for the Wildcats, Christian fell one catch shy of Tony's team-best 55 grabs, but Christian led the team in receiving yards (668) last year. He doesn't have the same foot quickness or natural burst as Tony, but he has the size advantage and knows how to use his body in contested situations downfield.
DT Chance Carter, RS Senior (6-3 | 295 | 5.12 | #99)
A hometown kid from Evanston, Carter waited his turn and became a starter last season, posting 34 tackles, 5.0 tackles for loss, 2.0 sacks and five passes broken up. He moves well for a player a few burgers shy of 300 pounds and has a workable frame that the NFL looks for, but has room to improve his snap anticipation and rush technique/leverage.
LB Chi Chi Ariguzo, RS Senior (6-3 | 235 | 4.82 | #44)
The top returning tackler for the Wildcats, Ariguzo finished with 106 stops last season and has seen action at both SAM and WILL linebacker spots at Northwestern. His average range leaves him a step short on some plays, but he displays the aggressive, attacking mentality needed for the position and has been a playmaker with 16.5 tackles for loss and six interceptions the past two seasons.