2015 NFL Draft: Ohio State Preview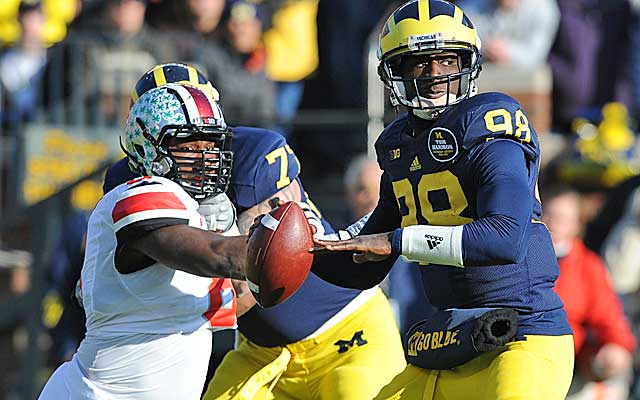 More NFL: Photos | Videos & GIFs | Stories | Training Camps | Manziel watch
The Ohio State University has been the top football factory in the Big Ten historically and not much has changed in recent years as there are more Buckeyes currently in the NFL than almost every other college football program.
Ohio State had six players drafted in the 2014 NFL Draft, including four in the top two rounds, but there are another half dozen (or more) players in Columbus who could potentially hear their name called in the 2015 class. The top pro prospect on the roster? He's not included below because he's not yet draft-eligible. Defensive end Joey Bosa is only a true sophomore, but has potential to be the highest drafted Buckeye since Orlando Pace went No. 1 overall in 1997.
The key to the Buckeyes 2014 season centers on quarterback Braxton Miller who enters his senior season in Columbus. If he stays healthy and productive, not only should Ohio State be a contender for the College Football Playoff, but Miller will vastly help himself in the eyes' of NFL scouts.
Ohio State's NFL Draft-Eligible prospects to watch in 2014:
DE/LB Noah Spence, Junior (6-3 | 252 | 4.68 | #8)
The team leader in sacks as a first-year starter in 2013, Spence finished last season with 52 tackles, 14.5 tackles for loss and 8.0 sacks over his 12 starts. He is still learning how to put together a consistent pass rush sequence, but it's all there athletically for Spence to be a highly coveted NFL prospect.
Spence is a fluid, balanced athlete with smooth lateral quickness and change of direction ability to avoid blocks. Spence gets upfield quickly with his first step burst and closes fast, staying low to the ground with above average coordination. He needs to improve his snap discipline and anticipation, but wins the corner and controls his momentum extremely well with his natural leverage giving him an added advantage. Spence displays deadly dip to flatten to the quarterback, but needs to show heavier hands to jolt blockers at the point of attack, struggling to consistently convert speed to power. He has a light anchor and can be moved by blockers and his lack of height hinders his backfield vision at times. Spence is a versatile front-seven defender for the Buckeyes, lining up at left and right end for the Buckeyes, standing up or putting his hand on the ground. He appears comfortable on his feet and has dropped in space enough to show that he can do it, but needs to improve his instincts and experience in this area, especially with several teams with a 3-4 base defense scouting him as a stand-up linebacker.
Spence received a three-game suspension from the Big Ten after testing positive for ecstasy late last season. He sat out of the Orange Bowl and will miss the first two games of 2014 and Spence needs to get his house in order off the field for scouts to give their vote of approval. He needs to improve his functional strength, play with more of a mean streak and keep his nose clean, but Spence is a slippery rusher with the lateral quicks and low pad level to be an impact pass rusher in the NFL.
DT Michael Bennett, Senior (6-3 | 285 | 5.02 | #63)
The defensive line is the strength of the Buckeyes' defense and Bennett is the senior member of the group with 15 starts under his belt entering his senior season. He is a highly active interior rusher with range and quickness, finishing the 2013 season with 42 tackles, 11.5 tackles for loss, 7.0 sacks and three forced fumbles. Bennett displays outstanding balance and coordination through contact to work of blocks and keep his feet to be a factor in plays. He "wins" with quickness out of his stance and uses his leverage, leg drive and strong grip to latch-and-rip past blockers and penetrate the backfield. Bennett isn't a people mover and lacks overwhelming strength to bully, struggling to shock blockers with his hands at the point of attack. But he uses his high motor and backfield vision to put himself in position to make a play, allowing his controlled footwork and smooth hips to do the rest. Viewed as a solid top-50 prospect and maybe the top senior at his position, Bennett reminds me some of Packers defensive lineman Mike Daniels who has the versatility to line up in different schemes and be at the very least a pass rush specialist.
QB Braxton Miller, Senior (6-1 | 215 | 4.46 | #5)
Can he play the quarterback position in the NFL? That will be the question throughout the 2014 season for Miller who enters his fourth season as a starter with still a lot to prove, which is why he made a wise decision returning to Columbus. He has plus arm strength with the natural athletic tools that translate very well to the next level. But it's the concerns with touch, accuracy and the mental side of the position that lead some scouts to believe he needs to switch positions in the NFL.
Over his first two seasons and the first half of last year, Miller looked like a better running back prospect than at quarterback. But down the stretch in 2013, he progressed in several areas as a passer and it would be a mistake to dismiss him as a viable NFL quarterback until we see what his senior year brings. Miller spins a pretty football with top-shelf arm strength and an easy delivery, doing a nice job changing arm angles as needed. He showed improved pocket mobility and field vision last season to quickly scan the field, paying much more attention to technique and not allowing his mechanics to break down outside the pocket. Miller is an above average athlete with game-changing speed, acceleration and explosive cuts to make defenders respect his mobility with agile feet to dance around the noise, following blocks well with vision and toughness to finish.
While much improved in areas, Miller needs to continue his development as a passer for some NFL scouts to be sold. His touch and accuracy still run hot/cold with too many fastballs in his arsenal, needing to develop a change-up. Starting with his footwork and base, Miller needs to continue and tweak his mechanics and improve his ball placement, something that continues to be a work-in-progress. Ball security (10 fumbles in 2013) and durability are two other areas that are concerns, especially after off-season shoulder surgery and a knee injury that plagued him throughout last season. Miller has never thrown for 300+ yards in a game (his single game-best is only 252 passing yards), but his weapons at wide receiver have been average-at-best and with his legs, he hasn't needed to chuck the ball 30+ times a game. He set career-bests last season in every statistical category, including 63.5% completions, but his performances against Michigan (40.0%) and Michigan State (38.1%) late in the season were discouraging.
Miller is a gifted athlete and exciting in the open field with dynamic speed, but as a senior, scouts want to see improved touch. He takes a lot of deep shots, but needs to develop a better feel in the intermediary passing game and not rush his process or escape the pocket before necessary. Whether he is drafted as a quarterback or running back will be determined by his performance this season and in a weak class of senior passers, it's not bizarre to project Miller as one of the top-five senior quarterback prospects and possible top-100 pick if he improves in 2014.
WR Devin Smith, Senior (6-1 | 198 | 4.55 | #9)
Probably still best known for his one-handed catch two years ago in the season opener vs. Miami (Ohio), Smith has been more of a big-play threat than consistent pass catcher for the Buckeyes in his career. He finished second on the team in receiving each of the last two seasons, setting career-bests in 2013 with 44 catches for 660 yards and eight scores as a junior. Smith is averaging 17.9 yards per catch over his career with 18 touchdowns and has shown the ability to get behind the secondary and be a deep threat. He has quick strides to pick up steam in a hurry vertically with strong cuts in his routes to create some separation vs. defenders, but his speed is mostly straight-line and his lean frame looks near maxed out. While Smith has made some highlight reel catches, he has too many easy drops on his resume and needs to continue and improve his reliability in this area. Wide receiver hasn't been a strength on the depth chart for Ohio State in recent years, but the stage is set in 2014 for Smith to have his best season in Columbus, possibly vaulting him into the mid-round conversation.
TE Jeff Heuerman, Senior (6-5 | 252 | 4.74 | #86)
A former top recruit, Heuerman had only nine catches to his name entering last season, but he set career-bests in 2013 with 26 catches for 466 yards and four scores. Although not a big play threat or dynamic athlete, Heuerman is a reliable option as both a blocker and pass catcher, using his size, strength and deceiving speed to be a versatile weapon. He doesn't have explosive traits, but gets up to his full speed quickly and sustains with a physical demeanor after the catch, looking to capitalize each time he touches the ball. Heuerman displays natural body adjustments to contort his frame and use his length to snare catches while staying balanced in his route. Although he struggled with some fastballs on tape, he has usually reliable ballskills, looking the ball into his large mitts. In Urban Meyer's offense, Heuerman has lined up inline, in the backfield and as a wideout in the slot, also seeing snaps on special teams and giving Meyer options due to his tight end's versatility. As a blocker, Heuerman is tough-minded and gritty with the brute strength to eliminate his man from the play or hold his ground as a brick wall in pass protection. A high character team leader, he isn't elite in any one area, but is well-rounded and has a pro skill-set that makes him one of the top-10 senior tight end prospects in the country.
Other Ohio State prospects worth watching:
RB Rod Smith, RS Senior (6-2 | 232 | 4.58 | #7)
Ohio State has a number of blue chip running backs on the roster, but it will be tough to replace Carlos Hyde's production in 2014. Smith is the elder statesman of the group with more career carries, yards and rushing scores than any other back on the Buckeyes' roster. And although he's not on the same level talent-wise as Hyde, he has similar build and power and a chance to use his senior season to catapult up draft boards.
C Chad Lindsay, RS Senior (6-2 | 302 | 5.42 | #78)
After a four-year career at Alabama, Lindsay decided to transfer out of Tuscaloosa, enrolling at Ohio State for his final season of eligibility. Although mostly a reserve in his time with the Tide, he started four games last year at center and will be eligible immediately for the Buckeyes. With Ohio State forced to replaced four starters on the offensive line, Lindsay is expected to win the starting center job for 2014.
OG/DT Joel Hale, Senior (6-4 | 310 | 5.17 | #51)
Hale started 11 games last season at nose guard on defense, but he knew the Buckeyes' defensive line was a stacked unit and the opposite was true about the offensive line. So he selflessly went to the coaching staff and suggested moving to the offensive side of the ball for his senior season in 2014, saying his "talent" and "leadership" was needed. Scouts have given him draftable grades as a defensive tackle, but will get a different look at him this season on offense.
DE Adolphus Washington, Junior (6-3 | 295 | 4.88 | #92)
A former five-star high school recruit, Washington was an edge rusher his first two seasons in Columbus, but will move inside as a junior and likely start next to Michael Bennett at defensive tackle in 2014. Washington is a physical pass rusher and with the help of new defensive line coach Larry Johnson, he's doing a better job vs. the run and adapting to his new responsibilities.
LB Josh Perry, Junior (6-3 | 246 | 4.73 | #37)
The Buckeyes lose two first rounders from last year's defense, including Ryan Shazier, and Perry has the unenviable task of attempting to fill his shoes at weakside linebacker. He will have more freedom in this role, but also more responsibility using his reaction quickness to attack downhill and speed to drop in space and cover vs. the pass. Keep him on your radar.
LB Curtis Grant, Senior (6-2 | 243 | 4.59 | #14)
Three years ago, Grant was ranked as the No. 2 high school recruit in the country by Rivals.com, behind only Jadeveon Clowney who was the first overall pick in the 2014 NFL Draft. Despite injuries to his ankle and back, he became a full-time starter last season as a junior and recorded 52 tackles over 12 starts, but more will be expected of him this year, especially if he hopes to have a NFL future.
CB Doran Grant, Senior (5-11 | 191 | 4.54 | #12)
The lone returning secondary starter in 2014 for the Buckeyes, Grant struggled to crack the starting line-up his first two seasons in Columbus before becoming the full-time starter opposite Bradley Roby last season. He is patient and trusts what he sees with adequate size, speed and ballskills for the position, but scouts want to see improved discipline and sustained confidence from play-to-play.