2015 NFL Draft: Penn State Preview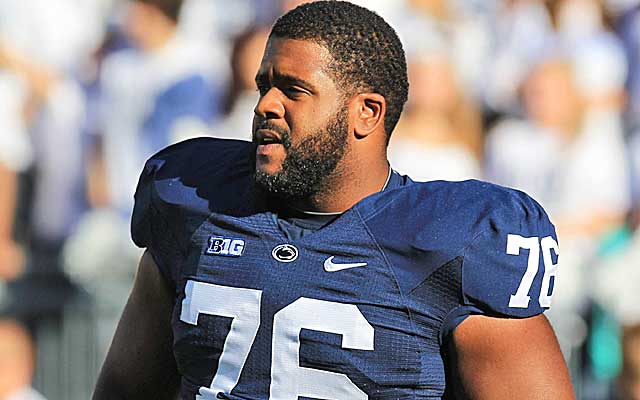 After just one head coach for almost half a century, Penn State is on its third head coach over the last four seasons with former Vanderbilt coach James Franklin taking over the program in State College. Despite the turmoil at Penn State off the field in recent seasons, the Nittany Lions have remained competitive on the field and the pipeline to the NFL hasn't stopped with 10 draft picks the last three years.
The current Nittany Lions' roster is very young and the lack of scholarships is something that will likely show this season, but there is NFL talent on both sides of the ball. The Penn State player with arguably the most NFL potential isn't listed below because QB Christian Hackenberg is only a true sophomore, but he's definitely a name to keep on the draft radar.
Penn State's NFL Draft-Eligible prospects to watch in 2014:
OT Donovan Smith, RS Junior (6-5 | 322 | 5.12 | #76)
Smith enters his junior season with 20 starts under his belt at left tackle and has steadily progressed since he earned the starting nod as a redshirt freshman. He protects Christian Hackenberg's blindside and is the veteran leader of an offensive line that projects four new starters in 2014. NFL scouts can check quite a few boxes when watching the Penn State tackle. Smith has the size, foot quickness and the high competitive nature that translates well to the next level. However he does need to improve in several areas before NFL ready, most notably with his arm and hand technique to better shield himself to combat rushers' initial pass rush moves. Smith has a bad habit of playing too high and needs to improve his knee bend, but the culprit there appears to be lack of consistent technique, not lack of flexibility. Despite two encouraging years as a starter, we still have much to learn about Smith and his junior year will reveal more about his NFL potential.
DE Deion Barnes, RS Junior (6-4 | 245 | 4.75 | #18)
After earning Freshman All-American honors in 2012, Barnes entered the 2013 season with high expectations, but the sophomore struggled to live up to the hype as he managed only 28 tackles, 4.0 tackles for loss and a pair of sacks in 10 starts. The decline in performance and production could be attributed to several areas, including members of the coaching staff hinting that teams game-planned for him last year. But whatever the reason, Barnes needs to bounce back in 2014. He has the body type desired at the position with excellent length and the frame that can be sculpted with more time in the weight room. Barnes is a coordinated athlete with flexibility and movements that allow him to cover a large area, but his mechanics and pass rush process seemed to stall on his 2013 tape, showing little improvement in this area. He did show improved football awareness with accurate reads to recognize what the offense was doing and react accordingly. NFL teams draft traits, skills and potential over college production, but scouts need to see development, which usually means improved stats, for Barnes to be the highly touted pro prospect that many thought he could be after his freshman season.
RB Bill Belton, Senior (5-10 | 205 | 4.53 | #1)
Stuck behind Zach Zwinak on the running back depth chart, Belton isn't a well-known name outside of Big Ten country, but he is a valuable piece to the Penn State offense and flashes next level talent. Although he's expected to be No. 2 on the depth chart again in 2014, Belton is the lightning to Zwinak's thunder and provides an excellent change-of-pace option, recording 1,131 rushing yards over his career. He is light on his feet with elusive moves and the change of direction ability to break ankles with his jukes. Belton creates burst quickly and squirts through tiny creases, but doesn't offer much of a power element with limited size and strength to break tackles. While willing in pass protection, he struggles to be a consistent factor in this area and there are some durability and workload concerns due to his limited frame and growth potential. Although his name probably won't show up among the starters this season, don't overlook Belton when he enters the game as he adds juice to the offense - NFL scouts aren't.
DB Adrian Amos, Senior (6-0 | 215 | 4.62 | #4)
A player with considerable experience at both cornerback and safety, Amos earned reps as a true freshman in 2011 and has started a team-high 25 games at Penn State, 19 at cornerback and half dozen at safety. He is expected to be a full-time safety in 2014, but his versatility gives the coaches options and bolsters his resume for the next level as well. Amos is well built with good height, length and overall frame for the position, displaying adequate bulk and strength. He takes aggressive angles and explodes downhill while also showing the start/stop quickness to recover and alter his path mid-momentum. Amos' new defensive coordinator Bob Shoop had high praise for him, saying he has the talent and versatile abilities to be the "best defensive back in all of college football." Amos has taken positive steps in his development each season and with a strong senior year in 2014, he could really help himself in the eyes of NFL evaluators.
Other Penn State prospects worth watching:
FB Zach Zwinak, RS Senior (6-1 | 240 | 4.64 | #28)
Penn State's leading rushing the past two seasons, Zwinak has been a model of consistency the last two years, rushing for 1,000 yards as a sophomore and 989 yards last season as a junior. Whether or not he has the quickness for the NFL is debatable, but he plays classic, downhill football with forward lean, low pad level and the attitude that would take him through a brick wall.
TE Jesse James, Junior (6-6 | 257 | 4.78 | #18)
With the Big Ten's top receiver last season off to the NFL (Allen Robinson), James is the top returning pass catcher for Penn State in 2014, finishing last season with a career-best 25 catches for 333 yards and three scores. He presents a large target for Hackenberg and uses his size and strength well to reel in tough grabs in traffic and be a formidable threat after the catch. James is one of the top-five underclassmen prospects at his position.
TE Kyle Carter, RS Junior (6-3 | 243 | 4.89 | #87)
Carter emerged as versatile offensive threat as a freshman with 36 catches and looked to be a future star in State College, but his production was cut in half in 2013 with only 18 grabs. Carter has to compete with James and Adam Breneman for snaps, but when he's on the field, he is reliable with the skill-set to line up in the backfield, inline or slot.
OG Miles Dieffenbach, RS Senior (6-3 | 295 | 5.43 | #65)
If fully healthy, Dieffenbach might be tops on this list, but after suffering a torn ACL during spring practice, his football future is unknown at this point. He started 23 games at left guard the past two seasons and has the skill-set that translates well to the NFL game with his leverage, strength and grit. Dieffenbach isn't expected to pursue a medical redshirt and hopes to return to the field for the final few games of 2014. Stay tuned.
DE C.J. Olaniyan, RS Senior (6-3 | 244 | 4.73 | #86)
The team leader in sacks a year ago, Olaniyan was a first-year starter in 2013 as a junior, posting 50 tackles, 11.0 tackles for loss, 5.0 sacks and three forced fumbles. His size and power don't jump out, but his aggressive, relentless approach and quickness to win off the snap and penetrate the pocket are traits to watch.
LB Mike Hull, RS Senior (6-0 | 227 | 4.75 | #43)
The next product of "Linebacker U," Hull started nine games last season as he battled a lingering knee injury much of the season, finishing with 78 tackles and 4.5 tackles for loss. He is the leader of the defense and makes the move to middle linebacker in 2014 where he can use his diagnose skills to break down the action and attack in the blink of an eye. A healthy version of Hull is arguably the top linebacker in the Big Ten and a draftable player next spring.
CB Jordan Lucas, Junior (6-0 | 193 | 4.56 | #9)
Lucas was a surprise name last season when he earned the starting nod at one of the cornerback spots and the sophomore quietly had an outstanding season. He tied for the team lead with three interceptions in 2013 and finished with 13 passes defended, which ranked him among the best in the conference. Lucas isn't exactly "well-known" outside of State College, but he might be the Big Ten's top cornerback sooner rather than later.