2015 NFL Draft: Rutgers Preview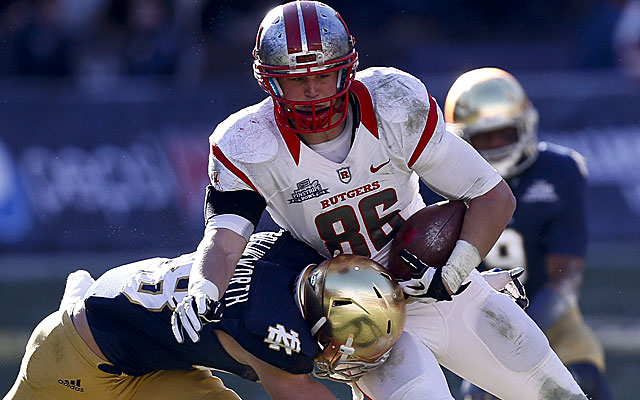 NFL Draft: More prospect previews | Prospect rankings | Brugler: 2015 mock draft
After seven Rutgers players were selected in the 2013 NFL Draft (three by the New England Patriots), the Scarlet Knights were shut out of the 2014 NFL Draft, including WR Brandon Coleman who left school early for the pro ranks. But a large reason for Rutgers not having a heavy presence this year is they only lost a handful of starters and return several quality players this fall.
As Rutgers makes the transition to the Big Ten, the Scarlet Knights' roster is sprinkled with intriguing NFL prospects, led by senior OG Kaleb Johnson, who might be the top offensive lineman in the conference not named Brandon Scherff.
Rutgers' NFL Draft-eligible prospects to watch in 2014:
OG Kaleb Johnson, Senior (6-4 | 305 | 5.18 | #72)
A player with an impressive resume, Johnson already has 37 starts while manning a different position each of his last three years. He played right tackle as a true freshman in 2011, starting 11 games before moving to the left side as a sophomore in 2012 (13 starts). Johnson moved to left guard last year, starting all 13 games and earning second-team all-conference honors. He has an NFL skill set with a wide, well-built frame and the length to keep rushers from his body. Johnson shows natural body control in space and won't give up much ground at the point of attack. He blocks with a tough, tenacious mind-set and sets up quickly with his initial movements and quick eyes to counter what rushers want to do. Johnson flirted with the idea of going pro last season, but received a fourth- to seventh-round projection from the NFL Advisory Committee and decided to go back to school. Returning at left guard this season, he is on pace to break records in a Rutgers uniform and is considered one of the top-five senior guard prospects in the country by some scouts.
TE Tyler Kroft, RS Junior (6-5 | 240 | 4.82 | #86)
Brandon Coleman received most of the publicity entering last season, but Kroft led the team in just about every receiving category in 2013, his first as a starter. He finished his sophomore season with 43 catches for 573 yards and four scores, earning first-team all-conference honors. On last year's tape, Kroft lined up mostly in the slot or the backfield and has the look of a bulked-up receiver rather than a prototype tight end, but he is feisty as a blocker and stays focused once engaged. He accelerates well off the line with good quickness in his breaks and the hesitation in his routes to create separation, although he does need some fine-tuning in this area. Kroft extends well to pluck and catches well in stride, immediately turning downfield to make something happen as a hard-nosed ball carrier. His play is reminiscent of a bigger version of Riley Cooper and as he enters his junior season, Kroft's development will be interesting to watch, especially with Ralph Friedgen now leading the Rutgers offense. Friedgen has coached several NFL tight ends, including Vernon Davis.
DL Darius Hamilton, Junior (6-4 | 265 | 4.74 | #91)
One of the highest ranked high school recruits to attend Rutgers, Hamilton was a five-star player out of Don Bosco Prep and despite offers from just about every top program in the country, decided to stay in state and chose the Scarlet Knights. Hamilton played mostly a reserve role as a true freshman before becoming a full-time starter as a sophomore last year (12 starts), seeing most of his snaps inside at defensive tackle. He was mostly a two-down player and was the only Rutgers' player to record double-digit tackles for loss (11.5) in 2014, adding 48 tackles, 4.5 sacks and three pass break-ups (all career-highs). At 265 pounds, Hamilton doesn't have the size of most interior defensive linemen, but he has good body thickness throughout with the speed to get upfield quickly and penetrate. He has NFL movement skills with a flexible body type to bend and make sharp cuts, playing with a high motor and emotion whenever he steps on the football field. Hamilton also has the bloodlines that NFL evaluators seek as the son of Keith "Hammer" Hamilton, who was a defensive lineman and 12-year veteran with the New York Giants (1992-2003). Although still developing and unpolished in several areas, the younger Hamilton flashes a lot of next level potential and has taken on a leadership role in 2014 as the most experienced member of the Scarlet Knights defense.
Other Rutgers prospects worth watching:
RB Paul James, RS Junior (6-0 | 210 | 4.62 | #34)
After seeing minimal action as a redshirt freshman in 2012, James entered last season in the thick of a running back competition and emerged as Rutgers top option at the position. He finished the 2013 season with a team-best 881 yards and nine scores, average 5.6 yards per carry and 97.9 yards per game.
C Betim Bujari, RS Senior (6-4 | 295 | 5.01 | #55)
After starting his career at right guard, Bujari became the starting center as a sophomore in 2012, becoming one of the team leaders last season. He started last season at center, but a lingering ankle injury allowed him to start only seven games and when he did return, Bujari helped out at guard. He is expected to move back to center full-time in 2014 and is one of the offensive leaders in the huddle.
LB Steve Longa, RS Sophomore (6-1 | 220 | 4.68 | #3)
The team's top tackler a year ago as a redshirt freshman, Longa earned a starting gig and was asked to help replace the departed Khaseem Greene. A New Jersey native, he stepped up to the task and led the Scarlet Knights with 123 tackles, 7.5 tackles for loss, 3.0 sacks, four passes defended and two forced fumbles. Longa earned a few All-America nods and has a bright future at Rutgers.