2015 NFL Draft: Arkansas Preview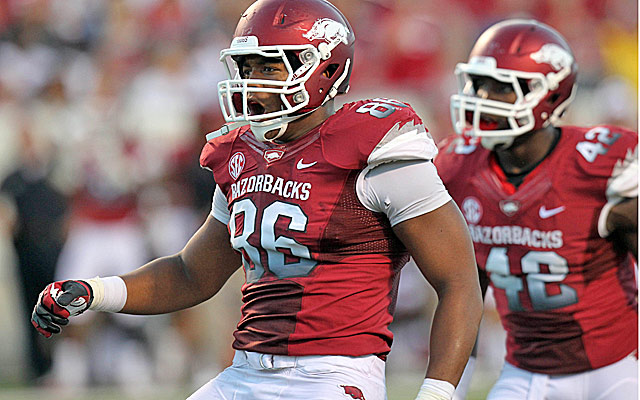 NFL Draft: More prospect previews | Prospect rankings | Rang: 2015 mock draft
While some growing pains were expected, finishing 0-8 in the conference was not the introduction to the SEC that Bret Bielema had hoped when he made the surprising decision to leave Wisconsin and take over at Arkansas a year ago.

Bielema and his staff have reason for optimism with super sophomores Alex Collins (running back) and Hunter Henry (tight end) chief among them. Star defensive end Trey Flowers may be Arkansas' only assured draft pick at this time but a few other seniors could be on the verge of breakout campaigns that push them into consideration.

Arkansas' 3-8 record a season ago didn't scare off the NFL. Four Razorbacks were selected in 2014 -- the same number of Hogs picked each of the past two seasons - with center Travis Swanson earning the highest pick (No. 76 overall to Detroit) since the Patriots made quarterback Ryan Mallett the No. 74 overall selection back in 2011.

Arkansas' top NFL Draft-eligible prospects to watch in 2014:

1. DE Trey Flowers, Senior (6-4 | 268 | 4.82 | #86)
Forming a dynamic duo with Chris Smith (a fifth round pick by Jacksonville), Flowers earned Second Team All-SEC honors in 2014, racking up 44 tackles, including 13.5 for loss and five sacks, as well as three forced fumbles and an interception. The production was nothing new for Flowers, who'd posted similar numbers a year earlier (50 tackles, including 13 for loss and six sacks) and earned a spot on the SEC All-Freshman team as a true freshman in 2011 with 28 tackles, including 5.5 for loss and a sack while seeing action in all 13 games (three starts).

Flowers explored entering the 2014 NFL draft but elected to return for his senior campaign after reportedly earning a third round grade from the Advisory Committee. Proving that he can be as productive without an established speed rusher like Smith operating on the other side could boost Flowers' grade, as there is no denying that the preseason First Team All-SEC pick possesses intriguing tools.

Flowers looks the part of an NFL defensive end at 6-foot-4, 268 pounds. He possesses broad shoulders, long arms and good overall musculature. Flowers has only average initial quickness for the position but generates good speed off the corner because of his long gait. His best asset is the length and strength of his arms, which allow him to discard blockers at the point of attack and lasso ball-carriers attempting to run past him. He attempts to poke the ball out while tackling and can generate some big hits when given room to build momentum, forcing the first three fumbles of his career last season.

Flowers is experienced rushing from both the left and right side, as well as from the two-point stance. His junior tape did not reveal ideal flexibility, explosive quick-twitch or the straight-line speed to be a featured stand-up rusher in the NFL but scouts will appreciate his versatility and the effort he shows in pursuit. Flowers can boost his stock with better burst off the edge and by using his long arms to more consistently affect the vision of quarterbacks.

2. OL Brey Cook, Senior (6-6 | 328 | 5.29 | #74)
An Arkansas native and highly touted prep prospect, Cook signed with the Razorbacks amid great fanfare and enters his senior campaign with 35 career appearances (including 17 starts). He's played all over the line throughout his career, including last season - his first as a full-time starter -- with his first four games coming at right guard and the final seven at right tackle. Cook is expected to move back to right guard for his senior campaign, though his height could push him back outside at the next level.

Cook's size and strength enables him to move defenders in the running game. He possesses adequate initial quickness and leverage to drive opponents backward and shows some savvy, incorporating cut blocks and angles to seal defenders from the action. Cook isn't always pretty in pass protection, lumbering a bit in his kick-slide when protecting the edge at tackle but he is effective, showing enough balance and power to latch and control opponents and very good awareness to switch off on combo blocks or to recognize blitzes. His sheer mass makes him an effective pass protector at guard, though he is a bit susceptible to quick pass rushers who can squirt through gaps.

3. S Alan Turner, Senior (5-11 | 201 | 4.59 | #27)
Turner entered his junior campaign with just 18 career tackles under his belt but quickly emerged as a standout for the Hogs in 2013, pacing the team with 97 tackles while starting all 12 games. He also broke up five passes and intercepted two others. With experienced corners on the perimeter and some questions about the instincts and reliable tackling of Arkansas' linebackers, Turner could be in for another very productive season in 2014.

Turner possesses a short, stout frame for the safety position. He is a physical, downhill hitter who likes to duck his head and lead with his shoulder, creating some big collisions. While committed to stopping the run, Turner recognizes his responsibility as the last line of defense and doesn't unnecessarily attack when teammates are in position to make the play, showing patience and awareness. He faces the ball from a staggered set, which makes it easier for him to cover half of the field in pass protection as he has a high, choppy back pedal and does not have ideal straight-line speed.

Other Arkansas prospects worth watching:

OLB Braylon Mitchell, Redshirt Senior (6-2 | 231 | 4.76 | #34)
Mitchell enjoyed a breakout campaign for Bielema and linebackers coach Randy Shannon last season, tying for second on the team with 77 tackles after languishing on special teams and the sidelines for his first three seasons in Fayetteville. Mitchell is light on his feet and changes directions fluidly but too often is a step slow in recognizing the play and is more of a tentative grab and drag tackler rather than a heat-seeking missile.

CB Tevin Mitchel, Senior (6-0 | 188 | 4.52 | #23)
Mitchel enters his senior campaign having earned starts over the past three seasons but in need of a breakout to assure being drafted. The athleticism and bloodlines are there, as Mitchel is the son of former Oklahoma (and New England Patriots) option quarterback and running back Eric Mitchel. Mitchel is a fluid athlete with natural coverage skills who changes directions easily and flashes the hand-eye coordination to rip passes away as they arrive, as well as make the interception. He is a bit of enigma at this point, however, as he has yet to put it all together and enjoy the big year expected given his talent. Perhaps as an indication that he's preparing to do precisely this in 2014, Mitchel has changed his number from No. 8 to No. 23.

RB Jonathan Williams Junior (5-11 | 223 | 4.56 | #32)
Bielema maintained Barry Alvarez's tradition of churning out NFL running backs at Wisconsin and in Williams and Collins, the talent is already in place at Arkansas to do the same. Williams was overshadowed a bit by Collins (the SEC Freshman of the Year) but rushed for 900 yards and four touchdowns of his own last season. Williams doesn't possess his teammates' acceleration but he's a well-built back who attacks the line of scrimmage and shows good leg drive to generate yards after contact.

WR Demetrius Wilson, RS Senior (6-2 | 185 | 4.49 | #81)
Wilson missed the entire 2013 campaign after tearing an ACL last August but is expected to take over as the featured X receiver in Arkansas' passing attack this year. A two-time all-conference pick at Glendale Community College, Wilson signed with Arkansas over the likes of Tennessee, Arizona and Arizona State and caught nine passes for 117 yards and a touchdown for the Hogs in 2012.