2015 NFL Draft: Auburn Preview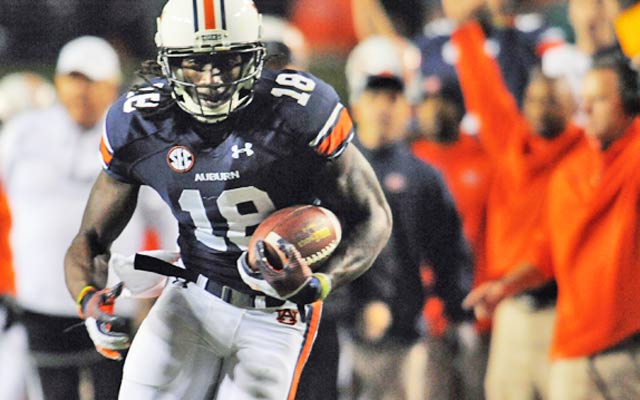 NFL Draft: More prospect previews | Prospect rankings | Rang: 2015 mock draft
Given the crucial role Gus Malzahn played as the innovative offensive coordinator in Auburn's run to the 2010 BCS title, there was plenty of optimism that he was the right man to lead the Tigers back to glory. The turnaround he engineered last year, however, was almost beyond belief.

Malzahn took over a program coming off of a 3-9 campaign (including 0-8 in the SEC) in 2012 and guided the Tigers to an SEC championship and within 13 seconds of a national title. Malzahn's wizardry in play design deserves plenty of credit -- but so does a roster filled with NFL prospects.

In fact, despite losing All-Americans Greg Robinson, Dee Ford and Tre Mason to the NFL, Auburn could have an even bigger impact on next spring's NFL Draft than it did in 2014.

Auburn's top NFL Draft-eligible prospects to watch in 2014:

1. WR Sammie Coates, Redshirt Junior (6-2 | 201 | 4.36 | #18)
Given Malzahn's run-heavy attack, it is perhaps ironic that no player on the 2014 roster signifies Auburn's meteoric rise better than Coates, who entered last season with just six receptions under his belt. Coates exploded for 42 grabs for 902 yards (a 21.5 average!) and seven touchdowns in 2013 and due to a freakish blend of size, speed and strength, looks poised to build upon these numbers as a junior.

Coates reportedly has been clocked in the 4.3s in the 40-yard dash and this speed is apparent on the field. Like most big play wideouts, Coates possesses first-step acceleration that allows him to quickly leave defenders in his wake and the long speed to pull away from the pack. He's unique in that Coates combines this speed with a muscle-packed frame that makes him every bit as likely to shove defenders to the ground as run away from them. He can extend and pluck fastballs outside of his frame and tracks the ball well over his shoulder. Malzahn's scheme calls for his receivers to block often and he is a physical and alert in this role.

While blessed with extraordinary tools, Coates remains a work in progress. He runs limited routes in Auburn's scheme (mostly verticals, quick outs and drags across the middle) and he could generate more separation by sinking his hips and exploding out of his cuts. He doesn't consistently sell his routes when the play calls for a run or if he thinks the pass is going another way. Occasionally he'll let an "easy" pass slip through his fingers.

2. OC Reese Dismukes, Senior (6-3 | 296 | 5.23 | #50)
Graded as the top prep center by many recruiters when he signed with Auburn in 2011, Dismukes has proved every bit worthy of the praise, starting 37 of 39 career games and coming off a junior campaign in which he earned First Team All-SEC honors and generated some buzz that he might enter the 2014 NFL Draft.

Citing the fact that centers generally don't earn high picks in the draft, Dismukes elected to return for his senior campaign. With another strong performance, the preseason Rimington Trophy candidate and NFLDraftScout.com's top-rated center looks like a good bet to challenge for a top 50 selection next spring.

Dismukes sports the short, squatty frame so conducive to playing in the trenches. He has a low center of gravity and plays with excellent knee bend, giving him a leverage advantage over most opponents. He shuffles well laterally and is quick to the second level due to light feet. Dismukes has strong hands to latch and control opponents, showing not only power but excellent hand placement. Dismukes is strong enough to drive defenders off the ball but is best suited to a zone-blocking scheme where he can fully take advantage of his efficient movement to turn and seal defenders from the action.

3. QB Nick Marshall, Senior (6-1 | 210 | 4.48 | #14)
Ten years ago Marshall's athleticism might have prompted a switch to receiver or defensive back in the NFL. He's proven the speed and agility to make the transition but given the success of dual-threat quarterbacks in today's NFL, Marshall will be given every shot to prove he can remain at the game's most important position. There was plenty of evidence shown last year -- his first at quarterback at the FCS level -- that Marshall can do precisely that.

Marshall originally signed with Georgia as a cornerback in 2011 but was one of three players released after being caught stealing from a teammate. Marshall signed a week later with Garden City (Kan.) Community College where he starred at quarterback, accounting for 4,237 yards and 37 touchdowns in 2012 and returned to the SEC last year, winning the starting role over the summer and emerging as a verifiable star throughout the fall. Marshall completed 59.4% of his passes for 1,976 yards and 14 touchdowns (six interceptions) via the air and rushed for another 1,068 yards and 12 scores to earn honorable mention All-SEC honors.

Critics will point out that Marshall's success comes from a relatively simple offense with many pre-determined throws and plenty of talent surrounding him. These are factors that Marshall may be best served attempting to overcome in an all-star game capacity. There is no denying his agility, speed and arm talent. The ball explodes out of Marshall's hand and - when he sets his feet - Marshall has shown the ability to fit passes through tight windows requiring velocity or touch. Marshall is not as accurate on the move and had a number of passes knocked down at the line of scrimmage a year ago, two areas that must improve in 2014 if he is to be a legitimate quarterback candidate for the NFL. Teams will also want to investigate Marshall's character due to the theft charges and a July 11 citation for marijuana possession. He's shown plenty of composure on the field, including poise late in guiding Auburn to thrilling last-second victories last year over Mississippi State and Alabama.

4. DT Gabe Wright, Senior (6-2 | 285 | 4.98 | #90)
Ford's speed off the edge played a critical role in Auburn's pass rush a year ago but Wright's burst and agility as an interior threat was also key. Wright started a career-high 11 games for the Tigers last season (35 tackles, including 8.5 for loss) and has been part of Auburn's rotation along the defensive line since stepping onto the field as a true freshman.

Wright reportedly played at 309 pounds a season ago but is now in the 285-290 range as Auburn is hoping to feature him not only in the middle but at defensive end in 2014 as part of their "Rhino" package.

Wright has terrific initial quickness, which he can use to penetrate gaps and wreak havoc in the backfield. At times he is so consumed with rushing upfield that he loses sight of the ball and it is hoped that with the loss of weight, he'll be better suited to changing directions and making more plays in pursuit. He has very active hands to swim past would-be blockers and impair the vision of the quarterback.

So-called "undersized" defensive tackles Aaron Donald and Dominique Easley were first round picks a year ago. A breakout senior campaign from Wright could have his stock skyrocketing, as well.

Other Auburn prospects worth watching:

OLB Kris Frost, RS Junior (6-2 | 234 | 4.65 | #11)
Frost signed with Auburn as a highly touted prep but injuries and position switches have limited his production, thus far. Frost's athleticism helped him rack up 59 tackles in mostly rotational duty (one start) at middle linebacker a year ago but he never looked comfortable in this role. Moved outside in defensive coordinator Ellis Johnson's 4-2-5 scheme this season, Frost's speed and agility could help him enjoy a breakout campaign.

DT Jeffrey Whitaker, RS Senior (6-3 | 322| 5.32 | #54)
Whitaker missed the entire 2013 season with a knee injury but enters 2014 with 18 career starts and previously caught my eye due to his NFL-caliber combination of size and agility. Respected for his work ethic and leadership, Whitaker is expected to re-emerge as a key contributor on a talented defensive line.

TE C.J. Uzomah, Senior (6-4 | 264 | 4.76 | #81)
Considering that he only caught 11 passes last season (for 154 yards and three touchdowns) and just 18 for his career, Uzomah is a projection to the NFL but the former receiver and current tight end/H-back/slot receiver is precisely the type of matchup problem the NFL is looking for. Uzomah needs to gain strength and nastiness as a blocker if he is to grow into a more traditional tight end but he sports an NFL-caliber frame, as well as an impressive body control and soft hands.

FS Jermaine Whitehead, Senior (5-11 | 193 | 4.54 | #9)
With 26 career starts and experience at both the strong and field safety positions in Auburn's unique defensive alignment, Whitehead is expected to take over as the Tigers' primary leader in the secondary this year. Whitehead lacks ideal size and ball skills but he's a fluid athlete with speed, agility and smarts.

RB Corey Grant, RS Senior (5-10 | 205 | 4.34 | #20)
The search is on at Auburn to replace Mason, the Heisman finalist who rushed for 1,816 yards and 23 touchdowns a year ago and the winner could ironically enough be Grant, a player who first signed at Alabama. Grant, an Opelika, Ala. native, redshirted with the Tide in 2010 and sat out the 2011 season per NCAA transfer rules. He saw limited duty on special teams in 2012 but finished second to Mason among running backs a season ago with 647 yards, averaging an eye-popping 9.8 yards per carry. Grant's vision and speed make him a legitimate breakout candidate, though scouts would like to see him turn upfield to run between the tackles more often, rather than rely on his speed to attack the perimeter.

RB Cameron Artis-Payne, Senior (5-10 | 210 | 4.58 | #44)
If Grant was the outside speed threat in Auburn's offense, Artis-Payne was the battering ram a year ago. The well-built, highly-regarded JC-transfer finished with 610 yards and six touchdowns, showing an intriguing combination of power, acceleration and jump-cut ability that could make him the Auburn back set to explode.

ILB Cassanova McKinzy, Junior (6-2 | 249 | 4.77 | #8)
McKinzy immediately turned heads at Auburn, starting at middle linebacker as a true freshman and leading the team in tackles (75 tackles, including eight for loss) from his weakside position last year. Physical and tenacious, he's been asked to move back inside to the 'mike role this fall. He doesn't possess great speed or agility and therefore has some coverage limitations but takes on and shed blocks aggressively in the hole.

S Robenson Therezie, RS Senior (5-09 | 212 | 4.52 | #27)
A former running back, Therezie returns as Auburn's starter at the hybrid "Star" position in Ellis Johnson's 4-2-5 scheme. Therezie finished fifth on the team with 57 tackles last year and led the Tigers with four interceptions. While shorter than ideal, Therezie is instinctive, athletic and tough and is expected to take over as Auburn's primary punt returner this fall.

CB Jonathan Mincy, Senior (5-10 | 196 | 4.52 | #6)
Entering his fourth season as a starting corner for the Tigers, Mincy has the size, agility and speed to earn NFL attention but his one career interception during that time is an obvious blight on his resume. Mincy is at his best facing the quarterback, showing an aggressive burst to close and is a solid wrap-up tackler.

WR Quan Bray, Senior (5-10 | 195 | 4.49 | #4)
Overshadowed but a valuable contributor to Auburn's passing attack (54 career receptions for 382 yards and three scores), Bray offers vision, lateral agility and burst. He is quicker than fast and projects as a slot receiver and returner at the next level.