2015 NFL Draft: Georgia Preview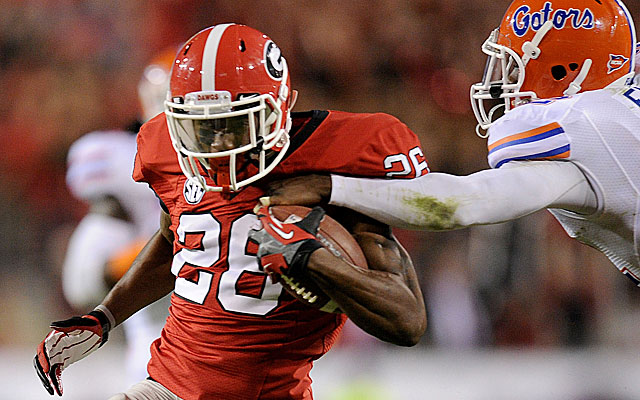 NFL Draft: More prospect previews | Prospect rankings | Rang: 2015 mock draft
Georgia entered the 2013 season expected to contend for the SEC championship. A leaky defense and injuries to skill-position stars Malcolm Mitchell, Todd Gurley and finally quarterback Aaron Murray, however, doomed the Bulldogs and Mark Richt's squad saw only two players drafted into the NFL -- the lowest output from Georgia since 1991.
With Gurley -- the top amateur back in America -- returning, the Bulldogs have at least one of the ingredients needed to bounce back in 2014. The loss of Murray (the SEC's all-time touchdown passing leader) and new plans on defense could make it a rebuilding year in Athens.
Georgia's top NFL Draft-eligible prospects to watch in 2014:
1. RB Todd Gurley, Junior (6-1 | 232 | 4.54 | #3)
With the NFL increasingly favoring the running back-by-committee approach, some have theorized that the days of runners earning first round selections has passed; certainly the fact that no backs have earned a top 32 pick the past two years provides evidence of this. It is worth noting, however, that there hasn't been a back with Gurley's talent available the past two years.
Boasting a combination of power, balance and underrated agility that helped Marshawn Lynch Beast-Mode his Seattle Seahawks to their first title, Gurley has dominated the SEC the past two seasons, rushing for a combined 2,374 yards and 27 touchdowns, while chipping in another 558 yards and five scores (all last year) as a receiver.
Like Lynch, Gurley is best known for simply bowling over defenders, but each back's success is also a testament to good vision, surprisingly light feet and balance to bounce off would-be tacklers. Gurley accelerates quickly when he has an opening, ruining angles from oncoming defenders and frequently grinding extra yardage after contact by falling forward. Gurley has soft, natural hands out of the backfield and is a willing, cognizant blocker in pass protection.
Like most backs in the highly physical SEC, the concern with Gurley will almost surely be the punishment he's absorbed at the collegiate level. Gurley missed all of the Tennessee, Missouri and Vanderbilt games a year ago after sustaining an ankle injury against LSU and must remain healthy as a junior to earn the high selection his talent warrants. Accomplishing this will be even more difficult now that defenses can focus on stopping him with Murray now in the NFL.
2. OLB/DE Jordan Jenkins, Junior (6-2 | 246 | 4.76 | #59)
With opponents focusing on All-American Jarvis Jones two years ago, Jenkins burst onto the scene with 31 tackles, including eight for loss and five sacks as a true freshman. Jenkins took over as the 'JACK linebacker in then-defensive coordinator Todd Grantham's 3-4 alignment and improved his numbers (45 tackles, including 12 tackles for loss and another five sacks) but did not emerge as the dominant force some anticipated. He's expected to remain in a similar role in new defensive coordinator Jeremy Pruitt's scheme but will be significantly lighter, after weighing around 270 pounds when Pruitt arrived from Florida State.
The drop in weight could help Jenkins significantly boost his production in 2014. Whether from the two or three-point stance he shows good burst off the snap, as well as the lateral agility and flexibility to scrape the corner but lacks preferred closing speed. Perhaps most impressive about Jenkins' game given his 'tweener frame is his strength at the point of attack. For a player with his size, Jenkins shows good power to lock-out and create a pile, as well as the balance to string plays out wide.
3. WR Malcolm Mitchell, Redshirt Junior (6-1 | 190 | 4.52 | #26)
A year ago Mitchell topped my list of Georgia's top prospects. Recurring knee injuries, including a torn ACL suffered in the season-opener against Clemson and a separate injury that forced new surgery on July 31, however, very much has his stock in flux.
When healthy, Mitchell has shown flashes of superstardom. Over his first two years in the program, he's spent time at wide receiver, cornerback, kick returner and punt returner and has been described as Georgia's most dynamic and versatile weapon since Champ Bailey.
Prior to the knee injuries, Mitchell was a dynamic athlete who struck fear into defenders. Splitting time between so many positions early in his career stunted his growth and most of his production at wideout came off of relatively simple routes. His production to this point (85 catches for 1,237 yards and eight touchdowns) speaks to his upside. Mitchell possesses the combination of size, agility, straight-line speed and ball-skills to re-emerge as Georgia's top pass-catcher but he is a work in progress as a route-runner. He's explosive out of his breaks and is tough to tackle, showing not only elusiveness and vision but strength to fight through arm tackles and break away for the long score.
4. OLB Ramik Wilson, Senior (6-2 | 232 | 4.76 | #51)
Boasting an impressive combination of speed and explosiveness, Wilson burst onto the national scene last year, becoming just the third Georgia defender to lead the SEC in total tackles with 133 stops. The gaudy totals earned Wilson consensus First Team all-conference honors (including from league coaches) and given his range and tenacity in pursuit, Wilson is likely to enjoy similar production as a senior.
From an NFL perspective, however, Wilson currently projects best on the outside in a traditional 4-3 alignment. Wilson relies on his athleticism to run around blockers on his way to the ball-carrier, struggling to disengage when opponents get their hands on him. It isn't that he lacks physicality. While most of the tackles viewed on tape (vs. Auburn, Missouri, South Carolina & Tennessee) were solid wrap-ups, Wilson can explode into ball-carriers for impressive collisions. He does not possess the functional power, at this time, however, to take on and shed blockers in the hole, often resorting to backpedaling and spinning away from opponents to escape or 'rassling ball-carriers to the ground with arm tackles. Either way, he was giving up yardage in doing so.
Wilson's agility and speed is certainly intriguing. He showed improved recognition in coverage as he gained experience a year ago and with improved take-on power, could vault up draft boards. The senior is not, however, the elite prospect that his breakout 2013 production suggests... at least not yet.
Other Georgia prospects worth watching:
OC David Andrews, Senior (6-2 | 295 | 5.15 | #61)
Entering his third season as the Bulldogs' starting center, Andrews has established himself as one of the better pivots in the country. He has good initial quickness for the reach block, as well as the leg drive to push defenders off their mark. He lacks ideal balance and the agility to recover if beaten initially but could earn interest on Day Three.

DE Ray Drew, Senior (6-4 | 276 | 4.79 | #47)
Drew was considered one of the crown jewels in Georgia's highly touted "Dream Team" recruiting class in 2011 but prior to last season had been considered a bit of a bust. Expected to play outside linebacker, Drew kept growing and finally earned time at defensive end last year, starting seven of 13 games and posting 43 tackles, eight tackles for loss and six sacks. He remains very much a work in progress in terms of his technique, showing a rudimentary club and spin move to complement his favorite move, a basic bull rush. Drew has some untapped potential that will no doubt intrigue scouts. He shows some quickness off the snap, has a naturally large and powerful frame and plays hard.
CB Damian Swann, Senior (5-11 | 178 | 4.52 | #5)
As the only returning starter to Georgia's secondary a season ago, opponents often looked the other direction rather than challenge Swann, who played a part in forcing eight turnovers (four interceptions, two forced fumbles, two fumble recovers) in a breakout 2013 campaign. Swann has good athleticism and is a willing tackler but must return to his playmaking ways in 2014 to assure being drafted.
WR Chris Conley, Senior (6-2 | 206 | 4.54 | #31)
After the injury to Mitchell, Conley emerged as Georgia's leading receiver last season, more than doubling his previous year's catch total with 45 receptions for 651 yards and four scores. Conley has good build-up speed, as well as the body control and soft hands to make tough receptions.