2015 NFL Draft: Syracuse Preview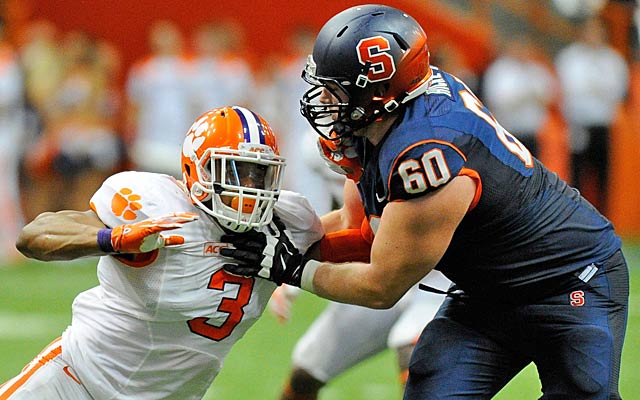 NFL Draft: More prospect previews | Prospect rankings | Rang: 2015 mock draft
Despite some volatility on both sides of the football in 2013, and a new head coach in Scott Shafer to replace Doug Marrone, the Orange still managed seven wins and a Texas Bowl victory over Minnesota last season.
On offense, they look to gain better consistency with second-year starting QB Terrel Hunt a year older and hopefully wiser in George McDonald's system, and with several key contributors returning to the offensive line, including All-ACC honorable mention and NFL prospect, LT Sean Hickey.
On defense, the Orange will need to fill some holes up the middle with the departures of DT Jay Bromley (3rd round, New York Giants) and ILB Marquis Spruill (5th round, Atlanta), but have the good fortune of returning a few of key starters in the highly-experienced OLB tandem of Dyshawn Davis (37 games) and Cameron Lynch (38 games), along with intriguing junior safety prospect Durrell Eskridge.
Syracuse's top NFL Draft-eligible prospects to watch in 2014:
OT Sean Hickey (6-5 | 300 | 5.14 | #60)
A 2013 All-ACC Honorable Mention and 26-game starter for the Orange with 17 starts at left tackle, Hickey has a fifth year of eligibility due to a 2011 injury, and enters his final year as a Preseason Outland Trophy Award Watch List member.
Hickey possesses the ideal height and musculature for a next-level tackle, and demonstrates nice functional strength particularly in his upper half, when engaging opponents. He utilizes consistent footwork and strong hands to sustain as a pass-protector despite lacking elite athleticism, and is decisive to target and square up at the second level when paving the way for the run.
He needs to work on staying low as his lighter lower half has a tendency to be exposed by the bull rush at times, as he'll get high in the pads off the snap.
If Hickey can continue to build on his already-solid technique by improving his use of leverage in power-rush situations, he could find himself in the conversation among the top tackle prospects for 2015 as the draft nears.
Other Syracuse prospects to watch in 2014:
SS Durrell Eskridge (6-3 | 203 | 4.50 | #3)*
Eskridge earned All-ACC Third Team honors as a sophomore after racking up 78 tackles and four interceptions - both team highs. At 6-foot-3, Eskridge owns a "plus" frame for the position, and demonstrates impressive movement skills for his size as a pass defender, along with toughness, instincts and physicality to be a factor in the box against the run. He can be reckless at times, as he'll drop his head or rely on the hit rather than wrapping, and he's susceptible to fakes occasionally, but there's no denying Eskridge's natural NFL pedigree in terms of his physical tools. Could put himself in contention to be one of the first safeties taken in 2015 with a strong junior campaign and early entry.
OLB Dyshawn Davis (6-2 | 221 | 4.72 | #35)
One of Syracuse's most experienced players with 37 career appearances including 10 starts as a freshman in 2011, Davis was the ACC's fifth-leading tackler as a sophomore, and enters his senior season ranked eighth on the school's career tackles for loss record list with 31.5. Davis's range and athleticism are "plus" for the position but he's built more like a safety than a linebacker and may be deemed a "tweener" by next-level scouts if he doesn't bulk up a bit.
OLB Cameron Lynch (5-11 | 226 | 4.75 | #38)
Another experienced linebacker with 38 appearances and 16 starts on the outside, Lynch's instincts and toughness are impressive, but his lack of size and top-end athleticism may hamper his changes of being drafted. Athletic Director's Honor Roll recipient (Spring 2013, Fall 2013 and Spring 2014).