2015 NFL Draft: Virginia Tech Preview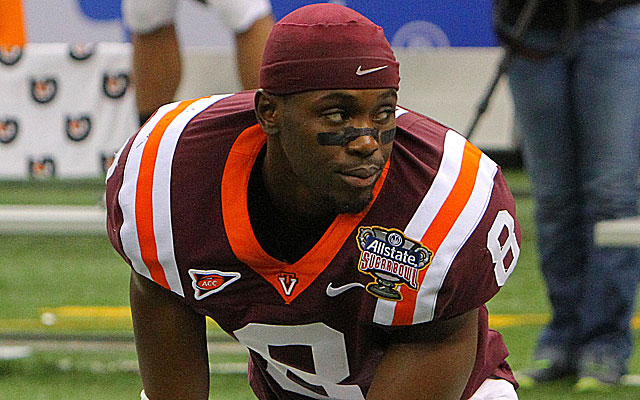 NFL Draft: More prospect previews | Prospect rankings | Rang: 2015 mock draft
After a good-but-not-great 8-5 (5-3 in conference) showing in 2013, longtime coach Frank Beamer enters 2014 with 12 total returning starters including seven on offense -- a unit that was anything but exciting last year -- and an intriguing QB competition with Texas Tech transfer Michael Brewer looking like a potential favorite to win the job. Sophomore running back Trey Edmonds will be counted on to lead rushing attack, behind an offensive line anchored in part by versatile senior center/guard David Wang.
On defense, the Hokies return only five starters, but should have one of the best back-end groups in the nation with Kendall Fuller (6 INTs in '13) and Brandon Facyson (5 INT's) holding down the corners, and two senior NFL prospects in SS Kyshoen Jarrett and FS Detrick Bonner filling the other two secondary spots. And while the line takes a significant hit with three starters gone, one of the nations top interior rushers in senior Luther Maddy returns after a 6.5-sack junior campaign, and will be one to keep an eye on as a potential first-round talent leading up to the draft.
Virginia Tech's top NFL Draft-eligible prospects to watch in 2014:
DT Luther Maddy (6'0 | 292 | 5.02 | #92)
A third-team All-ACC coaches selection as a junior, Maddy posted some impressive numbers with 55 tackles, 13.5 for loss, 6.5 sacks and 16 hurries, while starting all 13 games for the Hokies at defensive tackle last year.
Though his size may be cause for some concern when projecting him to the next level, Maddy exhibits surprising anchoring strength and flashes a good understanding of leverage use to take on bigger blockers in spite of his shorter, lighter frame. Where he excels is as a rusher, exhibiting strong natural burst off the snap, hand quickness to rip opponents away, and agile, light feet to side-step, spin or redirect to create space. When in the clear, Maddy demonstrates strong acceleration and closing burst, and when asked to shuffle laterally, displays the range to be a factor at the edges against the run.
As a senior, Maddy will need to show better consistency staying low off the snap, but his rare quickness and natural rush ability from the inside are traits that NFL teams are often willing to spend a high draft pick for.
SS Kyshoen Jarrett (5'11 | 192 | 4.57 | #34)
A third-team All-ACC selection in 2013, Jarrett considered leaving for the NFL early after compiling 71 tackles and two interceptions as a junior, but opted instead to return for his senior campaign. Fast, explosive and physical, Jarrett possesses the range to play deep safety, the quickness and strength to man up at the line, and the toughness to move up into the box and play the run.
He's still learning how to play the ball, as he'll fail to locate or close with good timing consistenly, but he has shown continual improvement over the course of his college career and possesses all the tools to be a big-time impact player at the next level.
One concern will certainly be his size as his slighter frame may scare some teams away from taking him as a pure safety, but with similarly-built safeties like Devin McCourty having success, and with prospects like Jimmie Ward drawing reasonably high draft selections, it's apparent that teams certainly aren't writing off these smaller, quicker athletes and will find ways to get them on the field.
FS Detrick Bonner (6'0 | 194 | 4.56 | #8)
A 30-game starter at Virginia Tech who has lined up everywhere from corner to whip linebacker to safety, Bonner has been one of the Hokies' most reliable and versatile contributors on defense since starting four games as a redshirt freshman in 2011. Despite his lean frame, Bonner possesses some rare athletic traits (38-inch vertical as a freshman) and impressive strength for his size (340-pound front squat as freshman), and although he hasn't been a prolific turnover machine, he has posted 15 pass break-ups and three interceptions over two seasons as the team's full-time starter at free safety, demonstrating that he can certainly be a factor in the passing game. Bonner's athleticism and natural range could make him an intriguing prospect for the 2015 draft with continued consistency and growth at the position.
Other Virginia Tech prospects to watch in 2014:
C David Wang (6'2 | 298 | 5.08 | #76)
Versatile, smart lineman with 23 career starts, rotating between guard and center over the last two seasons. Although not a massive specimen or elite athlete Wang's intelligence, quickness and position versatility should earn him a chance to make an NFL roster if he's able to stay healthy and continue his consistent play.