2015 NFL Draft: Jameis Winston projected as No. 1 overall pick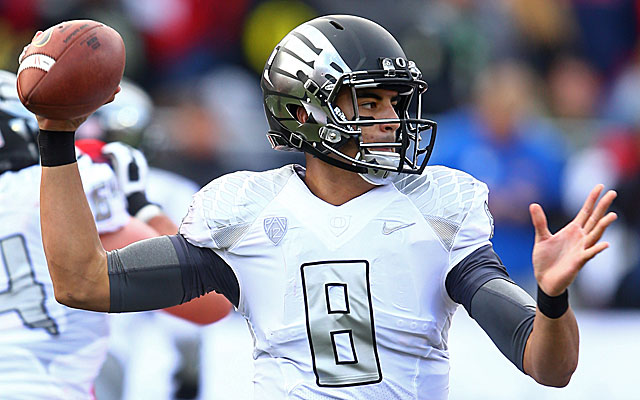 Like the swallows of Capistrano or spawning salmon returning to the rivers of their birth, hardcore football fans are instinctively drawn to mock drafts -- even ones written before the season has even begun.
Obviously there are going to be changes over the next nine months but after a few preseason games, you've already identified positions of concern for your favorite NFL team. And NFLDraftScout.com has spent the summer identifying the top prospects per position in college football.
So, take this preseason mock draft as it is intended -- a fun peek ahead to next year's rookie stars and the NFL clubs they may soon be playing for.
*The selection order for this mock draft is based on the projected outcome of the 2014 NFL season by the NFLDraftScout.com staff. The Cleveland Browns own the rights to the Buffalo Bills' selection due to the Sammy Watkins trade.
1. Oakland Raiders -- Jameis Winston, QB, Florida State: If the Raiders finish dead last as projected, owner Mark Davis is likely to clean house, beginning with general manager Reggie McKenzie and including head coach Dennis Allen and veteran quarterback Matt Schaub, whose contract isn't guaranteed past this season. Rookie Derek Carr has flashed and deserves more of an opportunity but through the first few preseason games he's shown the happy feet and vulnerability to big shots that plagued him at Fresno State. The Raiders may be more willing than most franchises to overlook Winston's off-field concerns and could fall in love with his size, arm and big game moxie.
2. Minnesota Vikings -- Leonard Williams, DT, Southern Cal: The Vikings invested millions in pass rushers Everson Griffen and Anthony Barr and could see Williams, 6-foot-5, 290 pounds, as the perfect interior complement. Williams, a Florida native, has been a standout from day one in the Pac-12, with 27 tackles for loss and 14 sacks over his first two collegiate seasons.
3. Cleveland Browns -- Cedric Ogbuehi, OT, Texas A&M: The Browns have two of the league's best with left tackle Joe Thomas and center Alex Mack but could use reinforcements at right tackle, where Mitchell Schwartz is coming off a disappointing second season. The athletic and long-armed Ogbuehi is more physically talented than either of his A&M predecessors -- top-six picks Luke Joeckel and Jake Matthews -- and is versatile, having starred at left guard (2012), right tackle (2013) and should excel at left tackle as a senior.
4. Houston Texans -- Marcus Mariota, QB, Oregon: Coach Bill O'Brien may turn 2014 fourth round pick Tom Savage into the Texans' long-term quarterback but if there is any question, Houston would presumably be thrilled to see a talent like the strong-armed and athletic Mariota still on the board.
5. Jacksonville Jaguars -- Randy Gregory, DE, Nebraska: Veteran upgrades along the defensive line and an aggressive secondary should help the Jaguars improve from their last-place finish a year ago in sacks (31). Pairing Gus Bradley with the long-armed 6-foot-6, 245-pound Gregory -- who recorded an eye-popping 19 tackles for loss and 10.5 sacks last year in his first season of D-I football -- could be the long-term solution the Jags have been searching for at LEO defensive end.
6. Cleveland Browns (from BUF) -- Dorial Green-Beckham, WR, Missouri: The Browns stubbornly refused to acknowledge the impending loss of Josh Gordon throughout the 2014 draft, leaving quarterbacks Brian Hoyer and Johnny Manziel lacking a playmaker at the receiver position. Like Gordon, Green-Beckham comes with character concerns that could push him down the board but he's a top 10 talent who is drawing comparisons to Cincinnati Bengals star A.J. Green for his size, speed and ball skills.
7. Washington Redskins -- Brandon Scherff, OT, Iowa: Getting bigger and more physical at the line of scrimmage will continue to be a priority in Year Two under Jay Gruden and pairing Scherff with Trent Williams would give Robert Griffin III the bookend tackles to aid in his development, as well.
8. Tampa Bay Buccaneers -- Brett Hundley, QB, UCLA: Should the Bucs "earn" another top 10 pick, general manager Jason Licht and head coach Lovie Smith will likely be looking for their franchise quarterback. Hundley isn't yet as polished as Winston or Mariota but he's every bit as athletic and has made consistent strides as a pocket passer. Further, offensive coordinator Jeff Tedford should know him well after coaching against him while head coach at Cal.
9. Tennessee Titans -- Vic Beasley, OLB, Clemson: The Titans didn't address their need for outside rushers to fit new defensive coordinator Ray Horton's scheme in the 2014 draft but could see the highly athletic Beasley as the perfect fit. Beasley possesses an explosive first step to create immediate stress on quarterbacks, as well as the acceleration to chase down ball-carriers from behind.
10. Pittsburgh Steelers -- Landon Collins, S, Alabama: Even with the addition of linebacker Ryan Shazier, the Steelers are still lacking playmakers on defense. It took an injury for Collins to emerge as a starter for the Tide last year but once on the field, his upside was obvious. Athletic, instinctive and physical, he looks poised to emerge as the top defensive back in the country.
11. Detroit Lions -- Shilique Calhoun, DE, Michigan State: The Lions boast one of the more talented defensive lines in all of the NFL but can't rest easy given each player's knack for inconsistent play or the pending free agency for Ndamukong Suh and Nick Fairley. Calhoun simply won the Big Ten's Defensive Player of the Year in his first season of starting action and is just scratching the surface of his potential.
12. Miami Dolphins -- Todd Gurley, RB, Georgia: The Dolphins got tougher in free agency and the draft but could get that much more physical by complementing Knowshon Moreno with Gurley, a beast of a back in the Marshawn Lynch mold.
13. New York Jets -- Sammie Coates, WR, Auburn: The Jets inked Eric Decker in the hopes that he could emerge as their primary pass-catcher but he's more of a complementary target than a true No. 1 receiver. Coates, 6-foot-2, 201 pounds, is an explosive athlete who could help make Jets' offensive some rocket fuel.
14. Dallas Cowboys -- Ifo Ekpre-Olomu, CB, Oregon: Improvements at virtually any level of the defense should be the priority in Dallas. Ekpre-Olomu doesn't possess elite size or speed but he's instinctive, physical and a proven standout in a passing conference.
15. Baltimore Ravens -- Andrus Peat, OT, Stanford: The Ravens are hopeful that Rick Wagner and Jah Reid will be able to replace Michael Oher at right tackle. If they aren't, Peat has the length and mobility to handle the job. Peat's head coach at Stanford, David Shaw, told the media he believed his left tackle could be the best football has seen since Ravens' Hall of Famer Jonathan Ogden.
16. New York Giants -- Devin Funchess, TE, Michigan: Much has been made of the role of tight ends in offensive coordinator Ben McAdoo's scheme but the Giants currently lack a Jermichael Finley-like talent to star in this capacity. Funchess, 6-foot-5, 230 pounds, possesses a similar build and game as Finley and could be an intriguing addition if he plays with more consistency as a junior.
17. Carolina Panthers -- P.J. Williams, CB, Florida State: The Panthers boast one of the league's most imposing fronts but questions abound at cornerback, where Melvin White and Antoine Cason are the projected starters. Williams must prove just as effective for the Seminoles in 2014 after key losses to the NFL last year but he's a fluid, instinctive corner coming off a Defensive MVP performance in the national championship game.
18. St. Louis Rams -- Amari Cooper, WR, Alabama: The Rams are banking on Tavon Austin and Kenny Britt to emerge as Sam Bradford's top receivers but neither has proven reliable to this point. Cooper's pro-ready frame (6-foot-1, 202) and first-step acceleration could make him a legitimate feature target.
19. Arizona Cardinals -- Dante Fowler, DE, Florida: The Cardinals boast one of the league's most dynamic deep patrols but age and suspensions among the pass rushers could rob Arizona of the big plays they should be generating. Fowler lines up all over the Gators defense and is comfortable rushing (or dropping) from either the two or three point stance. That type of versatility would be appreciated in Arizona, which is currently banking on John Abraham to duplicate last year's production (11.5 sacks) in his 15th NFL season.
20. Atlanta Falcons -- Mario Edwards, DE, Florida State: The Falcons beefed up their defensive line via free agency but could still be lacking a dynamic rusher. Edwards is a fluid, strong and versatile athlete who looks ready to emerge as the Seminoles' next star along the defensive line. Quick enough to handle defensive end and a mismatch sliding inside to defensive tackle on pass rushing downs, Edwards could be the difference-maker needed in Mike Nolan's scheme.
21. Kansas City Chiefs -- Marcus Peters, CB, Washington: By releasing Brandon Flowers, the Chiefs showed their commitment to getting younger, taller and more physical at cornerback. Unless some of the young talent already on the roster develops quickly, reinforcing the position will be a priority next year. Peters is a fluid athlete with the long arms scouts like at the position. He recorded 14 passes broken up a year ago, including five interceptions.
22. San Diego Chargers -- La'el Collins, OG, LSU: As long as the relatively immobile Philip Rivers is taking the snaps, the Chargers are going to value size and balance along the offensive line. Collins has starred at left tackle at LSU but his portly build could lead him to move to guard in the NFL.

23. Philadelphia Eagles -- Shawn Oakman, DE, Baylor: Chip Kelly is best known, of course, for his dynamic offense but he and general manager Howie Roseman have invested their initial first round picks on linemen Lane Johnson and Marcus Smith. Oakman didn't start a single game last year for the Bears but registered 12.5 tackles for loss. Powerful and shockingly athletic given his massive (6-foot-8, 275 pounds) frame, Oakman possesses the kind of traits teams are willing to gamble on.
24. Cincinnati Bengals -- Spencer Drango, OL, Baylor: Few teams reload along the line of scrimmage as consistently as the frugal Bengals and with starting left tackle Andrew Whitworth entering his ninth season and the clubs' backups (Marshall Newhouse, Will Svitek) entering the final year of their contracts, Cincinnati is likely to be on the lookout for potential replacements. Drango, a collegiate tackle who projects to any of the four exterior spots, has the length, strength and tenacity offensive line coach Paul Alexander will appreciate.
25. Indianapolis Colts -- Melvin Gordon, RB, Wisconsin: After investing their 2014 first round pick on a trade for Trent Richardson, GM Ryan Grigson wouldn't dare do it again in 2015? Why not? Gordon, a junior, is a slasher with clear first round traits. If Richardson doesn't pan out in year two in Indianapolis, adding a weapon for Andrew Luck will be an obvious priority.
26. Chicago Bears -- Shaq Thompson, OLB, Washington: The Bears complemented their explosive offense with massive improvements to their defensive line. Linebacker, however, looks like a concern. Lance Briggs remains the rock of the defense but is entering the final year of his contract and more questions than answers abound at the other two spots. Thompson, a former safety, has grown into a terrific linebacker and is the caliber of athlete needed to handle the dynamic offenses of the NFC North.
27. New Orleans Saints -- Michael Bennett, DT, Ohio State: To best take advantage of the talent in New Orleans' secondary, the Saints will continue to add pass rushers. Like the Seattle Seahawks' defender of the same name, Bennett is quick and versatile.
28. San Francisco 49ers -- Jaelen Strong, WR, Arizona State: At 6-foot-4, 212 pounds, Strong possesses the bulk and strength to handle the press coverage so commonplace in the NFC West. The 49ers would be wise to continue adding to their receiving corps with Anquan Boldin aging and talented (but injury prone) Michael Crabtree entering the final year of his rookie contract.
29. Green Bay Packers -- Noah Spence, DE/OLB, Ohio State: The Packers invested in veteran Julius Peppers to add to their pass rush and might be similarly intrigued with this Spence's ability to attack off the edge.
30. New England Patriots -- Carl Davis, DT, Iowa: At 6-4, 315 pounds, Davis offers the size and strength to complement and perhaps ultimately replace Vince Wilfork's run-stuffing duties on the inside, as well as the length to handle defensive end duties should the club revert back to more three-man fronts.
31. Denver Broncos -- Denzel Perryman, LB, Miami: Through free agency and the draft, the Broncos became a much more aggressive and imposing defense. Depth at linebacker remains a concern, however. Instinctive, physical and a reliable open-field tackler, Perryman would be a quick fix in the middle for the Broncos.
32. Seattle Seahawks -- Cameron Erving, OT, Florida State: Russell Okung is a Pro Bowl left tackle but he's also proven injury-prone and commands a large salary for a team that may be forced to make tough decisions to fit under the cap. Offensive line coach Tom Cable is one of the best in the business and has already turned one former defensive tackle J.R. Sweezy into a solid starter at right guard. Cable and the Seahawks could be similarly intrigued by Erving, a long-armed and fluid athlete still learning the nuances of left tackle after he, too, initially played on the other side of the line.