2015 NFL Draft: Four passers top-10, led by Mariota No. 1 overall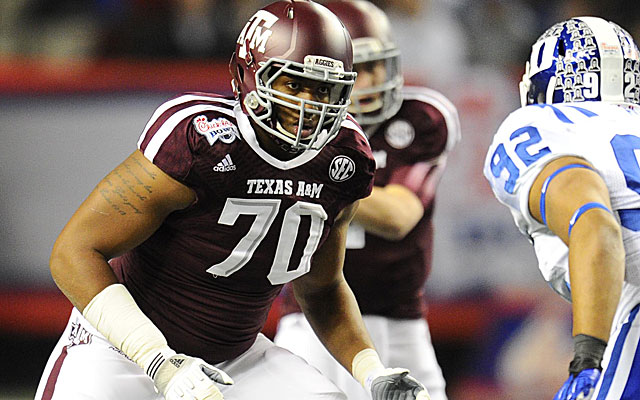 More NFL Draft: Prospect rankings | Rang's mock | Brugler's mock | Big Board
It would be easier to predict the Megamillions lottery numbers than accurately predicting the first round of the 2015 NFL Draft eight months in advance.
Taking a stab at a mock draft this early isn't about accuracy, rather an interesting exercise to preview the top players in the country who could be future first-round picks.
Team needs change, the draft order -- generated by NFLDraftScout.com staff -- won't end up this way and the draft value of the prospects listed below will change during the 2014 season.
If the 2015 NFL Draft were held tomorrow, this is what it might look like:
1. Oakland Raiders -- QB Marcus Mariota, Oregon
Yes, the Raiders drafted Derek Carr in the second round in May, but if Oakland is picking No. 1 overall in 2015, that probably means the Raiders will have a new general manager, head coach and braintrust in the front office, which puts Mariota in play. The Oregon passer has all the tools, physically and mentally, that NFL teams are searching for at the position.
2. Minnesota Vikings -- DL Leonard Williams, USC
Arguably the best defensive player in the nation, Williams is an explosive interior rusher with the power and potential to be a high draft pick. The Vikings had an opportunity to draft Aaron Donald in the first round of the 2014 NFL Draft and passed in favor of an edge rusher (Anthony Barr) -- will they pass on Williams if Minnesota has a chance to draft him next spring?
3. Cleveland Browns -- OT Cedric Ogbuehi, Texas A&M
The Browns strongly considered an offensive tackle with their top-10 pick in the 2014 NFL Draft and will probably again in 2015 if Mitchell Schwartz doesn't secure his grasp on the starting right tackle spot. Ogbuehi will play left tackle as a senior in 2014, but spent most of his career in College Station at right tackle and could potentially start there in Cleveland while also being the long-term successor to Joe Thomas at left tackle.
4. Houston Texans -- QB Jameis Winston, Florida State
With the No. 1 overall pick last year, the Texans decided to pass on a quarterback, drafting Tom Savage with the 135th pick in the fourth round instead. Head coach Bill O'Brien can't be overly excited about his current quarterback situation and with several talented passers projected to be in the 2015 class, including Winston, it will be much tougher for Houston to pass on a quarterback in the first round of next year's draft.
5. Jacksonville Jaguars -- DE Randy Gregory, Nebraska
The Jaguars finished dead last in the NFL in sacks last season (31) and that can't sit well with head coach Gus Bradley, a defensive-minded coach whose scheme thrives on pressuring passers. Despite only one season at the FBS level, Gregory is a name buzzing in NFL circles after recording 19.0 tackles for loss and 10.5 sacks as a redshirt sophomore in 2013. He needs to get stronger and refine his skill-set, but the upside as a pass rusher is off-the-charts.
6. Cleveland Browns (from BUF) -- S Landon Collins, Alabama
With C.J. Mosely off to the NFL, Collins takes over as one of the defensive team leaders in Tuscaloosa, finishing last season with 70 tackles, eight passes defended and two interceptions. Cleveland's current free safety Tashaun Gipson has showed steady improvement, but he is a free agent after this season and Collins is a special player that Mike Pettine would love to add to his defense. This pick would potentially give the Browns four former top-10 picks in their secondary (Joe Haden, Justin Gilbert, Donte Whitner, Landon Collins).
7. Washington Redskins -- DE Mario Edwards, Florida State
As a result of the trade up for Robert Griffin in the 2012 NFL Draft, the Redskins haven't owned a pick in the first round the past two seasons, making this selection even more important for Washington. Edwards was a highly decorated recruit out of high school and the light bulb appeared to come on as a sophomore in 2013, setting the stage for a breakout season.
8. Tampa Bay Buccaneers -- QB Brett Hundley, UCLA
With a new front office and coaching staff taking over in Tampa, the long-term plan for the roster, notably the quarterback position, is an unknown at this point. But if the Buccaneers are picking in the top-10 again next spring, quarterback has to be high on the team's wish list. Hundley has all the physical tools and with improved consistency in 2014, he will be considered a possible top-10 pick.
9. Tennessee Titans -- QB Connor Cook, Michigan State
Unless Jake Locker takes a big step forward in his development in 2014, there is a chance this season is his final one in Tennessee. An offensive-minded head coach, Ken Whisenhunt likely wants a quarterback who can push the ball downfield and command the huddle and Cook checks those boxes and could be a surprise high pick.
10. Pittsburgh Steelers -- CB Ifo Ekpre-Olomu, Oregon
Pittsburgh has an aging secondary and needs fresh blood at cornerback. The Steelers strongly considered Darqueze Dennard in last year's draft but decided to take a different Big Ten defender, Ryan Shazier. Ekpre-Olomu isn't the biggest and won't run the fastest 40-yard dash in Indianapolis, but he's fluid, instinctive and plays the position with the confidence and veteran presence that will endear him to pro teams.
11. Detroit Lions -- OT Andrus Peat, Stanford
Detroit currently has an open competition at right tackle and while LaAdrian Waddle impressed as an undrafted free agent last season, it's still uncertain if he's a long-term option. Peat is still young and developing, but the tools are there for him to grow into a reliable NFL starter and possibly more.
12. Miami Dolphins -- CB P.J. Williams, Florida State
The Dolphins have several capable veterans (Brent Grimes, Cortland Finnegan) and unproven youngsters (Jamar Taylor, Will Davis) on the roster at cornerback, but Williams might be too good to pass up for Miami. He isn't an elite speed player, but is productive and comfortable in press and zone coverage.
13. New York Jets -- OLB Vic Beasley, Clemson
Calvin Pace recorded double-digit sacks in 2013 and recently signed a two-year deal to remain with the Jets, but his best days are behind him as he turns 34-years old this season. Beasley arrived at Clemson as a tight end, but has blossomed as a pass rusher and would add much needed speed to the Jets' linebacker group.
14. Dallas Cowboys -- DE Dante Fowler, Florida
Is there any doubt that this pick will be defense? The Cowboys traded up for Demarcus Lawrence in the 2014 NFL Draft, but the Dallas defense needs to add depth on the edges with players who can rush the passer and stop the run. Fowler would fit as a left defensive end in the Cowboys scheme and give Dallas bookend defensive ends, along with Lawrence on the right side.
15. Baltimore Ravens -- OT Brandon Scherff, Iowa
The Ravens starting right tackle position isn't a strength entering the season with Rick Wagner and Jah Reid being the most likely candidates to replace Michael Oher. Scherff would give Baltimore a plug-and-play option who is devastating as a run blocker and holds up well in pass protection. Plus Scherff and Marshall Yanda playing next to each other would simply be fun to watch.
16. New York Giants -- CB Marcus Peters, Washington
The Huskies produced a first round pick at cornerback in the 2013 class with Desmond Trufant and could do it again in 2015 with another cornerback. Peters has matched up against the Pac-12's best receivers the past two seasons and performed well, finishing the 2013 season with a team-best five interceptions and 14 passes defended.
17. Carolina Panthers -- DE Shilique Calhoun, Michigan State
Greg Hardy was the tagged with the franchise designation by the Panthers this past off-season, but he and the Panthers have been far apart on extension talks and Carolina might be looking for his replacement next off-season. Calhoun emerged as one of the Big Ten's top defensive studs last season and if he continues to develop in 2014, the first round will be calling his name.
18. St. Louis Rams -- OLB Shaq Thompson, Washington
A safety-turned-linebacker, Thompson was one of the highest-rated recruits out of high school two years ago and has flashed first round potential in both his seasons in Seattle. The Rams front-seven is already one of the NFL's most athletic and powerful units and adding a talent like Thompson would be fun to watch.
19. Arizona Cardinals -- DE/OLB Noah Spence, Ohio State
The Cardinals' defense finished top-10 in sacks and pressures last season, but John Abraham, who accounted for 25% of the team's sacks (11.5) in 2013, is 36 years old and entering the final year of his contract. Spence needs to keep his nose clean off the field, but he has the on-field skills to consistently pressure the backfield with his first step burst and agility in space.
20. Atlanta Falcons -- RB Todd Gurley, Georgia
The NFL Draft hasn't produced a first round running back since 2012, but with several talented backs projected in next year's class like Gurley and Melvin Gordon, there is a good chance that streak ends. The Falcons drafted Devonta Freeman last season and pairing him with Gurley would give Atlanta a 1-2 punch on the ground that will force defenses to respect the run.
21. Kansas City Chiefs -- WR Amari Cooper, Alabama
Kansas City signed Dwayne Bowe to a long-term deal but need to add another capable threat on the outside for Alex Smith or whoever is quarterbacking the Chiefs' offense. Cooper isn't the biggest or fastest, but he plays with savvy and is above average in several critical areas.
22. San Diego Chargers -- OL La'el Collins, LSU
San Diego's offensive line has been just good enough and has room for improvements in several areas. Collins is a three-year starting left tackle at LSU, but has the skill-set that fits best inside as a mauling run blocker and agile pass protector vs. interior rushers.
23. Philadelphia Eagles -- DL Arik Armstread, Oregon
Chip Kelly wants bigger and faster players on defense and Armstead is a versatile specimen still scratching the surface of his ability. Kelly is very familiar with Armstead after recruiting and coaching him at Oregon and he's a natural fit for what the Eagles want to do on defense.
24. Cincinnati Bengals -- OT Ereck Flowers, Miami (Fla.)
The Bengals have a few question marks on the offensive line with the departure of Anthony Collins and Clint Boling returning from a knee injury (and in the final year of his contract). Flowers has first round feet and the body control to develop into a decade-long starter in the NFL.
25. Indianapolis Colts -- WR Jaelen Strong, Arizona State
With Andrew Luck under center, the Colts' offense is in good hands, but putting more help around him will only boost a blossoming offense. There is a good chance both Reggie Wayne and Hakeem Nicks won't return to Indianapolis in 2015 and the Colts could use a big target like Strong on the outside with Donte Moncrief opposite him and T.Y. Hilton in the slot.
26. Chicago Bears -- DE Hau'oli Kikaha, Washington
Chicago added Jared Allen and Lamarr Houston this offseason and need some young blood to groom on the edges. Kikaha has suffered a few knee injuries, but with a clean bill of health in 2014 and at the Combine, the Washington pass rusher has the natural ability to be considered in the first round.
27. New Orleans Saints -- OL Spencer Drango, Baylor
Ben Grubbs and Jahri Evans have multiple Pro Bowls on their resumes, but both are on the wrong side of 30 and have some lingering health issues, making interior offensive line depth a need area for New Orleans. A player who flashes some similarities to Cowboys 2014 first rounder Zack Martin, Drango has a well-rounded skill-set to play either guard or tackle at the next level.
28. San Francisco 49ers -- WR Dorial Green-Beckham, Oklahoma
If not for the off-field issues, Green-Beckham would be mentioned as a top-10 draft pick, but the former Missouri Tiger will likely fall on draft boards due to maturity concerns. San Francisco might view him as "worth the risk" at this point in the draft, giving the 49ers a specimen to groom and eventually take over for Anquan Boldin.
29. Green Bay Packers -- CB Trae Waynes, Michigan State
The Packers re-signed Sam Shields to a long-term deal last off-season, but will have other decisions to make this upcoming off-season at the cornerback position with Tramon Williams and Davon House both hitting free agency. Waynes fits the skill-set that Green Bay looks for at the position and is an ascending prospect.
30. New England Patriots -- DE Shawn Oakman, Baylor
Although defensive end isn't the top need area for the Patriots, Oakman has the versatile and athletic skill-set that will be highly attractive to Bill Belichick and the New England coaching staff. Oakman is poised for a breakout season in 2014 and will be a name on the first round radar.
31. Denver Broncos -- OT Ty Sambrailo, Colorado State
The Broncos have had some concerns at offensive tackle, mostly due to injuries, and depth at the position would make sense. Sambrailo is a self-made prospect with the foot quickness and football IQ to develop into a reliable NFL starter once he gets into a NFL weight room.
32. Seattle Seahawks -- LB Denzel Perryman, Miami (Fla.)
The Seahawks' defense doesn't have many holes, but with K.J. Wright entering a contract year, it's possible that Seattle will have to let him hit the open market. Perryman is short, but not small and has the first step quickness to be a thumper between the tackles and make stops at either sideline.