2015 NFL Draft: LSU Preview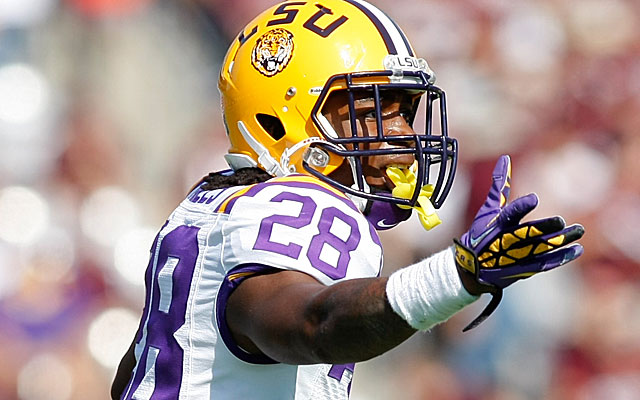 NFL Draft: More prospect previews | Prospect rankings | Rang: 2015 mock draft
Over the past two years 17 players have left LSU with eligibility remaining for a chance at the NFL. As such, the Tigers enter the 2014 season lacking the established all-conference foundation normally associated with the SEC powerhouse.
That isn't to say that Les Miles' bunch isn't talented -- they're just young.
Only one Tiger currently ranks among NFLDraftScout.com's top 32 prospects. If history is any indication, however, by the end of the year, several underclassmen will have joined senior left tackle La'el Collins as highly regarded NFL prospects.
LSU's top NFL Draft-eligible prospects to watch in 2014:
1. OT La'el Collins, Senior (6-5 | 315 | 5.12 | #70)
Unlike many of his former teammates, Collins elected to return to Baton Rouge for his senior campaign despite the fact that he very likely would have earned a high selection in the 2014 NFL draft. Collins earned immediate playing time for the Tigers as a true freshman, playing in seven games at left guard. He took over the starting position a year later, leading the team in total snaps (846) and knockdown blocks (64.5) while earning Honorable Mention honors from the AP. Collins made the switch to left tackle as a junior, earning second-team All-SEC accolades from league coaches and posting another 65 knockdown blocks despite missing one game (Furman) due to injury.
Collins possesses a square-ish build that makes him appear better suited to guard. His frame belies his quick feet, an attribute that when combined with his long arms, impressive strength and aggression make him a devastating run blocker. Collins is often the quickest of LSU's offensive linemen off the snap and he routinely drives his assignment off the line of scrimmage with pure power, creating easy running lanes for LSU's backs. He's surprisingly quick to the second level and has good body control to adjust to moving targets.
As a pass blocker, Collins shows good initial quickness in his kick-slide and uses his long reach to maintain the arc. He does not possess elite balance and can be challenged by speed-rushers. He'll over-compensate occasionally and leave the inside open for counters. When he gets his hands on opponents and remains square, however, it is generally lights out for the defender.
Collins' aggression is admirable but also leads to mistakes. Rather than patiently waiting for defenders to come to him, Collins will occasionally lunge, making himself top-heavy and prone to slipping down the body of his opponent. This can lead to his hands getting too low or slipping onto the side and/or back of defenders, which invites them to swim over the top of him to disengage.
2. DB Jalen Mills, Junior (6-1 | 189 | 4.53 | #28)
LSU's pipeline of defensive backs to the NFL is likely to continue with Mills, a talented and versatile defensive back who will be making the transition to free safety this season after starting the first games of his collegiate career at cornerback. Mills was thrust into a starting role as a true freshman due to the suspension of Tyrann Mathieu, but immediately proved up to the task, recording 57 tackles, three passes broken up and two interceptions in 2012. He followed that up with 67 stops a year later, including three sacks, and tying for the team-lead with three interceptions.
Mills' athletic but wiry frame appears best suited to cornerback, where the first 25 starts of his career came. He possesses the awareness, range and reliable open-field tackling skills so critical to playing safety, however, and got a taste of the "new" position by starting there against Iowa in the Outback Bowl. Mills has light, quick feet and fluid hips to change direction. He shows good route-awareness and understands his role in the defense, sliding forward or laterally nicely when in zone coverage. Mills isn't an explosive hitter but he is a secure tackler who wraps his arms around defenders' legs for the quick take-down and slips blocks due to a combination of vision and agility. Capable of lining up virtually anywhere in the secondary, Mills' versatility could warrant an early round selection, perhaps as early as the 2015 draft.
While in many ways Mills looks the part of a top notch prospect, NFL teams will want to investigate his character, specifically a second degree battery of a woman charge that resulted in two days of jail time. Some witnesses at the scene of the May 4 incident reportedly told investigators that it was another woman and not Mills who hit the victim. The District Attorney reduced Mills' initial charge to simple battery, a misdemeanor, and Mills' attorney has publicly announced plans to plead not guilty to these lesser charges. Miles allowed Mills, 20, back onto the team for fall practice after initially placing him on indefinite suspension.
3. DE Danielle Hunter, Junior (6-6 | 241 | 4.68 | #94)
Possessing a lanky frame and explosive get-off that has drawn comparisons to Barkevious Mingo, the man he replaced at right defensive end in defensive coordinator John Chavis' scheme, Hunter emerged as LSU's most dangerous pass rusher last season, though his statistics don't necessarily reflect it.
Hunter didn't emerge as a starter for the Tigers until they began their SEC schedule (fourth game) but in 10 starts he recorded 57 tackles, eight tackles for loss and three sacks. He could be just scratching the surface of his production.
Hunter, whose first name is pronounced "Duh-neal," currently looks more like a tight end than a traditional pass rusher. He has broad shoulders, very long arms and plenty of room for additional muscle. He can beat tackles off the ball with his first step and possesses very impressive lateral agility to slip inside to make tackles at the line of scrimmage. One potential red-flag is Hunter's inconsistent get-off. Too often a year ago Hunter was the last of LSU's rushers off the ball.
Hunter's length makes him susceptible to the run, though he does show surprising strength at the point of attack and is passionate in pursuit. He gets his hands up in the passing lanes when he can't get to the quarterback and knocked down two throws last season. He's aggressive and physical and shows a willingness to sacrifice his body uncommon for edge players with his body type.
4. OG Vadal Alexander, Junior (6-6 | 342 | 5.46 | #74)
A brute in the running game, Alexander made the switch from right tackle to left guard a year ago and paired with Collins to form one of the most dominant left sides in college football. He enters his junior campaign with 22 career starts (13 at left guard, nine at right tackle) already under his formidable belt and is expected to contend for all-conference accolades in Year Two of the position switch.
As you might anticipate given his 6-foot-6, 342 pound frame, opponents struggle to match Alexander's girth and power. He simply overwhelms opponents with his size and shows impressive strength to lock out and drive defenders off the ball when he keeps his feet moving. Alexander does get into the bad habit of bending at the waist as he tires and has just average initial quickness off the snap. As such, defensive tackles too often were able to stand him up at the line of scrimmage, making Alexander quite a road-block for his backs to avoid.
Alexander carried too much weight around his middle a year ago and by losing some of it he likely would be quicker. Alexander is so broad (and possesses long arms) that he holds up well in pass protection as this level but quicker pass rushers gave him problems and he lacked the agility to consistently reach his target when asked to pull in the running game.
With greater commitment to conditioning, Alexander can be a very effective player -- especially in a power scheme like the one LSU employs. He'll be switching from jersey No. 78 to No. 74 this fall, the number he wore in high school.
5. DE Jermauria Rasco, Senior (6-3 | 255 | 4.74 | #59)
Rasco had to bide his time behind a great deal of talent over his first two seasons in Baton Rouge but emerged as LSU's most productive pass-rusher last season, his first as a full-time starter. He led the team with four sacks and posted 56 tackles, including 6.5 for loss, overall.
Rasco doesn't possess the rare blend of length and fluidity that makes his teammate, Hunter, such an intriguing talent but he's a more polished player, at this time. He has good initial quickness and balance, incorporates a nice spin (and swim) move into his pass rush and has the powerful core to hold up in run support. Like Hunter, Rasco has "greasy knees" which allow him to break down against quick ball-carriers in the open field and explode laterally in either direction to corral them.
Other LSU prospects worth watching:
RB Terrance Magee, Senior (5-09 | 214| 4.57 | #14)
Magee enters his senior campaign with zero starts but appearances in 27 career games and a history of performing well when called upon, including last season when he rushed for 626 yards and eight touchdowns as Jeremy Hill's primary backup. Magee has a squatty, powerful frame and quick feet that makes him tough to tackle.

DB Ronald Martin, Senior (6-1 | 218 | 4.59 | #26)
Martin missed the final four games of the 2013 season with a broken foot but is expected to resume duties as a starting safety as a senior. He's well-built and attacks downhill in a similar manner as former teammates Eric Reid and Craig Loston. Martin only has eight career starts (but 24 games) to this point and therefore needs a big senior campaign to assure being drafted but is a physical player with a knack for creating turnovers (three interceptions, two forced fumbles, one fumble recovery).
RB Kenny Hilliard, Senior (6-0 | 233 | 4.63 | #27)
The nephew of former New Orleans Saints' standout Dalton Hilliard, Kenny has proven to be one of LSU's most dependable backs throughout his career, scoring at least six touchdowns each of the past three seasons. Similar to former teammate Spencer Ware, Hilliard possesses surprising light feet which help him accelerate quickly when the hole is there but is at his best as a battering ram in short yardage situations -- a valued role given the committee-approach NFL teams are taking now.