2015 NFL Draft: Mississippi Preview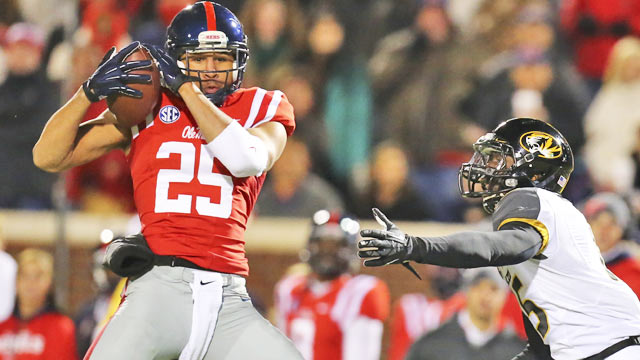 NFL Draft: More prospect previews | Prospect rankings | Rang: 2015 mock draft
When the University of Mississippi fired then-head coach Houston Nutt after the Rebels finished 2-10 in 2011, it appeared that the program was in shambles.

Stellar recruiting by Nutt's replacement, Hugh Freeze and his staff, however, has quickly turned Ole Miss around and they now boast one of the most gifted rosters in the SEC. Super sophomores Robert Nkemdiche, Laquon Treadwell and Laremy Tunsil each look like future high round draft picks, though they won't be eligible for the NFL until 2016, at the earliest.

The Rebels' top prospects for 2015 aren't as flashy but should help Freeze and Ole Miss continue to advance in the SEC West and qualify for their third consecutive bowl game - the last two of which they won.

Mississippi's top NFL Draft-eligible prospects to watch in 2014:

1. FS Cody Prewitt, Senior (6-2 | 212 | 4.59 | #25)
By leading the SEC with six interceptions and recording 71 tackles and two forced fumbles a year ago, Prewitt earned All-American accolades, the first safety from Mississippi to do so since Harry Harrison was honored in 1973. It may have been a breakout for Prewitt on a national scale but SEC opponents know him well, as he's played in every game of his collegiate career and stood out in 2012 (his first full season as a starter), recording a career-best 80 tackles, including five tackles for loss, and posting six passes defensed, two interceptions, two forced fumbles and two fumble recoveries.

Prewitt looks the part of an NFL safety, sporting a well-built frame with long limbs. He is an alert, active defender with good vision and the athleticism to handle deep coverage responsibilities. He changes directions fluidly and is a smooth accelerator. He possesses good (but not great) top-end speed and can get himself in trouble with aggressive pursuit lines that leave him little room for error. Prewitt generally is asked to play two-deep or the single high free safety role, rarely dropping down close to the line of scrimmage to cover slot receivers. From this center-field vantage point, Prewitt shows good understanding of route concepts, anticipating where the ball is going and getting a jump on it. He has good hands for the interception and times his leap to take the ball at its highest point.

As a tackler, Prewitt lets his teammates do the dirty work and doesn't jump on a pile just to do so but breaks down well in the open field to make the secure wrap-up, whether as the last line of defense or as a gunner on the punt coverage unit. He takes advantage of vulnerable receivers catching passes across the middle by timing his collision well with forceful but clean hits.

2. OLB C.J. Johnson, Senior (6-2 | 237 | 4.67 | #10)
Johnson hasn't yet emerged as the superstar expected when he signed with Ole Miss as a consensus blue chip recruit in 2011 but there is plenty of reason to believe that he'll do so. Johnson played in 11 games (and started three) as a 6-foot-2, 225 pound defensive end in 2011, recording 32 tackles, including four tackles for loss. He enjoyed his best season to date as a sophomore, recording 55 stops, including eight for loss and a team-leading 6.5 sacks. Rather than explode last season, Johnson suffered two leg injuries that ultimately forced him to redshirt after only four games. Johnson attempted to play through his first injury - a broken fibula in his right leg suffered in the spring - and recorded four tackles for loss during his abbreviated play. An ankle injury requiring surgery, however, ended his season with 12 total tackles and two QB hurries, but no sacks.

Johnson is listed at defensive end by the Rebels but he was most explosive in the past attacking out of the two-point stance. Johnson has a quick first step and accelerates smoothly, showing good balance and flexibility to scrape the edge. His speed off the corner is Johnson's best attribute but he possesses good leg drive for the bull rush and has a nifty spin back to the inside to complement it. Johnson possesses long arms and strong hands to latch on to ball-carriers and isn't afraid of contact, sacrificing himself to take on blockers and free up teammates for easy plays. He shows good awareness to locate the ball and pursues laterally and downfield with urgency.

Needless to say, Johnson doesn't possess ideal bulk or strength to hold up in the running game as a full-time 4-3 defensive end. However, the NFL is increasingly willing to overlook size among pass rushers as forcing the quarterback to move his feet has never been more important. Injuries and inconsistent early tape are obvious concerns but one need only look at the rise Dee Ford (6-foot-2, 252 pounds) enjoyed with Auburn a year ago to see how a star SEC pass rusher can vault up NFL draft boards.

3. QB Bo Wallace, Senior (6-4 | 203 | 4.87 | #14)
Though he signed with Ole Miss just two years ago after a sterling JUCO career at East Mississippi, Wallace enters his senior campaign as the SEC's elder statesman at quarterback with 26 career starts. He's completed 64.3% of his passes during that time for a combined 6.340 yards and 40 touchdowns against 27 interceptions, while running for another 745 yards and 14 scores.

Wallace signed with Arkansas State out of high school but redshirted in 2010 before transferring to East Mississippi Community College, where he guided the Lions to an undefeated season, including the NJCAA championship while earning national Offensive Player of the Year honors. Though he threw nearly as many interceptions (17) as touchdowns (22) his first season in Oxford, Wallace showed moxie and toughness, battling through a separated shoulder that required off-season clavicle surgery and kept him out of spring practice last year. Healthy this spring, Wallace is expected to make strides despite losing playmaking wideout Donte Moncrief to the NFL.

Wallace takes virtually all of his snaps out of the shotgun in Freeze's spread scheme and he's surrounded by talented athletes who can make plays for him after the catch. He shows good accuracy and enough velocity to zip in-cutting routes but average arm strength and a bit of wind-up make long throws outside of the hashes a concern when projecting to the NFL. Wallace doesn't always step into his throws, which can leave his passes fluttering, though he anticipates his receivers' breaks well and usually places the ball where only his receivers can get it. Wallace plays with good awareness and is a better athlete than he looks, frequently stepping up, laterally or escaping the pocket entirely. He is far from a speedster but has vision and will take free yardage when the defense gives it to him.

Other Mississippi prospects worth watching:

S Trae Elston, Junior (6-0 | 190 | 4.53 | #7)
The hard-hitting, extremely aggressive Elson provides quite the complement to Prewitt in the Rebels' secondary. While not as reliable in coverage as his teammate, Elston attacks downfield in the running game, popping off the screen due to his closing speed. He's earned 20 starts the past two years at the rover position, recording 123 tackles and forcing three fumbles during this time. His hits have played a big part in his 12 passes broken up during that time but he has yet to intercept a pass.

LB/SS Serderius Bryant, Senior (5-09 | 218 | 4.64 | #14)
Bryant led the Rebels with 78 tackles, including 12.5 for loss and three forced fumbles last season from his 'stinger' linebacker position, despite only starting seven games. It was a nice recovery for Bryant, who suffered a sophomore slump of sorts in 2012, recording just 28 tackles in a reserve role after earning SEC All-Freshman accolades a year earlier with 61 tackles in 12 games (including three starts), third highest among first-year players in the conference. Bryant's size likely keeps him from being drafted but he's an aggressive and speedy defender with a history of making the splashy play. Bryant and fellow undersized linebacker, Denzel Nkimdiche (the older brother of star defensive lineman Robert), were arrested in February on charges of disorderly conduct, being drunk in public and disturbing the peace.

ILB Deterrian (D.T.) Shackleford, RS Senior (6-1 | 252 | 4.86 | #38)
Shackleford was granted a rare sixth year of eligibility after missing the 2011 and 2012 seasons with two separate ACL surgeries. He returned a year to play every game at linebacker and defensive end, starting two games. He recorded 44 tackles, including 7.5 for loss and two sacks. Shackleford has 'tweener traits as he lacks the size to remain at defensive end and isn't fast enough to handle coverage responsibilities at linebacker. He's physical, alert and a fiery leader, however, and played his best football down the stretch last season. He will be wearing jersey No. 38 this season (previously wore No. 42), an honor at Ole Miss in memory of Chucky Mullins. Shackleford, who often is referred to as "D.T." was previously recognized with this award in 2011, making him the only two-time winner in the 25-year history of the award.

CB Senquez Golson, Senior (5-09 | 180 | 4.43 | #21)
A part-time three-year starting cornerback for the football team and outfielder for the Ole Miss baseball team in 2012, Golson has enough agility and speed to intrigue scouts. The Boston Red Sox were certainly interested, investing an 8th round pick in the 2011 MLB draft in the centerfielder. Golson's size is an obvious detriment but he possesses natural cover skills due to his athleticism and has recorded six interceptions in his 36 career game appearances.