Ohio State's Braxton Miller shut down for 2014, is NFL up next?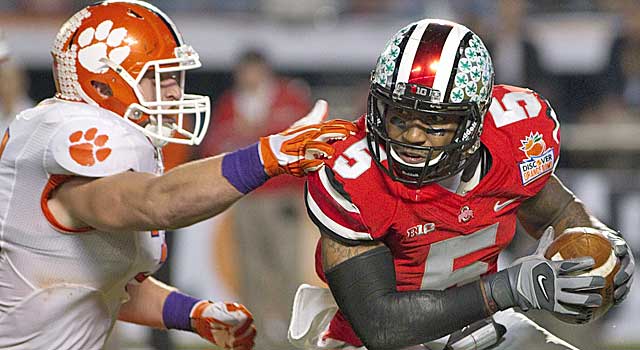 More draft: Better talent in 2015? | Rang's mock | Brugler's mock
UPDATE: Miller has announced his intentions of attending graduate school and returning to the Buckeyes' football program in 2015. "My goal is to come back from this injury strong and better than ever," Miller said in a statement on Tuesday afternoon. Despite this news, Miller still has a few months to make a final decision and it wouldn't be a shock if he changed his mind and decided to go pro.
The worst is now reality for the Ohio State Buckeyes: quarterback Braxton Miller is done for the 2014 season, according to multiple reports. The Heisman Trophy candidate dislocated his throwing shoulder in practice Monday, the same shoulder that required surgery this past spring.
Ohio State has a talented redshirt freshman ready to step in at quarterback, but for Miller, what's next?
A fourth-year senior, Miller has the option of redshirting in 2014 and returning to Columbus for the 2015 season. However, it's more likely he will go to the NFL, rehabbing over the next six months to get his shoulder ready for the pre-draft process. Whether that is the best decision is a different discussion, but Miller has long felt ready for the NFL and it seems unlikely that he would return to college and risk further injury.
After the Orange Bowl last January, Miller strongly considered entering the 2014 NFL Draft but decided to return for his senior season. According to on-campus sources, Miller wanted to go pro, but "had to be convinced" to stay at Ohio State for one final season in 2014 with his impending shoulder surgery being a major factor as well.
Looking at Miller's NFL projection, the first question is what position will he play? Some scouts and scouting services grade him as a better running back prospect while others aren't closing the door for him at quarterback. Before Monday's injury, he was the No. 6 quarterback eligible for the 2015 NFL Draft and the No. 111 prospect overall, according to NFLDraftScout.com ratings.

Over his first two seasons at Ohio State and the first half of last season, Miller looked like a better running back prospect. But down the stretch in 2013, Miller progressed in several areas as a passer, giving evaluators reason to believe he could develop into a NFL-level quarterback.
I've said all offseason that it would be a mistake to dismiss him as a viable NFL quarterback until we see what his senior year brings, but with Miller out for the 2014 season, there are still many questions that will likely be unanswered if he decides to enter the 2015 NFL Draft.
Evaluating him as a quarterback, Miller has the arm strength and natural athletic tools that translate very well. But it's the concerns with touch, accuracy and the mental side of the position that lead many scouts to believe a switch in positions is necessary for Miller to find the field in the NFL. Factor in multiple throwing-shoulder injuries and there seem to be more negatives than positives. Here's a quick scouting report on Ohio State's polarizing passer:
Positives: Miller spins a pretty football with top-shelf arm strength and an easy delivery, doing a nice job changing arm angles as needed. He showed improved pocket mobility and field vision last season to quickly scan the field, paying much more attention to technique and not allowing his mechanics to break down outside the pocket. Miller is an above average athlete with game-changing speed, acceleration and explosive cuts to make defenders respect his mobility with agile feet to dance around the noise, following blocks well with vision and toughness to finish.
Negatives: While much improved in some areas, Miller needs to continue his development as a passer for some NFL scouts to be sold. His touch and accuracy still run hot and cold -- he has too many fastballs in his arsenal and needs to develop a change-up.
Starting with his footwork and base, Miller needs to continue to tweak his mechanics and improve his ball placement. Ball security (10 fumbles in 2013) and durability are two more areas of concern, especially after multiple shoulder surgeries and a knee injury that plagued him throughout his junior season.
Miller has never thrown for 300-plus yards in a game (his single game-best is only 252 passing yards), but his weapons at wide receiver have been average at best and with his legs, he hasn't needed to chuck the ball 30-plus times per game. He set career-bests last season in every statistical category, including 63.5 percent completions, but his performances against Michigan (40 percent) and Michigan State (38.1 percent) late in the season were discouraging.
Should Miller return to Columbus for 2015 to continue his development and prove he is a legitimate quarterback prospect and help his draft standing? That's one thought. But it's not about draft positioning for Miller anymore. With his injuries, it's more about simply getting to the NFL with all his body parts still intact. Once on a roster, it won't really matter if Miller was a fourth-round pick or seventh-round pick. He will have to earn his spot.
It's important to note that Miller doesn't have to make an immediate decision on his football future, and will likely take some time to make up his mind.
Every fan and analyst will have their own opinion on the matter between now and when he is drafted -- if he is drafted. But the one thing we do know for sure: Neither his critics nor supporters will have the 2014 season to help back up their position on the matter.