2015 NFL Draft: Mississippi State Preview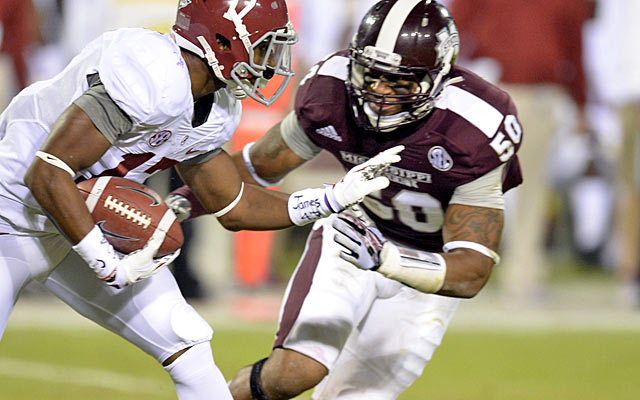 NFL Draft: More prospect previews | Prospect rankings | Rang: 2015 mock draft
Mississippi State may still have a ways to go before competing for an SEC championship but coach Dan Mullen has guided the Bulldogs to four consecutive bowl game appearances, a feat never previously accomplished in the 114-year history of the program.
The success on the field has led to growth off of it, as six Bulldogs have earned top 100 selections in the NFL draft over the past four years, including All-American guard Gabe Jackson getting picked No. 81 overall by Oakland in 2014.
Like last year, Mississippi State offers several prospects who scouts will want to keep an eye on and a well-established star who likely will keep up the Bulldogs' top 100 run.

Mississippi State's top NFL Draft-eligible prospects to watch in 2014:
1. OLB Benardrick McKinney, Redshirt Junior (6-4 | 245 | 4.58 | #50)
After redshirting his first season on campus while making the transition from high school quarterback to linebacker, McKinney exploded onto the SEC scene in 2012, leading all first-year players in the conference (and finishing second nationally among freshmen) with 102 tackles, despite not emerging as a full-time starter until the fourth game of the year. McKinney's numbers dropped last season but his importance to the team did not. He led the Bulldogs in tackles (71), tackles for loss (seven) and sacks (3.5).
McKinney's value lies with his versatility and raw athleticism. He lines up all over the field for the Bulldogs, taking snaps at middle linebacker, as well as rushing off either edge. He is a well-built and fluid athlete for his size, showing good lateral agility and very impressive acceleration to track down ball-carriers from behind. He has long arms and good hand-eye coordination to trip up ball-carriers that appear out of his reach and breaks down well in the open field to deliver strong, wrap-up tackles. His athleticism has been well documented with McKinney reportedly clocking in the 4.5s and posting a 34-inch vertical jump at 245 pounds.
While there is reason to be excited about McKinney's upside, he does come with risks. He is overly reliant on his speed when rushing the quarterback, showing limited hand technique to defeat blocks once engaged. This issue comes into play not only when rushing the passer but also against the run, where McKinney looks to slip past blockers, rather than showing the aggression and strength to truly stack and shed. Further, McKinney doesn't possess ideal instincts in coverage, frequently drifting into No Man's Land to keep an eye on the quarterback and losing his assignment. Too often McKinney is forced to turn away from the quarterback and sprint to his coverage responsibility. With his back turned to the action, McKinney isn't in position to help should the quarterback scramble or dump off to another target.
McKinney boasts first-round tools and has already alluded to his intention to enter the draft early. He's a better athlete than football player, at this time, however and without significant refining of his technique will rank among the bigger boom or bust prospects of the 2015 draft.
2. FS Justin Cox, Senior (6-2 | 190 | 4.54 | #9)
Cox signed with Mississippi State out of high school but didn't qualify and therefore spent two years at East Mississippi Community College prior to latching back on with the Bulldogs last year. Cox intercepted 11 passes and broke up a total of 19 passes during his two years with the Lions and was a highly regarded JUCO prospect, who played in all 13 games (starting one) last season at right cornerback. He's being asked to make the move to free safety as a senior.
Cox looks more like a traditional cornerback than a safety, possessing a lean, athletic frame. He possesses good flexibility and acceleration to handle coverage duties, though his straight-line speed is a question. His JUCO tape shows good hand-eye coordination and timing on his leaps to high-point passes - traits that could lead to him becoming a feared ball-hawk at safety this year. He flashes physicality as a hitter but often resorts to lunging at the legs of ball-carriers, rather than fully wrapping them up.

3. FB/TE/H-Back Malcolm Johnson, RS Senior (6-1 | 231 | 4.76 | #6)
Given the expansion of passing attacks in the NFL, scouts are increasingly on the lookout for versatile pass-catchers who present tough matchups for defenders. Johnson, who has split time at receiver and tight end throughout his career and possesses good hands and a knack for the big play, is an intriguing option.
After redshirting in 2010, Johnson earned a spot on the SEC's All-Freshman team in 2011, leading all first-year players in the conference with 11 receptions for 206 yards and three scores. He missed the first five games of the 2012 season with a pectoral injury but returned in spectacular fashion, making a one-handed grab on 4th down with just nine seconds remaining to help beat Tennessee. Johnson enjoyed his most productive year last season, hauling in 30 passes for 391 yards and a pair of scores.
Johnson earned Second Team All-SEC honors a year ago by the league coaches but doesn't play the traditional tight end role, seeing most of his action on the wing or in the slot. He possesses a strong, well-built frame and sticky hands to make tough grabs. He does not, however, possess the explosive start off the snap or straight-line speed to generate consistent separation and therefore will have to make an NFL team based on his jack-of-all-trades game.
4. WR Jameon Lewis, RS Senior (5-08 | 183 | 4.57 | #4)
Like Johnson, size limitations is going to limit Lewis' upside in the NFL but scouts love versatility and playmaking ability and there is no question that this Bulldog possesses both. Lewis enters his senior campaign with 2,819 all-purpose yards and 14 touchdowns and is the only Bulldog with scores as a receiver (six), rusher (four), passer (three) and kick returner (one).
Lewis' blend of burst, vision and surprising power has earned him a variety of roles at Mississippi State throughout his career but 2013 was his unofficial breakout campaign as he recorded the third-most all-purpose yards (1,537) in school history. This was in large part due to his time at receiver, where Lewis started 12 of 13 games and finished with 64 passes (second in school history) for 923 yards and five touchdowns, including a school and Liberty Bowl-record 220 receiving yards against Rice in MSU's 44-7 victory.
Lewis can extend and pluck the ball out of the air, showing very good hand-eye coordination. He's quicker than he is fast but shows impressive vision to take advantage of cutback lanes, making him faster on the field than he'll likely run for the stopwatch.
Other Mississippi State prospects worth watching:
QB Dak Prescott, RS Junior (6-1 | 235 | 4.72 | #15)
Prescott served as running complement to pocket passer Tyler Russell the past two seasons and is expected to emerge as one of the SEC's most dangerous dual-threat quarterbacks in 2014 now that he has the starting position all to himself. He's started seven games over the past two seasons but has 23 career appearances and has accumulated 33 scores during that time, 14 via the air, 17 rushing and two as a receiver. Prescott is a work in progress as a passer but has a live arm and good field vision. His footwork is inconsistent and he loses accuracy when his feet are not set. When he does step into his throws, however, Prescott can deliver strikes. He's a very dangerous runner, combining aggression, agility and the power to break arm tackles.
CB Jamerson Love, RS Senior (5-09 | 175 | 4.47 | #5)
Playing behind stars Johnthan Banks and Darius Slay for much of his career, Love enters his senior campaign with just 12 starts but appearances in 36 games. He emerged as a full-time starter for the Bulldogs last year, starting the first seven games of the year until an ankle injury knocked him out of the lineup and yet still led the team with seven pass breakups and finished second with three interceptions (including two versus Manziel) and the other a pick against Troy that he returned 70 yards for a score. Love's height is an obvious detriment but the former high school running back boasts the athleticism and toughness to handle playing nickel. He possesses impressive agility and speed and is highly competitive.