2015 NFL Draft: Harvard DE Hodges best of 'small school' prospects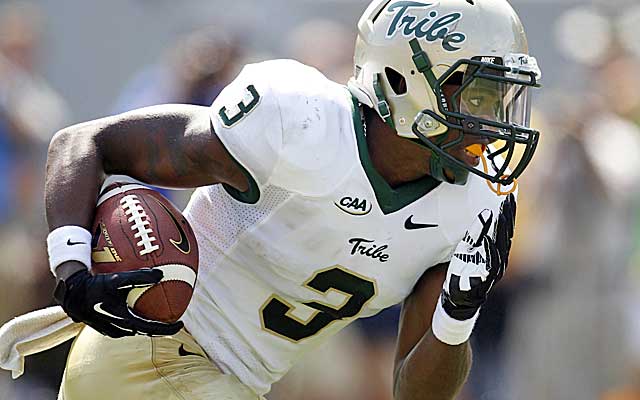 The early rounds of the NFL Draft are usually made up of former five-star recruits from the SEC, All-Americans out of the Big Ten and a number of other household names from the major conferences in college football. But each year there are always a few dozen non-FBS or "small school" prospects drafted – several who will carve out decade-long careers in the NFL.
Entering the 2014 college football season, there are hundreds of small schoolers on the NFL radar who have an uphill climb to impress pro scouts and prove they're worthy of a draft pick next spring. Harvard defensive end Zach Hodges is up for the challenge and doesn't worry about getting overlooked.
"The NFL looks for players wherever they can find them," Hodges told NFLDraftScout.com. "I've seen a ton of guys above me get the opportunity and take advantage of playing at the next level."
In three seasons at Harvard, Hodges has recorded 92 total tackles, 31.0 tackles for loss, 17.5 sacks, five forced fumbles, three fumble recoveries and one interception. He was an FCS All-American last season and named the 2013 Ivy League Defensive Player of the Year, ahead of Princeton's Caraun Reid, who was a fifth round pick of the Detroit Lions this past May. Playing at the FCS level, Hodges doesn't face elite competition each week, but his mind-set is anything but "lower level."
"I like to compete, I'm a big competitor," Hodges said when asked to describe his approach to the game. "I want to win everything, be the best at everything. It may be difficult, but I don't see why you can't be the best at everything you do. That's just the way I approach life."
Although he calls the NFL an "interest," Hodges realizes a Harvard education opens more doors than just professional football. But he has the skill-set and natural talent that will earn him a chance in the NFL. Hodges has excellent first step quickness with instant acceleration and nonstop momentum towards the ball that can only be blocked for so long. He stays balanced through contact and low to the ground, allowing him to generate power at the point of attack with natural leverage and active play style. Hodges needs to refine his pass rush moves and contain his aggressive nature to limit his wild angles, but it's easy to see why NFL scouts have highlighted the Harvard hybrid pass rusher on their preseason watch lists.
Along with Hodges, here are 10 other "small school" senior NFL prospects to keep on the radar leading up to the 2015 NFL Draft:
FS Jaquiski Tartt, Samford (6-1 | 218 | 4.56 | #6)
A Mobile, Ala. native, Tartt dreamed of playing collegiate basketball, but tried football as a senior in high school and decided to continue his develop on the gridiron at Samford. He became a starter as a sophomore and hasn't looked back, emerging as one of the top defenders at the FCS-level with 24 passes defended and five interceptions the past two seasons. With a strong senior season for the Bulldogs, Tartt will be in the discussion to receive an invite to return to his hometown for the Senior Bowl.

DE Lynden Trail, Norfolk State (6-6 | 260 | 4.67 | #7)
A former four-star high school recruit, Trail spent two seasons at Florida, but didn't see the field for the Gators and transferred to Norfolk State. He impressed as a sophomore in 2012 before lighting up the stat sheet as a junior last season, finishing the 2013 season with 94 total tackles, 12.5 tackles for loss, 8.5 sacks, five forced fumbles and a pair of interceptions. Trail looks like a man amongst boys at the FCS level.

DL Charles Tuaau, Texas A&M-Commerce (6-4 | 316 | 5.16 | #10)
The preseason Lone Star Conference Defensive Player of the Year, Tuaau certainly passes the eye and has the production to back it up. The Hawaii native recorded 25 tackles for loss and 12.5 sacks (both school records) last season as a junior, earning All-LSC and All-America honors. Tuaau plays at the Division-II level, but wouldn't look out of place if he appeared on a SEC or Big Ten roster.
QB Bryan Bennett, Southeastern Louisiana (6-2 | 205 | 4.72 | #3)
An Oregon transfer, Bennett redshirted for the Ducks and spent his freshman season as Darron Thomas' back-up, waiting his turn. But he lost the starting quarterback competition to Marcus Mariota in 2012 and transferred to Southeastern Louisiana where he posted school records last season and was the Louisiana Offensive Player of the year. Bennett plays with a Manziel-like style and is rated by some scouting services as one of the top-five senior passers in this class.
WR Tre McBride, William & Mary (6-1 | 205 | 4.44 | #3)
Like most of the players on this list, McBride physically looks like he belongs in the SEC with a tall, well-built frame and functional muscle definition. Despite the Tribe's run-first offense and instability at the quarterback position, McBride recorded 63 catches for 801 yards and five scores in 2013, leading the CAA with 27.5 yards per kickoff return.
RB David Johnson, Northern Iowa (6-2 | 229 | 4.57 | #7)
A player expected to impress if invited to the NFL Combine next Feburary, Johnson looks more like a linebacker than running back, but has the quickness, agility and lower body explosion. He led the team with 1,286 rushing yards last season (5.8 yards per rush average) and was also heavily involved in the passing game, finishing with 1,679 total all-purpose yards.
TE Mycole Pruitt, Southern Illinois (6-3 | 255 | 4.73 | #4)
A model of consistency for the Salukis, Pruitt has recorded at least 40 catches, 560 receiving yards and three scores in each of his three seasons at Southern Illinois. He posted career-bests last season as a junior and projects as a hybrid pass-catcher who can line up in the backfield, inline and out wide.
DE Ryan Delaire, Towson (6-4 | 250 | 4.87 | #56)
Delaire started his collegiate career at Massachusetts where he played two years, transferring to Towson last season as a junior. He started all 15 games last season and led the team and league in tackles for loss (17.5) and sacks (11.5), earning multiple All-American honors. Delaire posted 1.5 sacks vs. Connecticut in his one appearance against a FBS opponent in 2013.
RB/FB Zach Zenner, South Dakota State (5-11 | 220 | 4.62 | #31)
An FCS All-American on the field and academically, Zenner posted a school record 2,044 rushing yards as a sophomore in 2012 and became the second player in FCS history to eclipse the 2,000-yard plateau twice with 2,015 rushing yards last year as a junior. Zenner doesn't have NFL suddenness, but his physical, no-nonsense run style has a place at the next level.
DE LeBrandon Richardson, Bethune-Cookman (6-1 | 255 | 4.73 | #50)
A Miami native, Richardson played in nine games at UCF for George O'Leary in 2011, but decided to transfer to Bethune-Cookman for more playing time. Over the last two seasons for the Wildcats, he has totaled 27.5 tackles for loss and 13 sacks, using his initial quickness, high energy and fluid arc speed to put pressure on the pocket.
Other small school senior prospects to watch: QB Quinn Epperly (Princeton), QB Kevin Rodgers (Henderson State), WR Jake Kumerow (WI-Whitewater), WR Adam Drake (Eastern Illinois), TE Wesley Powell (Tusculum), OT Cole Manhart (Nebraska-Kearney), OT Richard Washington (Morehouse), OT Jermaine Barton (Illinois State), OG Collin Seibert (Eastern Illinois), OG Ned Daryoush (Lehigh), OG Arthur Doakes (Stony Brook), C Austin Gund (Richmond), C Matthew Reece (Tuskegee), DE Zach Wagenmann (Montana), DE Anthony Bass (Tennessee State), DT Xavier Williams (Northern Iowa), LB Leron Furr (Fort Valley State), LB Tyler Zimmer (Seton Hill), LB Quinn Backus (Coastal Carolina), CB Steven Godbolt (Tennessee State), CB De'Ante Saunders (Tennessee State), CB Jarrett Dieudonne (Wagner), CB C.J. Roberts (Colorado State-Pueblo), FS Tevin McDonald (Eastern Washington), FS Michael Johnson (Fayetteville State), FS Christian Dudzik (North Dakota State)