2015 NFL Draft: Missouri Preview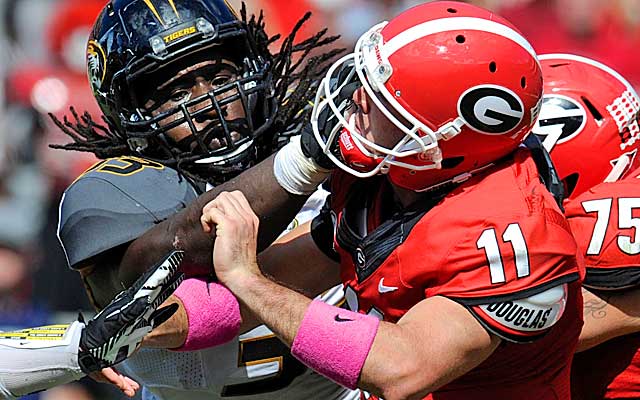 NFL Draft: More prospect previews | Prospect rankings | Rang: 2015 mock draft
While Gus Malzahn (Auburn) and David Cutcliffe (Duke) certainly deserved all of the glory they received for turning around their respective programs, the fact that Gary Pinkel pushed Missouri to an SEC East title and berth in the SEC Championship in just the Tigers' second season in the conference is a testament to his coaching and recruitment.

A quick-hitting offense and ferocious front was key to Missouri's success in 2013 and despite losing star pass rushers Michael Sam and Kony Ealy to the NFL (among others), the pieces are in place for another standout season at Mizzou. The release of wide receiver Dorial Green-Beckham from his scholarship after multiple run-ins with authorities stings, as he would have entered the year as the Tigers' top NFL prospect.

Even with DGB elsewhere (currently on Oklahoma's roster), Missouri is again loaded with NFL talent, especially along the line of scrimmage where pass rushers Markus Golden and Shane Ray are eager to fill Sam and Ealy's shoes.

Missouri's top NFL Draft-eligible prospects to watch in 2014:

1. DE Markus Golden, Redshirt Senior (6-3 | 260 | 4.72 | #33)
The impressive legacy at Missouri of producing standout NFL defensive linemen is in capable hands with Golden, who quietly finished with more tackles and similar big plays a season ago as a reserve as Sam, the co-SEC Defensive Player of the Year and Ealy, a second round pick. Despite playing an estimated 40% of the snaps last season, Golden recorded 55 tackles, including 13 tackles for loss and 6.5 sacks. Golden also broke up eight passes, including one against Toledo in which he tipped to himself for the interception and raced 70 yards for a touchdown.

Golden exploded onto the SEC scene last year after serving as a backup and on special teams in his first season on campus. Golden transferred to Missouri a year earlier after recording an eye-popping 90 tackles, including 26 tackles for loss and 10 sacks (along with five forced fumbles and two interceptions) while at Hutchison Community College.

Like Sam, Golden sports a powerful, relatively compact frame rather than the lengthy athletic build scouts prefer at defensive end. He has an explosive initial burst to challenge tackles and flashes speed off the edge. More often, his big plays come with a counter back to the inside, where he can out-quick and over-power blockers due to good agility, balance and core strength. Golden uses his hands well to deflect' blockers' attempts to latch on, showing good power to shock opponents back onto their heels with his punch. One of Golden's most impressive qualities - especially given his relative lack of playing time - is his awareness in the passing game. When unable to get pressure on the quarterback, Golden times his leaps well and shows good hand-eye coordination to deflect passes at the line of scrimmage.

2. DE/OLB Shane Ray, RS Junior (6-3 | 245 | 4.54 | #56)
Ray isn't as big as his predecessors at Mizzou but, given his athleticism and the creative ways NFL teams are using pass rushers now, he could wind up earning a higher draft-day grade than many of them. Like Golden, Ray's production last season (39 tackles, 9 tackles for loss, 4.5 sacks) is staggering considering that he served as a backup to Sam and Ealy. Ray wasn't just productive, he was timely. His sack and forced fumble of Georgia's Aaron Murray led to a recovery for a touchdown from Sam to help beat the then-No. 7 Bulldogs. Sam returned the favor in the Cotton Bowl, forcing a fumble that Ray scooped and raced 73 yards for the game-clinching score.

Ray's 2013 season was a significant jump from a redshirt freshman campaign in which he recorded 16 tackles, including 2.5 tackles for loss and no sacks but he's such an extraordinary athlete it is easy to see why the Tigers' coaching staff expects the big plays to grow in 2014. Ray reportedly has been clocked at 4.44 seconds in the 40-yard dash, has a 40+ vertical, 10' broad jump and bench presses over 400 pounds.

Ray has an explosive first step to beat tackles off the snap and can fly by and around them, showing the flexibility and balance to scrape the corner and close. He complements the speed rush with a quick jab-step back to the inside and a swim over the top to counter when opponents start leaning outside. Ray locates the football quickly and changes directions fluidly to pursue. Ray is overly reliant on his athleticism to wreak havoc at this time and could improve his functional strength and awareness of cut blocks. He struggles to disengage once blockers latch on, showing only average power in his hands.

Ray, who has two more years of potentially eligibility to bulk up, has good bloodlines. His father, Wendell Ray, was selected by the Minnesota Vikings in the fifth round of the 1981 draft after starring for Missouri, himself.

3. OT Mitch Morse, RS Senior (6-5 | 305 | 5.29 | #65)
Morse is expected to take over for Seattle Seahawks' second round pick Justin Britt as the Tigers' left tackle. Switching positions is nothing new for Morse, who initially worked his way into the starting lineup at Mizzou at center in 2012 before injuries pushed him to right tackle, where he's started the last 17 games.

Like Britt, Morse is a functional athlete whose strengths are his patience, power and tenacity. He is a bit top-heavy and struggled a bit with speed while at right tackle so the transition to left tackle this year may not perfectly. Morse is best suited back at right tackle or even slotted inside at guard where his lack of foot speed is better protected and he can play the physical brand of football that has helped him emerge as a standout, thus far.

Morse has above average initial quickness and shows balance while he "chucks" his way back in pass protection. Morse shows good patience, allowing the defender to get near him before showing a quick, powerful punch to latch and control opponents. He plays with his knees bent, helping him to absorb bull rushes and plays on his toes, allowing him to slide laterally to mirror. Morse is attentive and can handle switching off on twists and unexpected blitzes. As a run blocker, Morse is at his best turning and sealing defenders with his initial quickness or simply driving them off the ball with power. He is quicker and more balanced dropping back into pass protection than he is pulling or sprinting out to block defenders at the second level. His slightly top-heavy frame and average core flexibility causes him to struggle when needing to adjust to moving targets and too often he misses these blocks.

Other Missouri prospects worth watching:

ILB Kentrell Brothers, RS Junior (6-1 | 240 | 4.84 | #10)
With all of the attention paid to Missouri's defensive line, few recognized Brothers' breakout campaign in 2013. Starting at weakside linebacker all year long, Brothers recorded 70 tackles, including 6.5 for loss and finished second on the team with three interceptions. Brothers' square-ish frame appears better suited to the 'Mike role, which is where he's being moved this year. Brothers is instinctive and doesn't shirk from contact, often aggressively taking on blockers in the hole. He has good lateral agility to slip them, as well and is smooth and attentive in coverage. Brothers frequently was in position a year ago to make big plays only to have runners slip through his fingers. With greater wrap-up strength and determination, he could be in store for a monster season.

OC Evan Boehm, Junior (6-3 | 315 | 5.19 | #77)
Graded by some recruiting experts among the elite offensive linemen in the country, Boehm immediately proved worthy of his hype, starting all 12 games at left guard as a true freshman and seamlessly making the transition to center a year ago. Boehm has a short and stocky frame. Frankly, he looks like a Coke machine with arms, legs and a helmet. He is surprisingly light on his feet and shows impressive power, leverage and technique - traits he's carried over from a state championship wrestling career in high school. Only a true junior, Boehm looks well on his way to competing for all-conference or even All-American accolades at center and could eventually earn early round NFL consideration.

RB Marcus Murphy, RS Senior (5-09 | 195 | 4.50 | #6)
The NFL is always on the lookout for versatile skill-position players and they don't come much more versatile or productive than Murphy, who enters his senior campaign with 3,191 all-purpose yards and 17 touchdowns, scored via running (12), receiving (1), kick returning (3) and punt returning (1). Murphy scored nine of his rushing touchdowns last season as he gained more time at running back and earned All-American honors in 2012 with all four of his special teams' scores. Murphy has seen a lot of time at slot receiver in camp and appears well suited to the change. He lacks prototypical size, of course, but uses his naturally low center of gravity to remain balanced and has terrific agility and burst to go along with vision and soft hands. With a big senior season, the jack of all trades could push for a draft selection.

S Braylon Webb, RS Senior (6-0 | 205 | 4.67 | #9)
With a team-high 30 career starts already on his resume, Webb is expected to take on the leadership role for the Tigers. Webb primarily lines up at strong safety but has enough agility and speed to handle dropping down and covering slot receivers, as well as playing a deep single-high position. He is at his best facing the quarterback, showing good awareness and steady acceleration to track the ball. Webb is a physical (albeit not explosive) tackler who wraps his arms securely. Given his experience, however, Webb doesn't break free of receiver blocks as quickly as he should. Webb had shoulder surgery after spring practice but is expected to ready for the start of the 2014 season.