2015 NFL Draft: South Carolina Preview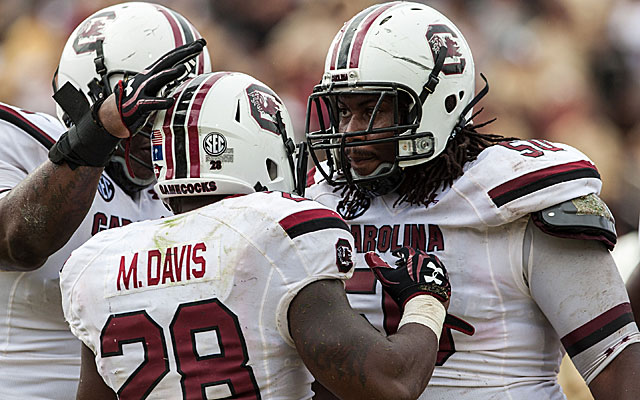 NFL Draft: More prospect previews | Prospect rankings | Rang: 2015 mock draft
The Head Ball Coach returns, but with star pupil Jadeveon Clowney now a member of the Houston Texans, South Carolina football will be much different in 2014.
Fortunately for Steve Spurrier and the Gamecocks' faithful, South Carolina returns a roster boasting plenty of NFL talent. Junior running back Mike Davis is the big name on campus now and he's protected by one of the country's top offensive lines.
South Carolina's top NFL Draft-eligible prospects to watch in 2014:
1. RB Mike Davis, Junior (5-09 | 216 | 4.52| #28)
While perhaps overshadowed by Todd Gurley and T.J. Yeldon from a national perspective, Davis was arguably the SEC's most effective back in 2013, his first season as a starter. After ranking fourth on the team in rushing (275 yards, two touchdowns) in 2012, Davis rushed for 1,183 yards (fourth-best in school history), caught 34 passes for another 352 yards and scored 11 touchdowns to earn second-team All-SEC honors.
Davis sports a compact, powerful frame and the combination of burst, agility and power to project as a lead back in the NFL. When presented with a hole, Davis accelerates through it quickly and has enough straight-line speed to gain yardage in chunks, with four of his touchdowns last season coming from 45-plus yards. He also shows the patience to allow holes to develop, as well as the vision to attack cut-back lanes. Davis is a natural runner with subtleties to his game that help rack up yardage, including good lateral agility, a dead-leg hesitation move, a quality spin and the determination to keep his legs grinding through contact.
While Davis' talent is clear, there are certainly areas in which he can improve. Davis wore down last season and coughed up critical fumbles against UCF and Missouri. While a reliable receiver out of the backfield, too often Davis resorted to dropping a shoulder or a cut-block when pass protecting, rather than facing up defenders.
Davis has good bloodlines. His older brother, James, was a star running back at Clemson and played three seasons in the NFL with Cleveland and Washington. At this time, he appears likely to beat his brothers' sixth round grade but it is worth remembering that James, too, looked like a star after his sophomore season, rushing for eerily similar numbers (1,187 yards) on the same number of carries (203). The Gamecocks' star runs with greater power and determination but needs to prove that last year's success was no fluke to earn his lofty placement on NFLDraftScout.com's 2016 RB rankings. Unfortunately, he has been listed as questionable for his first opportunity to do so.
2. OT Corey Robinson, RS Senior (6-7 | 348 | 5.33 | #53)
After initially splitting time between the offensive and defensive lines over his first two seasons with the Gamecocks, Robinson emerged as the team's starting left tackle in 2012 and has since earned the nod there in 22 of 23 games.
Robinson is surprisingly coordinated given his massive frame. He extends his left leg deep behind him to help protect the edge, making him more effective against speed rushers than he might appear "on the hoof." Robinson has long arms and good upper body strength to latch onto opponents and settles nicely, showing good lateral agility to mirror. He shows good quickness when releasing to block at the second level, as well as the coordination to adjust to moving targets.
While more athletic than he looks, Robinson is not a dancing bear. He does not possess the burst to recover if beaten off the snap and will allow his hands to get outside of his opponents' numbers, which will draw holding calls at the NFL level. At times, Robinson over-extends in pass protection, leaving himself vulnerable to counters back inside. He was certainly aided by Connor Shaw at quarterback, whose mobility and awareness kept pass rushers from truly pinning their ears back.

Robinson isn't a future Pro Bowl left tackle but his combination of size, strength and surprising athleticism projects well to the NFL, where he could compete for a starting spot (likely at right tackle) early in pro career.
3. OG A.J. Cann, Redshirt Senior (6-3 | 318 | 5.18 | #50)
Cann has been a rock for South Carolina at left guard, starting 38 of 39 possible games since redshirting in 2010 and is the lone representative from the Gamecocks on CBSSports.com's Preseason All-American team. He signed with South Carolina as a highly regarded prep, turning down North Carolina, Clemson, Georgia, Tennessee and others to play for Spurrier. Cann is well respected for his work ethic and leadership and was voted a permanent team captain in 2013.
Cann has the square-ish frame so conducive to playing inside. He has excellent knee bend and good core flexibility and power to absorb bull rushes and often is able to drive opponents off the ball because of his strength and leverage advantage. He's alert to stunts and blitzes and can knock defenders down with a powerful punch.
Cann is best suited to a power-scheme as he does not possess ideal initial agility or straight-line speed for a zone-blocking scheme. He lumbers rather than springs off the snap and struggles to beat secondary defenders to the action. If beaten initially, Cann does not possess the quickness to recover.
4. DT J.T. Surratt, RS Senior (6-2 | 305 | 5.08 | #97)
Surratt is the lone returning starter along the defensive line for South Carolina and is coming off a junior campaign in which he recorded 33 tackles, including four for loss and 1.5 sacks.
Surratt possesses a thick, powerful frame that helps him anchor against the run. He uses his natural leverage advantage to get under the pads of opponents and he locates the ball quickly. He is strong enough to stand his ground and grab runners attempting to slip past him for tackles near the line of scrimmage. Surratt's plays with a high-revving engine, showing good effort in lateral and downfield pursuit, as well as surprising agility and acceleration for his stubby frame.
Despite his production and effort, Surratt does not possess ideal length. He is too short to get into quarterbacks' field of vision to deflect passes and has shorter-than-ideal arms, which cause him to struggle disengaging from opponents.
Other South Carolina prospects worth watching:
OT Brandon Shell, RS Junior (6-5 | 334 | 5.14 | #71)
With two more years of eligibility remaining, Shell already has 23 starts on his resume, all but the first one (left tackle) coming at right tackle. Shell is every bit as athletic as his counterpart, Robinson, but isn't yet as sound, too often dropping his head on contact (inviting swim moves) and catching rather than controlling his opponents. The tools are certainly there to develop and Shell has great bloodlines, as he's the great nephew of Hall of Famer Art Shell.
TE Rory Anderson, Senior (6-5 | 232 | 4.73 | #81)
A starter in 13 of 38 games over his career (including the last seven in 2013), Anderson was being projected as a possible all-conference pick this fall before a torn right triceps late in spring. He's still expected to play in 2014 but may not be ready for the team's opener August 28 against Texas A&M. Anderson has averaged 17.8 yards per catch over his career (39 receptions for 694 yards) and scored eight touchdowns. Anderson has good initial burst and agility to gain separation off the line of scrimmage and showed good hands on the tape reviewed. Unlike many other "hybrid" tight end/receivers across the country, Anderson seems to enjoy the physical battles at the line of scrimmage, showing surprising strength and tenacity while blocking. He is quick and competitive when sealing the edge and works to sustain his blocks.
S Brison Williams, Senior | 5-11 | 218 | 4.57 | #12)
With 33 games (including 24 starts) under his belt, Williams is the veteran of South Carolina's defense and is considered a jack-of-all-trades who can line up either safety position, as well as cornerback. He's recorded 84 tackles, seven passes broken up and three interceptions over his past two seasons as a starter, including a career-high 52 stops in 2012. Williams spent the 2010 season at Fork Union Military Academy.
S Sharrod Golightly, RS Senior (5-10 | 205 | 4.57 | #9)
Golightly emerged as the starter at the Spur (a hybrid linebacker/safety role) last season, recording 47 tackles, including six for loss and four pass breakups. He was limited in the spring after undergoing "minor" left knee surgery in the offseason.