2015 NFL Draft: Tennessee Preview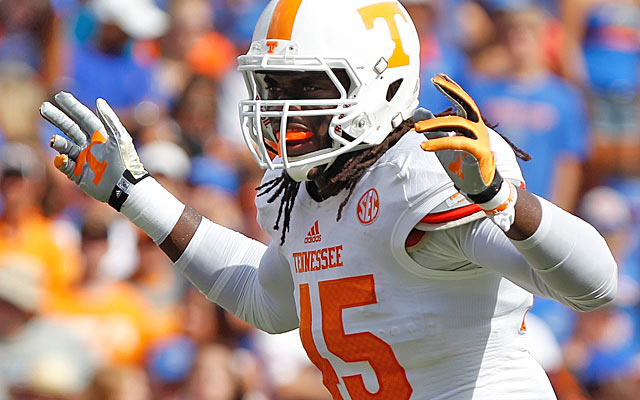 NFL Draft: More prospect previews | Prospect rankings | Rang: 2015 mock draft
The Tennessee Volunteers haven't qualified for a bowl game in the last three years but remain very much on the NFL radar with eight draft picks over that time, including two first round selections (Ju'Wuan James, Cordarrelle Patterson).

Despite big wins late last year against South Carolina and Kentucky and a strong recruiting class building some positive momentum for Butch Jones and his team, it looks like it could be another tough year in Knoxville. The Vols simply aren't as gifted as the elite SEC squads and could especially struggle along the line of scrimmage, where they're replacing virtually every starter from a year ago.

That will put the pressure on the back seven of the defense, which fortunately boasts Tennessee's top NFL prospects.

Tennessee's top NFL Draft-eligible prospects to watch in 2014:

1. ILB A.J. Johnson, Senior (6-2 | 242 | 4.79 | #45)
With an SEC-leading 324 career tackles, Johnson has served as one of the few bright spots for the Volunteers over the past three years. He earned the First Team All-SEC nod from conference coaches last season -- his second consecutive topping 100 tackles and considered leaving Rocky Top early for the NFL before he was reportedly given a mid-round grade from the NFL Advisory Committee.

Unlike most inside linebackers who possess a compact, muscled-up frame, Johnson is a bit lanky. Like his athletic build suggests, Johnson is quick and he can slither past would-be blockers to make tackles in the hole. He is reliant on beating blockers to the action, however, because he struggles to disengage once they latch on, showing only average power and technique for the position. Worse, Johnson often drops his head on contact, losing sight of the ball.
With greater upper body strength in 2014, Johnson could boost his stock. He has just enough speed to meet backs at the edge and is fluid enough to handle coverage responsibilities. Perhaps Johnson's greatest skill is his heavy-hitting as a tackler. He has a nice closing burst to gather momentum and consistently delivers the emphatic pop that has no doubt helped him build his all-conference reputation.
Johnson's talent has been clear since his freshman season and his production speaks for itself. He isn't the clean NFL projection that his reputation might lead you to believe, however, and also comes with some off-field baggage. He was arrested February 8, 2014 for purchasing alcohol for a minor and resisting arrest.
2. S Brian Randolph, Redshirt Junior (6-0 | 197 | 4.58 | #37)
If Johnson has been given too much of the limelight, Randolph -- one of the more underrated prospects in the SEC -- has been given too little. While Tennessee's secondary was leaky, as a whole, Randolph proved a standout, leading the team with four interceptions while recording another three pass breakups and making 75 stops, 50 of them solos. Randolph started all 12 games at strong safety in 2013, a year after tearing the ACL in his right knee just three games into his sophomore campaign.
Randolph's injury in 2012 was a critical loss to Tennessee's secondary as the talented defender was coming off a freshman campaign in which he started eight games (and played in all 12) and posted 55 tackles while splitting duty between free safety and nickel.
Randolph's medical will play an important part in his ultimate grade. Besides the ACL tear, he struggled a bit last season with recurring shoulder issues, including stingers. Jones joked that Randolph was 180 pounds last year and the safety made it a point to bulk up in the offseason. Randolph claims he's gained 15 pounds since last year and the Vols' official website lists him at a solid 209 pounds.
Randolph is an athletic, aggressive safety with good open-field tackling skills. He sports a compact frame with good overall musculature and is reportedly "noticeably" bigger in his upper body after his year in the weight room. Randolph doesn't possess elite straight-line speed and is high in his back pedal but he deciphers the action quickly and closes on the ball aggressively. He's shows good body control and vision to avoid would-be blockers in the open field and is generally a reliable wrap-up tackler. He's shown good hands when interception opportunities are there, as well as a flair for the dramatic, sealing a rare Vols' victory last season with an interception in the end zone to hold on against South Alabama.
Randolph was overshadowed by Johnson a year ago and that may occur again in 2014. If the redshirt junior elects to give up his final year of eligibility, however, he could "surprise" as the Vols' top NFL prospect in 2015.

3. CB Justin Coleman, Senior (5-10 | 190 | 4.53 | #27)
Coleman enters his senior campaign with 25 career starts dating back to his true freshman season, including the past 21 consecutively. All of them have come outside. This season, however, Coleman is expected to see plenty of time inside at nickel, a sore spot for the team last year. The move could benefit Coleman, a physical, alert tackler with 105 career stops over the past two seasons.
Coleman sports an athletic frame with good weight distribution throughout his upper and lower body, helpful for playing inside near linemen. He flips his hips smoothly to turn and run with receives but loses a step in transition, showing just average burst out of his cuts. Coleman keeps his eyes glued on his target and closes quickly when the receiver makes a move for the ball. Coleman is an aggressive, competitive hitter, who isn't afraid to lower his shoulder. He is a reliable wrap-up tackler willing to come up in run support.
Nickel duties could put Coleman in position to make more plays, which could be key to his improving his draft stock. Coleman intercepted the first pass of his career in 2013, returning it 23 yards for a touchdown against Western Kentucky. It was a gift off of a tipped pass. Otherwise, Coleman has shown below average hand-eye coordination to turn his 12 career passes defensed into turnovers, dropping a few "easy" interceptions over his career.
Other Tennessee prospects worth watching:
RB Marlin Lane, Senior (5-11 | 210 | 4.59 | #15)
Lane split time with Rajion Neal last season, finishing second on the team with 539 yards and a career-high four touchdowns, giving him 1,472 yards and eight scores over his career. Tennessee is expected to once again operate out of a committee in the backfield in 2014. Lane possesses a high-cut frame that belies his initial quickness to the hole. He isn't a punisher but is strong enough to break arm tackles. Workouts could be key for Lane, who doesn't show a great deal of explosiveness to pull away or out of his cuts.