Top-rated senior receiver DeVante Parker out 6-8 weeks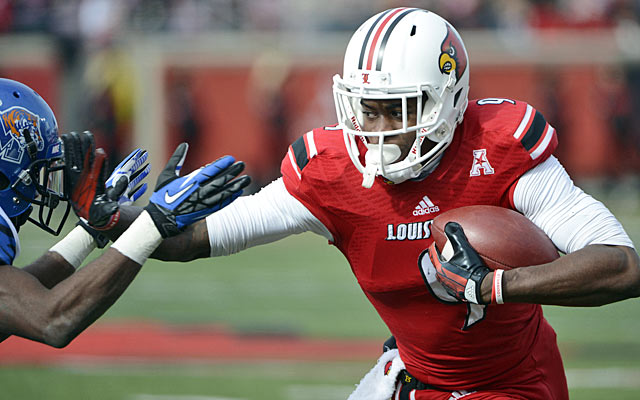 Louisville announced on Monday that senior wide receiver DeVante Parker will miss 6-8 weeks due to a broken bone in his left foot. He is scheduled to have surgery in North Carolina.
"You're never going to replace a guy like DeVante with one guy," Louisville coach Bobby Petrino said Monday morning. "We'll need a lot of guys to step up in his absence."
Parker is currently NFLDraftScout.com's No. 2 rated senior receiver for the 2015 NFL Draft and the No. 33 prospect overall, grading as a borderline first round pick. He flirted with the idea of joining his quarterback Teddy Bridgewater and entering the 2014 NFL Draft, but decided to return to the Cardinals because he wasn't considered a lock first round pick. Parker is competing with prospects like Stanford's Ty Montgomery, Florida State's Rashad Greene and Fresno State's Josh Harper to be the top senior receiver drafted next spring.
Although the news isn't positive, Parker should be able to return to the field for the Cardinals this season, barring any setbacks. He finished last season with 55 catches for 885 yards and 12 receiving scores and although he loses Bridgewater as his quarterback, Parker's production wasn't expected to suffer too much in Petrino's offense.
Studying Parker on tape, there are a lot of reasons to be excited about his NFL potential. He has the long-striding speed to get vertical in a hurry and is a much better catch-and-go pass-catcher than expected. Parker has smooth body control and extends well to pluck, selling and disguising his routes with crisp moves and burst to create separation. He will have some concentration lapses at times and needs to eliminate drops, but now durability might be the top concern in the minds of NFL scouts.
If Parker returns healthy in the middle of the season and finishes his senior season strong, the foot injury will be more of a minor footnote on his NFL scouting report. But like most other injured body parts, foot injuries can linger and there is no guarantee Parker will ever be 100 percent this season. While it's important for Parker to get on the field and prove he's healthy, it's also imperative that the Louisville native enters the pre-draft process as close to 100 percent as possible to receive a clean bill of health at the NFL Combine.