2015 NFL Draft: Texas A&M Preview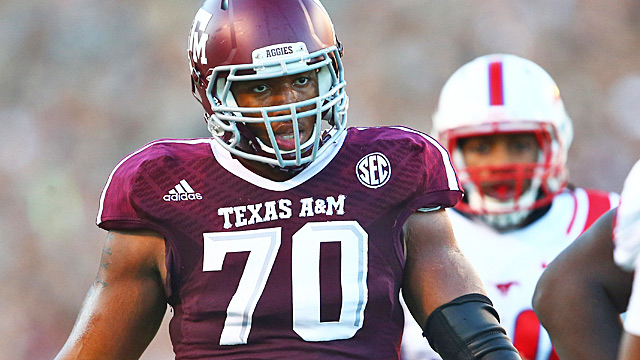 NFL Draft: More prospect previews | Prospect rankings | Rang: 2015 mock draft
Head coach Kevin Sumlin will be fielding a much different team in College Station in 2015 without the on and off-field actions of Johnny Manziel there to mesmerize.
And while Manziel and Mike Evans have taken their extraordinary talents to the NFL a little earlier than Sumlin and Aggies fans may have liked, there remains first round talent at Texas A&M, including NFLDraftScout.com's top-rated senior regardless of position, offensive tackle Cedric Ogbuehi.
Even with Ogbuehi's brilliance, however, A&M could be in for a tough year in the SEC West (and NFL draft) as the Aggies are very young. In fact, half of the players listed on A&M's initial depth chart for Thursday's opener against South Carolina are freshmen or sophomores.

Texas A&M's top NFL Draft-eligible prospects to watch in 2014:

1. OT Cedric Ogbuehi, Redshirt Senior (6-5 | 300 | 4.98 | #70)
Though he certainly lacks the flash of Manziel or Evans, Ogbuehi gives the Aggies yet another first round prospect for scouts to salivate over this season.

Boasting a more unique skill-set that either of his predecessors Luke Joeckel or Jake Matthews, Ogbuehi almost certainly would have earned a top 10 selection in the 2014 draft had he entered. Having already graduated, he strongly considered doing so and only elected to return to College Station when the Aggies took advantage of a new rule by paying more than $50,000 for an insurance policy to protect against an injury-related slip in his draft stock.

Ogbuehi is blessed with prototypical traits for today's tackle. He possesses broad shoulders, a trim middle and excellent first-step quickness and balance. He looks the part of a future NFL Pro Bowler with his easy knee bend and lateral agility. Ogbuehi has vines for arms and strong hands to latch and control, as well as the core flexibility to anchor. He is light on his feet and can adjust in space when run blocking at the second level and, because of his rare combination of agility and length, is one of those few tackles capable of recovering if initially beaten off the snap. Ogbuehi isn't just athletic; he's powerful, demonstrating the strength to simply drive defenders off the ball. He's started at guard as well as right tackle already and if he excels on the blindside in 2014 as expected, Ogbuehi's experience should provide his future NFL team plenty of flexibility. Despite all of his talents, however, Ogbuehi has room to grow before earning his projected top three selection.

Ogbuehi has some passivity to his game, preferring to "catch rather than control" opponents. By over-setting on his initial kick-slide, he leaves his chest plate open to power rushes and will occasionally lean into defenders rather than keeping his feet shuffling. He has a tendency to get too high off the snap when drive blocking, which leaves him vulnerable to swim moves over the top. And, of course, Ogbuehi and the rest of Texas A&M's line was protected by Manziel, whose extraordinary mobility and spatial awareness helped him escape the occasional mistake up front. Further, Ogbuehi has missed five games over his career with injury, sustaining an ankle injury in 2011 that caused him to miss three games and an undisclosed injury a year ago (reportedly to his groin) that forced him out against Vanderbilt and UTEP.

2. OG Jarvis Harrison, Redshirt Senior (6-3 | 325 | 5.27 | #51)
Considering A&M has sent Joeckel, Matthews (and soon Ogbuehi) to the NFL via the first round, it is easy to understand why the perimeter blockers get most of the attention but Harrison has been described by Aggies' coaches as their most athletic offensive lineman and he flashes the talent worthy of early round consideration. Harrison has impressive initial quickness, including a burst to get to the second level that belies his massive frame. He has a thick build, especially in his lower body, that helps him absorb bull rushes and generate power as a drive blocker and is surprisingly fluid in pass protection.

Harrison is too satisfied with getting an initial block on his opponent and doesn't work hard enough to sustain. Harrison carries a little too much weight around his middle, which causes him to bend at the waist rather than at his knees, making him top-heavy. He must show improved awareness and balance to re-direct towards moving targets when run blocking at the second level.

3. CB/S Deshazor Everett, Senior (5-11 | 188 | 4.53 | #29)
Everett enters his third season as a starter for the Aggies in 2014 after splitting duty between cornerback and safety the past two years. He recorded a career-high 73 tackles in 2013 and has 16 passes broken up over the past two seasons. Everett has shown a talent for recording big plays, scoring three touchdowns off of turnovers the past two years and sealing A&M's shocking victory over Alabama two years ago with a goal line interception of AJ McCarron in the closing moments.

While Everett's production is impressive, he may struggle to find a niche in the NFL. Everett is a bit of a jack-of-all-trades type, as he does not possess ideal agility or acceleration for cornerback and is overly reliant on hits - rather than form tackling - to make open-field stops. Everett has a high back pedal and is much better when facing the quarterback. He is aggressive to bite on underneath routes (which has helped him pad his numbers) but leaves himself vulnerable to double-moves. He will lower his shoulder to flash physicality but needs to show more urgency in fighting through blocks and in his pursuit angles.

Other Texas A&M prospects worth watching:

OL Germain Ifedi, RS Sophomore (6-5 | 320 | 5.34 | #74)
Though he is technically eligible for the 2015 NFL draft after the season due to the fact that he'll be three years removed from his high school graduating class, Ifedi would be well served returning for further development. The talent is clear. Ifedi impressed last season at right guard and signed with the Aggies as a highly regarded prospect. He is a naturally powerful man with long arms and athleticism and saw time at right tackle during camp. Regardless of where he plays in 2014, Ifedi certainly is one to watch for the future.