Meet the Prospect: Washington DE/LB Hau'oli Kikaha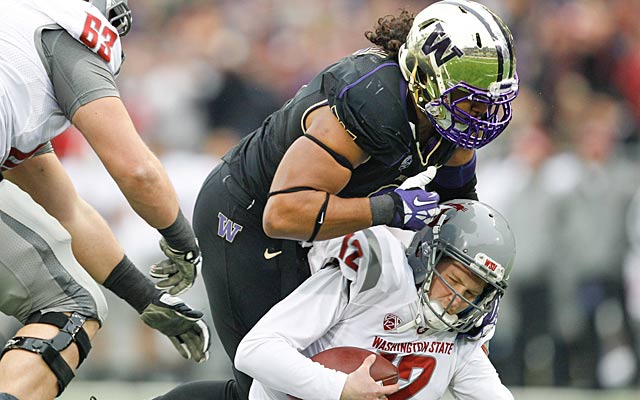 Throughout the season, the "Meet the Prospect" series will highlight an underrated senior NFL prospect with a scouting report, interview and glimpse at what NFL scouts think of the player.
DE Hau'oli Kikaha, Washington (6-3 | 246 | 4.82 | #8)
The Scouting Report
Hau'oli Kikaha (ha-OH-lee KEY-kah-HA) saw action as a true freshman (seven starts), but missed almost all of the next two seasons (2011-12) due to two ACL tears, both to his left knee. He returned healthy in 2013 as a junior and finished among the Pac-12 leaders in sacks (13), also leading the Huskies in tackles for loss (15.5) and forced fumbles (3).
Kikaha played mostly "4i" technique last season, lining up on both the left and right sides and in two and three point stances. He has solid build and muscle tone, holding the point of attack well and rarely giving up ground. Kikaha has active hands with a strong punch to fight through blockers' jabs. He isn't overly explosive, but displays flexible body control, coordinated feet and fluid change of direction skills to flatten and make sharp 90-degree turns.
Kikaha attacks gaps with an aggressive demeanor, showing the ability to locate and track to work off contact and pursue quickly with improved ball awareness. He needs to be a more consistent finisher and tends to get lazy with his tackling technique, but arrives with violent intentions and looks to tune up his targets. Kikaha has a fiery motor and has the top-notch work ethic on and off the field to continue his development at the NFL level.
What NFL Scouts are saying
"The medicals will be imperative for his full evaluation, but with a healthy 2014, that will be two full years removed from the ACL injuries so that's a good sign. He has a good understanding of how to get to the quarterback and is one of the better college pass rushers on the west coast." – NFC North scout
The Interview
Q: You have torn the ACL in your left knee twice, basically missing the 2011 and 2012 seasons. But you returned healthy last year and led the team in sacks. Talk about the hurdles both physically and mentally for you to rebound from those setbacks?
A: Anytime you get an injury, it changes your role on the team. That is something that impacted me for a while. I was sidelined, taken away, which changed my leadership role. It was difficult, but allowed me to strengthen things in the weight room, get a better bench. Not being on the field was tough. I had great teammates beside me. The rehab was nine months for each tear. Two seasons in a row was heartbreaking. But I have the best surgeon in the country (Dr. Edward Khalfayan); he walked me through every step and made sure my rehab was on point, checking in and helping me get back up to speed and feeling 100-percent.
There was a lot of mental growth, the injuries taught me to be patient. I got to play as a freshman so I thought I would get in and get out and be on my way, but the injuries taught me to invest more in the program, allowed me to get coached up in the film room.
Q: Do you worry about injuring your knee a third time? Is it something in the back of your mind?
A: No, I really am extremely confident in my surgeon and the technique that he used was different than the initial surgery, one that is proven to be more successful. I don't want to brag about work ethic, but I wasn't holding anything back. With the great trainers we have, I was working out every day. Definitely went non-stop.
Q: Has the NFL always been a dream of yours?
A: Since I was three years old.
Q: You are moving to the "Buck" linebacker position this season with mostly 3-4 base looks. How is that transition going?
A: It's going pretty smoothly, knocking the rust off a bit. It's been awhile since we played real ball, but changing positions, it's still football. Definitely a little different. I'm enjoying the experience, running plays out of different looks, multiple looks. The 3-4 allows more 1-on-1 opportunities so I can make plays and be freed up. I spent a lot of time at the "4i" position and strong end last year so it's not too far off. But it is a different feel.
Q: What position do you want to play at the next level?
A: I need to get after that quarterback, that's my preferred position.
Q: On last year's game film, you would often rush from a stand up position, but focused on attacking the pocket. This year you will be standing up again, but the role changes. Have you ever played linebacker? Or lined up in space with coverage responsibilities?
A: Last year, I wasn't a primary pass rusher, more of a two-gapper and run stopper. So I'll probably get more opportunities to rush the passer this season, I'll be on the edge more, dropping won't really take away from my pass rush opportunities. And when I drop, I can showcase what I can do. I have to learn from my coaches and step up to the challenge, making plays in the open field.
Q: What do you feel is your best strength on the football field?
A: My pass rush ability and getting to the quarterback. But a lot of it is a mind game and I have the mental aspect of the game. I can figure out where offensive players are going before they go. I love winning that mental aspect.
Q: What area do you need to improve the most as a senior?
A: I'd like to finish and close in on quarterbacks a little better. Quite a few got away last year. I'd like to be able to finish better and capitalize on my opportunities.
Q: Who is the toughest player you have matched up against?
A: My former teammate Senio Kelemete (5th round, 2012 NFL Draft) was awesome. He went to the NFL and played for the Saints and Cardinals. Tough as nails. The whole Stanford offensive line was tough. Most recently UCLA's Xavier Su'a-Filo (2nd round, 2014 NFL Draft) had a great punch, good battles off and on with him.
Q: You mentioned the Stanford's offensive line, how do you feel you did against left tackle Andrus Peat?
A: He's a good player. But I was primarily on the tight end for the majority of the game. The few times I went against him, he was stout, long levered, good battles as well. From what I've seen, he's a great player.
Q: Studying your game tape, you clearly play with violent intentions, quick hands, an active punch, and athleticism to eat up grass in a hurry. You remind me some of Browns' pass rusher Jabaal Sheard. Is there a player in the NFL you pattern your game after or compare yourself to?
A: I don't think I'm able to compare myself to others, but I like to watch the best and emulate them. I try to be like them. Like Clay Matthews, Terrell Suggs, Jared Allen. Aldon Smith. Just watching the best recently and trying to copy some of their moves and techniques. I like Clay Matthews a lot, his flexibility and the way he uses his hands violently. Jared Allen a close second.
Q: With Coach Sarkisian now at USC and Coach Chris Peterson now running the Huskies program, how is the coaching transition going?
A: It's going really well. Coach Peterson is a great coach as you can see with his history and the games he's won and students he produces, the men they are. He talks about the players he coached and what they are accomplishing not only as football players, but also men in the community. He focuses not just on the football player, but the man we will become before we leave. Everyone loves a football coach that wins games.
Q: You were the Hawai'i defensive player of the year your senior season in high school. What led you to Washington?
A: Washington was a school that recruited me early and I was happy for that. It's in the Pac-12 and on the rise. A lot of the coaches were from USC who were recently National Title contenders. This is a program that will be on the rise, will be a great one in the next few years and I wanted to be a part of the process. It was exciting to be in Seattle.
Q: Washington's season opener this season is in your home state of Hawai'i. Is this the first time a lot of your friends and family from home will get to see you play since high school?
A: Probably only four or five of my family and friends have had a chance to see me at Washington so now the entire family gets to come over and support me. A ton of friends and family, everybody from the island.
Q: Last season, you finished just 1.5 sacks shy of the single season Washington record. Is that something that is a goal for you as a senior?
A: I'm not really allowed to say numbers, but in my head, I just want to maximize each opportunity. We missed more than 1.5 sacks last year so finishing more will get me to that mark.
Q: You are on a defense with several impressive NFL prospects, can you give me a quick scouting report on DT Danny Shelton?
A: He is aggressive and huge. Powerful and becoming a very good pass rusher from the nose guard. Most at the position are powerhouses, but he can really move. He's athletic enough to flip his hips and rotate his shoulder and be powerful and low at the same time. He runs to the ball too with a very high motor. He keeps going on film, even when the play is 20 yards away from him.
Q: Same question with LB Shaq Thompson?
A: Really fast and plays amazing in space. He's a really great tackler, finds the ball quickly. And once he finds it, he's there in a second and a half.
Q: What about CB Marcus Peters?
A: Extremely fast, high football I.Q. He reads routes before they happen and you see that on film. He's faced some of the best receivers in the country and gave them a run for their money. A lot of man coverage.
Q: If I were to ask your position coach about you, how do you think he would describe you?
A: Hopefully hard working and helpful, that's all I can hope for. I want to leave something with these guys and help them get better. Hopefully they see that I want to win and will work hard to get there.
Q: Fast forward five years from now, where do you see yourself?
A: Hopefully I'm on a NFL team, grinding it out and working hard, making plays.