2015 NFL Draft: Spectacular debuts for Texas A&M's Hill, Ogbuehi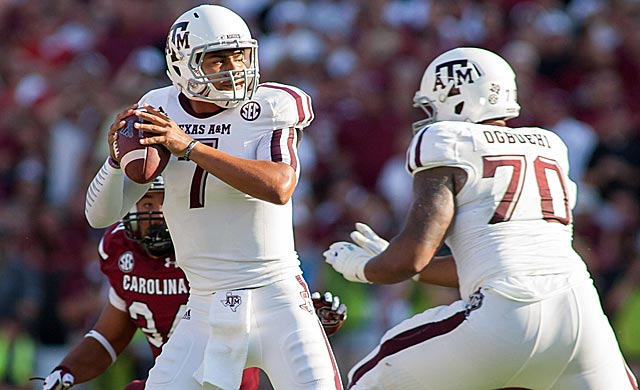 As NFLDraftScout.com's top-rated senior prospect, Cedric Ogbuehi, made the transition from right to left tackle, we had grown used to the idea that Texas A&M could reasonably replace 2014 No. 6 overall pick Jake Matthews.
The shocker in Thursday night's opener between Texas A&M and South Carolina was just how easily Kevin Sumlin's squad was able to replace stars Johnny Manziel and Mike Evans, with quarterback Kenny Hill and receiver Ricky Seals-Jones looking like future All-American candidates themselves.
Hill and Seals-Jones, both sophomores in their first career starts, took turns dazzling the Gamecocks to help push the No. 21 Aggies to a 52-28 upset win in Columbia. Hill completed 44 of 60 passes for a school-record 511 yards against Gamecocks, who entered the game ranked No. 9 in the country. Demonstrating remarkable poise and accuracy on a variety of pro-style routes, Hill threw three touchdowns in the first half without an interception and spread the ball to 12 different receivers.
While Hill's most explosive target was the 6-foot-5, 225-pound Seals-Jones, redshirt senior Malcome Kennedy was Mr. Reliable, hauling in 14 passes for 137 yards. Kennedy doesn't have great speed but he showed quickness out of his break to generate separation, toughness over the middle and an awareness of down and distance.
While the Aggies' young skill-position stars will have people talking at the water cooler, NFL scouts had to be pleased with Ogbuehi, who looked equally comfortable in his debut.
Ogbuehi earned a top-three selection in early mock drafts by Dane Brugler based largely on his potential but until Thursday night, we hadn't seen the 6-5, 305-pounder on the blind side.
Playing its first game without Jadeveon Clowney (as well as Chaz Sutton and Kelcy Quarles), South Carolina struggled to mount any pass rush on Hill. Ogbuehi played a large role in that, demonstrating the same unique quickness and fluidity at left tackle that he had previously demonstrated at right tackle and guard.
A boisterous crowd seemed to contribute to Ogbuehi getting an occasional late start. Rather than panic and lunge at his opponent, Ogbuehi showed off his rare skill set, accelerating while turning his shoulders to remain square to the pass rusher before extending his vine-like arms to latch on. Ogbuehi's agility and reach make him reliable in pass protection. He also showed quickness and agility in the running game and drove his assignment off the ball to clear the lane for A&M's first touchdown of the season, a 1-yard plunge off left tackle by Tra Carson.
With star running back Mike Davis limited to only six carries for 15 yards, South Carolina was forced to look elsewhere for big plays. Undersized senior Nick Jones caught two long touchdowns to keep the Gamecocks in the game early but the most intriguing performance from a draft-eligible senior may have come from tight end Rory Anderson, who caught three passes for 52 yards. The 6-5, 232-pounder showed good body control, soft hands and an aggressive style of play in a losing effort.