2015 NFL Draft: Rutgers' James, WSU's Halliday worth an NFL look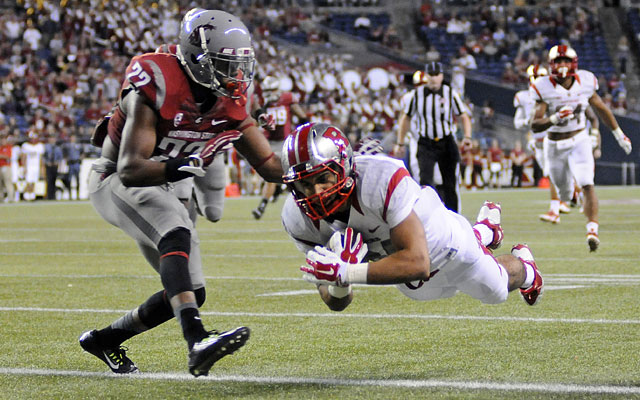 Scouts knew the Pac-12/Big Ten clash between Rutgers and host Washington State would be a test of differing strategies. The Scarlet Knights were just as likely to attempt to pound the ball as the Cougars were to throw it. Scouts willing to stay up and watch the game live (which ended at approximately 1:24 a.m. ET on Friday) or those who view it later will discover that Rutgers and Washington State weren't just productive in their goals, their stars showed the talent to compete at the next level.
Running back Paul James was the clear star for Rutgers, rushing for 173 yards and three touchdowns, including the go-ahead score with 3:24 remaining in the game.
James, a 6-foot, 210-pound junior, routinely ran through arm tackles, showing impressive leg drive, forward lean and enough burst to gain yardage in chunks. He lowers his shoulders on contact and spins off hits, keeping his feet moving and eyes searching for daylight. He showed better acceleration than his frame would indicate, breaking free for a 56-yard gain.
James was complemented by senior fullback Michael Burton, who made some terrific blocks to free up his teammate and showed surprising body control and athleticism while hauling in a 34-yard pass from quarterback Gary Nova in the third quarter.
James' powerful running was contrasted beautifully with precise passing from Cougars senior quarterback Connor Halliday, who enjoyed an even more eye-popping performance in a losing effort, completing 40 of 56 passes for 532 yards and four scores.
Quarterbacks operating in Washington State coach Mike Leach's offense, of course, are expected to produce gaudy stat-lines. His aggressive passing attack, which prioritizes poise and accuracy over arm strength, has made stars out of passers most NFL teams would never consider prospects.
Halliday, signed by former head coach Paul Wulff, is not the typical Leach quarterback. The lanky 6-foot-4, 198-pounder has a live arm and loves to show it off. He attacked the Scarlet Knights with the typical in-breaking routes Leach has made famous. Halliday also showed very good accuracy on both intermediate and deep out-breaking routes, consistently throwing before his receivers turned. Halliday also showed deft touch on verticals down the sideline and when dropping passes over the defenders with their backs turned to him.
One of Halliday's most impressive passes came on third-and-goal late in the third quarter to break a 24-24 tie. Halliday had been rocked on an explosive sack from good-looking redshirt freshman defensive end Kemoko Turay on second down. After a Rutgers timeout in which the quarterback hobbled off the field, Halliday returned to fire a 14-yard strike on a post to Isiah Myers for the score, demonstrating impressive grit as well as NFL-caliber velocity and ball-placement.
Halliday started poorly, completing 10 of 17 passes for just 97 yards and an interception. He caught fire as the game went on, however, completing 30 of 39 passes for 435 yards and the four scores ... and frankly, he should have had more. His final two passes were beautifully thrown -- one a 25-yard strike down the right sideline on third-and-13 after rolling away from pressure and another lofted over the middle on fourth down only to have both dropped by his receivers to seal the 41-38 win for the Scarlet Knights in Seattle.