2015 NFL Draft: Hundley struggles, Odighizuwa flashes for UCLA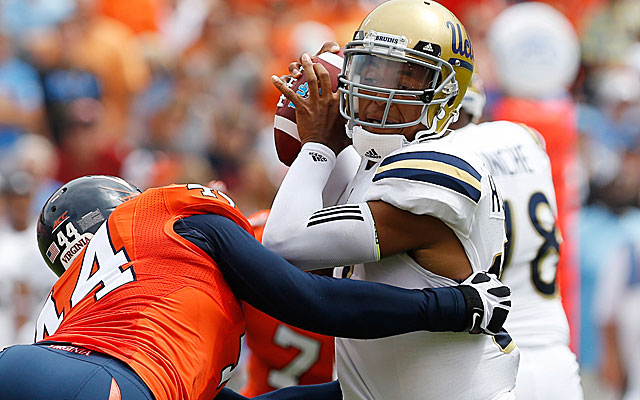 Brett Hundley is likely proud of the resiliency his Bruins showed in their 28-20 victory over a plucky Virginia squad, but in the season-opener, the Heisman Trophy and first round hopeful raised as many questions as he answered.
Three of UCLA's four scores came on defense and Hundley was held without a touchdown pass. He did score on a six-yard scamper (among his 39 rushing yards) and completed 20 of 33 passes for 242 yards and showed composure down the stretch, rifling deep passes to the sidelines to help the Bruins escape with the win. And when protected, Hundley generally threw the ball well. He showed improved poise in the pocket from a year ago, scanning the field and occasionally stepping up in the pocket before delivering confident passes. He failed to look off defenders, at times, which contributed to three of his passes being deflected at the line of scrimmage.
It wasn't the only area in which Hundley's undisciplined eyes led to problems; something that NFL scouts will be sure to note.
Whenever a Cavalier pass rusher broke free, Hundley would drop his eyes and look to run even when he was able to elude the initial defender. The successful mobile quarterbacks in the NFL are just as likely to buy time with their legs before passing rather than scrambling each time the pocket collapses.
Of course, when you're as athletic and strong as Hundley, scrambling isn't a bad thing. He showed as much when running over a linebacker for a Heisman-like score late in the 3rd quarter. The touchdown stole back momentum for the Bruins after Virginia's backup quarterback Matt Johns had sparked the Cavs with two touchdown passes.
Physically speaking, Hundley has all the tools to project as an NFL quarterback. He has a quick set-up and delivery and drives the ball effortlessly to the sideline. He also showed good touch, including on a 48-yard bomb down the left sideline on the game's first play from scrimmage, as well as prototypical velocity on deep sideline throws.
Hundley checks in at No. 19 overall on NFLDraftScout.com's initial player rankings, behind only Oregon's Marcus Mariota and Florida State's Jameis Winston among quarterbacks. He possesses a combination of size, athleticism, grace and arm strength reminiscent of former Pro Bowl quarterback Randall Cunningham and earned a top 10 pick in our early 2015 mock drafts.
While Hundley and the Bruins' offense struggled, the defense starred. True sophomore Myles Jack was all over the field as was underrated senior inside linebacker Eric Kendricks. Senior defensive end Owamagbe Odighizuwa, however, helped his NFL stock the most with Saturday's performance.
Odighizuwa, who missed the entire 2013 season after two separate surgeries on his left hip, provided consistent disruption from right defensive end position and played a key role in two of UCLA's three defensive touchdowns of the first half.
Scouts love pass rushers with long arms and the 6-foot-3, 270 pound Odighizuwa showed why, reaching over Virginia left tackle Michael Mooney to graze the football as starting quarterback Greyson Lambert delivered a second quarter pass. The ball floated over its intended target and into the hands of cornerback Ishmael Adams for the Bruins' first score of the season.
Roughly 10 minutes of play later, Odighizuwa forced a quick throw from Lambert that Kendricks picked off to give the Bruins a commanding 21-3 lead. Odighizuwa showed good balance and agility to spin back inside on the play to threaten Lambert after consistently beating Mooney off the edge with a combination of burst and power. Virginia head coach Mike London switched to Johns on the next drive.