2015 NFL Draft: Cooper, White catch passes, attention in 'Bama-WVU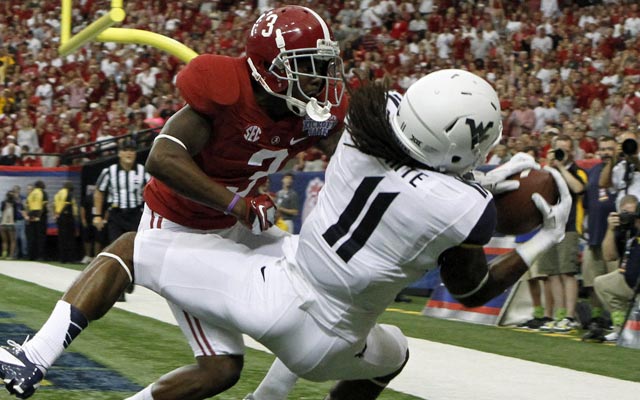 NFL Draft: More prospect previews | Prospect rankings | Rang: 2015 mock draft
With Alabama needing to replace eight former starters selected in May's NFL Draft, scouts expected there would be several breakout candidates in the season-opener against West Virginia.
They may not have anticipated that some of the most impressive performances would be turned in by Mountaineers, who battled the No. 2 team in the country before succumbing 33-23.
A big part of West Virginia's surprisingly competitive performance came from the passing game. Senior wide receiver Kevin White matched Alabama's preseason All-American Amari Cooper catch for catch, showing impressive hand-eye coordination and leaping ability to haul in several contested throws, including a 19-yard touchdown to tie the game at 10 in the second quarter.
The 6-foot-3, 209 pound White possesses a legitimate NFL frame with broad shoulders and good overall musculature. White used his size to overpower defenders on occasion, breaking tackles to gain yardage after the catch. He also showed agility and strength to gain a free release, smooth acceleration to push corners deep and the burst out of his breaks to gain separation.
White, who finished third on the team last year with 35 catches for 507 yards and five scores, caught nine passes for 143 yards and a touchdown against the Tide. He showed good awareness and competitiveness, as well as physical talent, cutting off routes when he sensed quarterback Clint Trickett was in trouble and fighting for every inch of yardage he could get.
Trickett, who transferred to West Virginia from Florida State, played well, showing good awareness and impressive accuracy against the Tide, completing 29 of 45 passes for 365 yards and a score. He attacked a talented Alabama secondary with confidence and consistently placed the ball where only his receivers could get it. Trickett performed admirably but comes with significant size concerns. The Mountaineers officially list him at 6-2, 186 pounds.
While White and Trickett caught the attention of scouts with their respective performances, the highly athletic Cooper has held their fascination for the past two years.
Cooper exploded onto the scene in 2012 setting several Alabama records -- including the single-season mark for touchdown catches with 11. Nagging injuries and the development of Kevin Norwood contributed to a disappointing sophomore season for Cooper (45 passes for 736 yards and four scores) but when healthy, he showed the combination of agility and acceleration that has earned comparisons to everyone from Atlanta Falcons' Pro Bowler Roddy White to Jacksonville Jaguars rookie Marqise Lee.
Cooper's agility served as a great contrast to White's strength in this game. New Alabama offensive coordinator Lane Kiffin moved Cooper around, featuring him on quick screens and quick drags across the middle to take advantage of the 6-1, 202-pound junior's burst and balance.
Alabama relied on its dominant running game (288 yards, all three touchdowns) and accuracy from kicker Adam Griffith (4 for 4 on field goals) to beat the Mountaineers but Cooper played a key role, catching a career-high 12 passes for 130 yards from new Bama quarterback Blake Sims.