2015 NFL Draft: UCLA's Owamagbe Odighizuwa a name to know now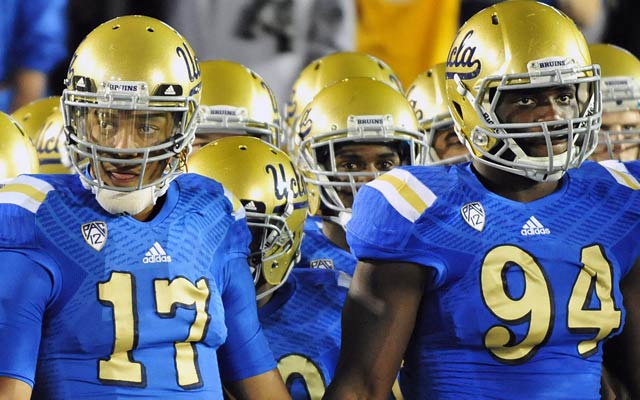 With more star power than a Hollywood blockbuster, the USC-UCLA matchup Saturday night was essentially must-see TV for NFL scouts.
There were storylines everywhere as the Bruins took another step towards the Pac-12 South title with a surprisingly dominant 38-20 win over their cross-town rivals.
Southern Cal defensive lineman Leonard Williams - the player Dane Brugler and I each project as the No. 1 overall pick - was every bit as dominant as expected. His embattled (but talented) teammate Josh Shaw made his return to the field. Quarterbacks Brett Hundley and Cody Kessler each flashed the skill-set that puts them in the mix to follow Marcus Mariota and Jameis Winston as the No. 3 quarterback on NFLDraftScout.com's board.
Given the recognizable names, you can be excused for not focusing on UCLA's left defensive end Owamagbe Odighizuwa. Scouts certainly will be, however, after the 6-foot-3, 270 pound redshirt senior helped UCLA win the line of scrimmage, recording two sacks and disrupting several other plays.
His name may be hard to say (pronounced Oh-wah-MAH-bay Oh-DIGGY-zoo-wah) but for Southern Cal right tackle Zach Banner, Odighizuwa was even harder to block.
Banner, the 6-foot-8, 350 pound son of former Los Angeles Raider Lincoln Kennedy, signed with USC amid much fanfare. Banner is so gifted he's already generating buzz as a potential early entry into the NFL, perhaps as soon as 2015.
Despite the fact that Odighizuwa was giving up 80 pounds to his opponent, the UCLA defender frequently stood up Banner at the line of scrimmage, including on a failed 4th and two early in the second quarter.
Rather than take an easy field goal to narrow UCLA's lead to 14-10, USC head coach Steve Sarkisian opted to challenge the Bruins' talented but inconsistent defensive line. Sarkisian called for Buck Allen run behind Banner. While certainly imposing, it takes Banner an extra half-second to get all that mass moving. Odighizuwa used his advantage in quickness and leverage to stand Banner up at the line of scrimmage and UCLA's fast-flowing linebackers stopped Allen for no gain.
On their next trip to the red zone - early in the second quarter - they tried running behind Banner again. Odighizua once again set the edge, creating the pile that stopped Allen for no-gain.
Given his advantage in quickness, perhaps it wasn't surprising to see Odighizuwa also beat Banner as a pass rusher. He didn't rely on speed to the outside, however, instead beating Banner inside with good initial quickness and a powerful bull rush.
It wasn't just Banner that struggled with Odighizuwa. When the muscle-packed defensive lineman moved inside, he quickly slipped past USC's guards, registering one sack in the third quarter and nearly recording another a series later. When he flipped sides, his quickness and a powerful slap challenged USC's left tackle Toa Lobendahn.
Odighizuwa, who started six games for the Bruins back in 2010 (but only two the past three years), is enjoying a breakout campaign that could have the No. 21 defensive end on NFLDraftScout.com's board moving up quickly. He missed all of last season after undergoing surgery on his hip and entered Saturday night's game with 45 tackles, including 7.5 tackles for loss and three sacks.
He doesn't possess the explosive burst off the edge or nifty change of direction expected of a first round pick. He does, however, possess the stout frame, quickness and power valued by clubs operating out of each alignment.
That position and scheme versatility could land Odighizuwa a spot within the first 100 picks of the 2015 draft and certainly qualifies him as one of the feel-good stories of the year.