2015 NFL Mock Draft: RB Todd Gurley breaks into the top 10
The NFL Draft has not produced a first round running back since 2012, but that will change this year with Georgia's Todd Gurley and Wisconsin's Melvin Gordon, that is a safe assumption. The real question is: how early will Gurley be drafted? And the answer – it's impossible for him to be drafted too early.
Looking at the top 10 picks, there are several possible scenarios, even as early as No. 3 overall to Jacksonville. But Atlanta at No. 8 might be more realistic as the Falcons are searching for more firepower on offense and Dan Quinn would have his version of Marshawn Lynch in Atlanta.
FIRST ROUND
1. Tampa Bay Buccaneers -- Jameis Winston, QB, Florida State: Nothing has changed at the top. The Buccaneers have a need at quarterback and Winston is believed to be their target with the No. 1 overall pick.
2. Tennessee Titans -- Marcus Mariota, QB, Oregon: Time will tell if the Titans ultimately keep this pick or trade back, but regardless, there is a strong chance Mariota is the second player drafted this year.

3. Jacksonville Jaguars -- Dante Fowler Jr., DE/OLB, Florida: Pass rusher makes the most sense for Jacksonville with this pick, the question is, which rusher best fits Gus Bradley's scheme? The answer could come down to Fowler or Vic Beasley.
4. Oakland Raiders -- Leonard Williams, DL, USC: With the fifth pick a year ago, arguably the best player (Khalil Mack) in the draft fell to Oakland. And it could happen again this year if Williams is still on the board with the fourth pick.

5. Washington Redskins -- Vic Beasley, DE/OLB, Clemson: With Brian Orakpo in Tennessee, the Redskins have an opportunity to replace him in the first round. Beasley hasVon Miller-like flashes on tape and his Combine numbers back that up.

6. New York Jets -- Bud Dupree, DE/OLB, Kentucky: The Jets are unpredictable at this spot with the quarterbacks off the board and a first-year general manager and head coach turning in the draft card. Dupree isn't yet the sum of his parts, but he has arguably the most upside of this class of pass rushers.

7. Chicago Bears -- Kevin White, WR, West Virginia: This pick has to be defense, right? After the Brandon Marshall trade, wide receiver is now a possibility and with White still on the board, it's a match that makes sense.
8. Atlanta Falcons -- Todd Gurley, RB, Georgia: One could make the argument that Gurley is the most talented player in this draft class so to get him with the eighth pick could prove to be excellent value for Atlanta. With Steven Jackson no longer on the roster, Devonta Freeman and Gurley would be a fun duo to watch.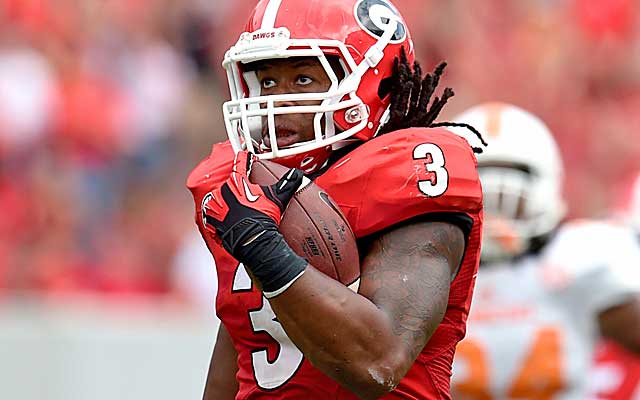 9. New York Giants -- Brandon Scherff, OL, Iowa: At least one offensive lineman has been drafted in the top-10 since 2006 and the Giants could extend that streak with the top blocker at this pick. Although not quite as talented as Zack Martin, Scherff will likely follow a similar path as a college left tackle ideally suited inside at guard in the NFL.

10. St. Louis Rams -- Amari Cooper, WR, Alabama: Although wide receiver isn't the Rams' No. 1 need on the roster, Cooper might be the top player on St. Louis' draft board at No. 10.

11. Minnesota Vikings -- Trae Waynes, CB, Michigan State: While the Terrance Newman signing was good for depth, the Vikings still have a need at cornerback and could draft the top defensive back on their board with this pick.

12. Cleveland Browns -- Danny Shelton, NT, Washington: With DeVante Parker still on the board, this pick could come down to a two-gapping nose tackle like Shelton or the potential No. 1 receiver with Parker. I think Cleveland would lean Shelton.

13. New Orleans Saints -- Arik Armstead, DL, Oregon: The Saints have Cameron Jordan under contract for the 2015 season, but might not be able to retain him long-term. Although raw, Armstead is one of the most impressive talents in this class, with Calais Campbell potential.
14. Miami Dolphins -- DeVante Parker, WR, Louisville: The Dolphins lost Brian Hartline and Mike Wallace and added Kenny Stills and Greg Jennings, but still lack a potential No. 1 target. Parker solves that problem.
15. San Francisco 49ers -- Shane Ray, DE/OLB, Missouri: Ray is currently the toughest player to project because of his foot injury. He likely won't need surgery, but the durability concerns could hurt his stock slightly, allowing the 49ers to get excellent value.

16. Houston Texans -- Randy Gregory, DE/OLB, Nebraska: Houston drafted a pass rusher No. 1 overall last year (Clowney), but all 32 NFL teams could use more help at the position, especially for the Texans who are expected to lose Whitney Mercilus to free agency next year.

17. San Diego Chargers -- Melvin Gordon, RB, Wisconsin: San Diego has been doing its homework on several of the top running backs in this draft class, including Gordon. He might be the early favorite for offensive rookie of the year if he lands with the Chargers.
18. Kansas City Chiefs -- Kevin Johnson, CB, Wake Forest: With Sean Smith and Jamell Fleming both entering contract years, the cornerback position is one direction the Chiefs could go with this pick and Johnson fits the mold of what Kansas City looks for in the position.
19. Cleveland Browns (from Buffalo) -- La'el Collins, OT, LSU: The Browns need to add depth on the offensive line and Collins would give the team a long-term option at right tackle to replace Mitchell Schwartz, who is likely playing his final season in Cleveland this year.
20. Philadelphia Eagles -- Byron Jones, CB, Connecticut: Connecting the pro day dots, Chip Kelly has paid close attention to big, athletic defensive backs this spring. Eric Rowe is in the conversation, but Jones is the better fit and should surprise no one if he's drafted this high.
21. Cincinnati Bengals -- Ereck Flowers, OT, Miami: Entering the final year of his contract,Andrew Whitworth turns 34 years old this season and even if he does fit into the Bengals' long-term plans, it might be at left guard. Flowers would bring an edge to the Bengals' front.
22. Pittsburgh Steelers -- Marcus Peters, CB, Washington: The Steelers need a pass rusher, but with the top names off the board, the focus shifts to another need on defense: cornerback. Peters has his baggage, but the talent is among the best in this class.

23. Detroit Lions -- Andrus Peat, OT, Stanford: The Lions have a few stopgap options at right tackle, but Peat is arguably the top offensive tackle in this draft class. Stability (Peat) is better than serviceable (current right tackle situation).
24. Arizona Cardinals -- Cameron Erving, C, Florida State: The Cardinals released incumbent starting center Lyle Sendlein last month and Erving is a plug-and-play option in the first round.
25. Carolina Panthers -- D.J. Humphries, OT, Florida: The Panthers need help on the offensive line, specifically at left tackle, making Humphries a possibility here. A Charlotte native, he is still very unpolished, but his feet and lower body are first-round quality.
26. Baltimore Ravens -- Breshad Perriman, WR, Central Florida: It's a fair bet that the Ravens will pick a receiver at some point in this draft and Perriman has as much potential as any pass-catcher in this draft class.
27. Dallas Cowboys -- Shaq Thompson, OLB, Washington: With the Cowboys' targets at cornerback and running back wiped out, Thompson gives Dallas an athletic linebacker they missed out on last year (Ryan Shazier) and insurance in case of another Sean Lee injury.

28. Denver Broncos -- Cedric Ogbuehi, OT, Texas A&M: The Broncos' offensive line is going through changes this off-season and with right tackle Chris Clark better suited as a back-up, Ogbuehi has been dinged by some teams for his durability issues, but some around the league think his potential is worth the gamble in the first round.

29. Indianapolis Colts -- Jake Fisher, OT, Oregon: With Gosder Cherilus' future up in the air because of injuries, offensive tackle is a possibility with this pick. Fisher isn't a consensus first round player, but he has intriguing upside in the mold of Colts' starting left tackle Anthony Castonzo.

30. Green Bay Packers -- Malcom Brown, DL, Texas: Opinions are all over the map on Brown's draft projection, but this might be his floor, which would be an absolute steal for Green Bay.

31. New Orleans Saints -- Phillip Dorsett, WR, Miami (Fla.): The Saints want to add more speed at the receiver position and Dorsett and Brandin Cooks would give Drew Brees a pair of the fastest athletes in the league.

32. New England Patriots -- Laken Tomlinson, OG, Duke: When asked to block in a square, Tomlinson can be dominant and with the needs the Patriots have on the interior offensive line, this marriage is possible.

SECOND ROUND
33. Tennessee Titans -- Dorial Green-Beckham, WR, Oklahoma: The Titans brought in the troubled wide receiver for a visit and if he's still available in the second round, the talent might be worth the risk.
34. Tampa Bay Buccaneers -- T.J. Clemmings, OT, Pittsburgh: Whoever is under center for the Bucs won't have a chance for success in the NFL if he doesn't have time to throw, an issue Clemmings will help alleviate.

35. Oakland Raiders -- Devin Smith, WR, Ohio State: Time will tell if Smith can become a more well-rounded receiver, but he is a nine route monster who can help the offense from day one.

36. Jacksonville Jaguars -- Landon Collins, SS, Alabama: The Jaguars have done a lot of homework on Collins in case he lasted to this pick. He does in this scenario and immediately helps the Jacksonville defense.

37. New York Jets -- Brett Hundley, QB, UCLA: With Geno Smith and Ryan Fitzpatrickon the roster, Hundley will be able to sit and learn in New York until he's ready for the field.

38. Washington Redskins -- Eric Rowe, CB, Utah: A versatile defensive back, Rowe is excellent value here for the Redskins with his ability to line up at free safety or cornerback.

39. Chicago Bears -- Eli Harold, DE/OLB, Virginia: Transitioning to a 3-4 scheme in Chicago, Harold gives the Bears a young, up-and-coming edge rusher with a bright future.

40. New York Giants -- Damarious Randall, FS, Arizona State: The Giants have question marks at safety and Randall is the top cover man in a weak class of safeties. He might not last this long…

41. St. Louis Rams -- Bryce Petty, QB, Baylor: The Rams traded for Nick Foles this offseason, but he is a free agent after the season and Petty would offer a development option at quarterback.
42. Atlanta Falcons -- Mario Edwards, DE, Florida State: If the Falcons can get Edwards to play with any consistency, he might be able to develop into the Michael Bennett of Dan Quinn's defense in Atlanta.

43. Cleveland Browns -- Nelson Agholor, WR, USC: After spending both first round picks on trench players, Agholor is almost a no-brainer if he lasts to the No. 43 pick for Cleveland.
44. New Orleans Saints -- Owa Odighizuwa, DE/OLB, UCLA: The Saints are expected to draft defense heavy and Odighizuwa would be a good fit as a versatile rusher in Rob Ryan's scheme.
45. Minnesota Vikings -- Benardrick McKinney, LB, Mississippi State: McKinney has his question marks in coverage, but he's tough downhill with the testing numbers that will get him drafted in the top-50 range.

46. San Francisco 49ers -- Jaelen Strong, WR, Arizona State: The 49ers signed Torrey Smith to a lucrative free-agent deal, but likely aren't done adding targets and Strong would be a terrific understudy behind Anquan Boldin.
47. Miami Dolphins -- Eric Kendricks, LB, UCLA: A prospect the Dolphins will likely consider in the first round, Kendricks is a tackling machine who can play inside or outside in Miami's defense.
48. San Diego Chargers -- Eddie Goldman, DT, Florida State: The Chargers could use defensive line depth in the front-seven and Goldman has the versatility to play in odd and even fronts.

49. Kansas City Chiefs -- Devin Funchess, WR, Michigan: Funchess brings size to the Chiefs' depth chart and gives the offense options as a versatile target who can line up outside, inline or in the slot.
50. Buffalo Bills -- Carl Davis, DT, Iowa: The Bills might have the most talented defensive line in the league, but Kyle Williams turns 32 over the summer and Davis provides depth.
51. Houston Texans -- Jalen Collins, CB, LSU: The Texans re-signed Kareem Jackson, but Johnathan Joseph is 31 years old and entering the final year of his deal.

52. Philadelphia Eagles -- Donovan Smith, OT, Penn State: The Eagles have only brought in a few offensive linemen for visits, one of them being Smith who has the ability but teams worry about the fire.

53. Cincinnati Bengals -- Danielle Hunter, DE, LSU: The Bengals ranked near the bottom of the league in sacks and pocket pressures last season and a player of Hunter's ability will help upgrade the pass rush.
54. Detroit Lions -- Tevin Coleman, RB, Indiana: Running back isn't the team's top need, but adding Coleman to the backfield with Joique Bell and Theo Riddick only makes the offense stronger.

55. Arizona Cardinals -- T.J. Yeldon, RB, Alabama: Yeldon is an ideal candidate for a committee backfield and Arizona will take advantage of his receiving ability out of the backfield.

56. Pittsburgh Steelers -- Maxx Williams, TE, Minnesota: With Heath Miller turning 33 years old this season, Williams would be an ideal understudy and eventual replacement for the Steelers.
57. Carolina Panthers -- Preston Smith, DE, Mississippi State: Despite drafting Kony Ealy in the second round last year, the Panthers need more depth on the defensive line and Smith provides versatility inside and outside.

58. Baltimore Ravens -- A.J. Cann, G, South Carolina: With both Kelechi Osemele andMarshal Yanda entering the final years of their contracts, Cann would be an excellent value pick for the Ravens here.

59. Denver Broncos -- Ali Marpet, G, Hobart: Denver has a few issues to address on the offensive line and Marpet could be the best interior lineman in this draft class three years down the road.
60. Dallas Cowboys -- Duke Johnson, RB, Miami (Fla.): If the Cowboys miss out on Gurley or Gordon in the first round, this pick becomes the sweet-spot for a running back and Johnson is a good fit.

61. Indianapolis Colts -- Ronald Darby, CB, Florida State: With Greg Toler entering the final year of his contract, Darby projects as his replacement in 2016, giving the Colts depth in the meantime.

62. Green Bay Packers -- P.J. Williams, CB, Florida State: Although a few off-field incidents will ding him, Williams is arguably a first round player, giving the Packers value here.

63. Seattle Seahawks -- Sammie Coates, WR, Auburn: A player with the size and home-run speed of Coates will give Russell Wilson and the Seahawks a true deep threat.

64. New England Patriots -- Ameer Abdullah, RB, Nebraska: New England's current backfield could use an injection of explosiveness and Abdullah brings burst and versatility as a pass-catcher.