2016 NFL Mock Draft: 49ers keep Jared Goff in the Bay Area
With a divorce on the near horizon between Colin Kaepernick and the 49ers, the quarterback situation in San Francisco is very much in flux. Former first round pick Blaine Gabbert has played better than expected in relief duty (65-percent completions, four touchdowns, three interceptions), but he's not a legitimate long-term answer for the franchise.
So who is?
It might be Cal's Jared Goff, who is no stranger to Northern California football. And ironically, if the 49ers draft the Golden Bear passer, Levi Stadium will be the farthest venue from San Francisco that Goff has ever played his home games (Levi Stadium is 42 miles from San Francisco, while Marin Catholic High School and the University of California are both within 20 miles of San Francisco).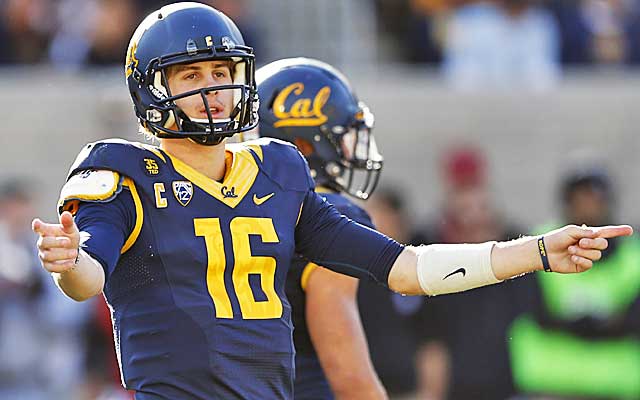 Team needs will change, the draft order won't end up this way and the prospects below will help and hurt themselves throughout the 2015 season. But if the draft was held tomorrow, here's how it might play out:
1. Tennessee Titans: Joey Bosa, DE, Ohio State
On the surface, pass rusher isn't high on the list of needs for the Titans, but Bosa's talent might be too much for Tennessee to pass. The Buckeyes' pass rusher can play with his hand on the ground or standing up and is the type of player you draft and alter your scheme to best fit what he can do.
2. Cleveland Browns: Paxton Lynch, QB, Memphis
The Browns are desperate to find the right answer at quarterback and will be doing their homework on all the passers in the 2016 class. Lynch has the size, athleticism and arm talent that translates well to the pro game and he continues to get better with added experience.
3. San Diego Chargers: Laremy Tunsil, OT, Ole Miss
The Chargers have mixed and matched along the offensive line all season and shouldn't pass on a talent like Tunsil with this top pick. He has the athleticism and upside to be a long-term starter at left tackle.
4. Dallas Cowboys: Myles Jack, LB, UCLA
The Cowboys defense needs help at each level, including at linebacker, especially with the futures of Rolando McClain (free agent) and Sean Lee (injuries) in doubt. Although currently sidelined with a knee injury, Jack has top-10 talent if his rehab is on track.
5. San Francisco 49ers: Jared Goff, QB, California
The 49ers and Colin Kaepernick are in the midst of a messy divorce and the franchise will be searching for his replacement. A San Francisco native, Goff still needs work, but his traits are extremely promising.
6. Baltimore Ravens: Jalen Ramsey, DB, Florida State
Baltimore cornerbacks Jimmy Smith and Lardarius Webb are locked into long-term contracts, but both have struggled to stay healthy and the Ravens can't pass up a talent like Ramsey if he's still available here.
7. Philadelphia Eagles: Robert Nkemdiche, DL, Ole Miss
The Eagles have several holes on defense and need to add depth at each level. Nkemdiche is an explosive 300-pound athlete who can be an inside penetrator or line up outside in the Eagles multiple front.
8. Miami Dolphins: Jaylon Smith, LB, Notre Dame
Miami needs to add athleticism at linebacker and Smith has plenty of speed. He isn't a power player, but has the range, instincts and competitiveness to start from day one.
9. New Orleans Saints: Laquon Treadwell, WR, Mississippi
Regardless of who is at quarterback, the Saints need to find the "new" Marques Colston – a large target with athleticism. That description fits Treadwell who is a less dynamic version of Dez Bryant.
10. Jacksonville Jaguars: Ronnie Stanley, OT, Notre Dame
Jacksonville has invested money and draft picks to improve the offensive line, but there are still question marks at several spots. Stanley needs mechanical refinement, but his dancing bear athleticism puts him in the top-10 discussion.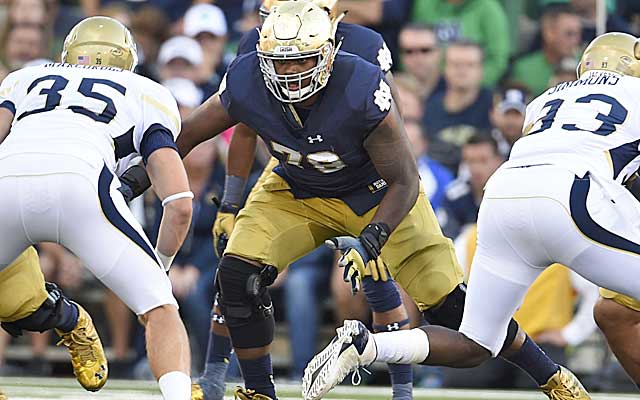 11. St. Louis Rams: Vernon Hargreaves, CB, Florida
With starting cornerbacks Janoris Jenkins and Trumaine Johnson in the final year of rookie contracts, the Rams might be looking for a corner or two in the 2016 draft. Hargreaves doesn't have ideal size, but the ball awareness and toughness help compensate.
12. Detroit Lions: Taylor Decker, OT, Ohio State
With a new front office, the Lions will be a wildcard in the first round, especially if Detroit makes a splash with one of the high-priced contracts (Matthew Stafford, Calvin Johnson, etc.) on the current roster. Decker is a plug-and-play option on the offensive line, which would address the Lions' issues at right tackle.
13. New York Giants: Emmanuel Ogbah, DE, Oklahoma State
The Giants rank near dead-last in the league in team sacks and aren't receiving the production they need from their edge rushers. Ogbah is among the NCAA leaders in sacks (13) and has the character and talent that fits the Giants' franchise.
14. Tampa Bay Buccaneers: Mackensie Alexander, CB, Clemson
Tampa will address the cornerback position next off-season, either in free agency or the draft, possibly both. Alexander doesn't have ideal size, but he has the speed and aggressive nature to blanket receivers.
15. Oakland Raiders: A'Shawn Robinson, DT, Alabama
The Raiders hit a home run with Khalil Mack up front, but need to continue and add depth on the defensive line. Robinson can play multiple spots in the trenches and gives Oakland flexibility.
16. Chicago Bears: Reggie Ragland, LB, Alabama
The Bears are far removed from the days of Brian Urlacher and Lance Briggs dominating the NFC and are missing impact players like that on the 2015 defense. Ragland has range, but his best trait is his aggressiveness downhill.
17. Buffalo Bills: Jonathan Allen, DE, Alabama
Buffalo hasn't received the production expected from the big names on the defensive line, largely due to injuries. Allen, who leads Alabama in tackles for loss (11.5) and sacks (9.0), gives the Bills much needed depth up front and might prove to be a better option than Mario Williams in Rex Ryan's scheme.
18. Atlanta Falcons: Kenny Clark, DT, UCLA
The Falcons have done a nice job vs. the run in 2015, but rank second-to-late in rushing touchdowns allowed and could use young depth in the trenches. Clark is a stout run defender who is tough to move from his spot.
19. New York Jets: Ezekiel Elliott, RB, Ohio State
With Zac Stacy the only running back currently under contract for the 2016 season, the Jets' backfield could look very different next year. Elliott has terrific balance, vision and lower body athleticism to move the chains every time he touches the ball.
20. Pittsburgh Steelers: Tre'Davious White, CB, LSU
The Steelers have needed cornerback help the last few years, but have struggled to upgrade the position through the draft. White isn't on the same level as the previous corners drafted in this mock, but his traits will translate well to the NFL game.
21. Washington Redskins: Andrew Billings, NT, Baylor
Although he said he will return to Baylor for his senior season, Billings is playing himself into a high draft pick and plans might change. The Redskins have used veterans to fill the nose tackle spot, but Billings would give them a long-term option.
22. Houston Texans: Connor Cook, QB, Michigan State
If Bill O'Brien is still the head coach in Houston next off-season, pencil in a quarterback for the Texans in the first round. And Cook has the prototypical skills for O'Brien's offense.
23. Seattle Seahawks: Adolphus Washington, DT, Ohio State
Seattle's defensive line depth needs restocked and Washington has experience playing nose guard, three technique and outside.
24. Kansas City Chiefs: Jack Conklin, OT, Michigan State
With Eric Fisher struggling and Donald Stephenson eligible for free agency after the season, offensive tackle could be the top priority this off-season for the Chiefs. Conklin doesn't have the athletic tools of Tunsil or Stanley, but he's effective in other ways that help him handle both speed and power off the edge.
25. Indianapolis Colts: DeForest Buckner, DE, Oregon
The Colts need to invest early draft picks on the offensive and defensive lines and Buckner would be a great start. A long, powerful run stopper, Buckner will never be a high volume pass rusher, but he cleans up vs. the run and keeps blockers busy.
26. Green Bay Packers: Jarran Reed, DT, Alabama
With Mike Daniels and the Packers failing to reach an extension before the season, there's a realistic chance he hits free agency after this season. Even if Daniels returns, Reed is worthy of this pick with his versatility that fits Green Bay's odd front.
27. Minnesota Vikings: Michael Thomas, WR, Ohio State
A lot of fingers can be pointed as to why the Vikings rank near the bottom of the league in passing yards, but the lack of perimeter weapons is a substantial reason. Thomas doesn't have elite speed, but he separates with crisp routes and displays NFL ballskills.
28. Denver Broncos: Jonathan Bullard, DL, Florida
With Malik Jackson and Derek Wolfe set to hit free agency after this season, the Broncos might be looking for new beef at the grocery store. Bullard, who splits his time inside and outside for the Gators, is one of the best run-defending linemen in this class.
29. Cincinnati Bengals: Corey Coleman, WR, Baylor
With Mohamed Sanu and Marvin Jones both in contract years, the Bengals could be looking for wide receiver help in the draft next April. Coleman hasn't faced NFL caliber competition at cornerback yet, but his performance so far in 2015 has everyone taking notice.
30. Arizona Cardinals: Noah Spence, DE/OLB, Eastern Kentucky
A true wild-card prospect, Spence has first round talent, there is no question about that. But the former Ohio State Buckeye has a history of drug abuse, although he has cleaned up his habits since being banned from the Big Ten. Arizona has the front office, coaches and locker room to take a chance on a boom or bust player like this.
31. New England Patriots: forfeited selection
32. Carolina Panthers: Jason Spriggs, OT, Indiana
The Panthers have received excellent production from the bargain bin at the free agent store, but also need to develop young draft picks at key positions, including left tackle. A former tight end, Spriggs has several traits that translate well to the NFL.