2016 NFL Mock Draft: Jared Goff, not Johnny Manziel, is the Browns' future
With Johnny Manziel likely on his way out of Cleveland, the Browns are back to the drawing board at the quarterback position. When asked about the future at quarterback on Sunday night, Browns owner Jimmy Haslam responded: "We do have the second pick in the draft." Cleveland will undoubtedly do its homework on this class of passers, but the more pressing question will be this: Do the Browns believe there is a quarterback prospect in this draft worth that high of a pick?
The top 20 order for the NFL Draft is set, but the teams selecting 21-31 are still tied to the outcome of the playoffs. If the NFL Draft was held tomorrow, here's how it might play out:
1. Tennessee Titans: Laremy Tunsil, OT, Ole Miss
Priority No. 1 for the Titans should be to protect Marcus Mariota, something they have struggled to do consistently in 2015. Tunsil is arguably the most talented player in this year's draft class and able to contribute from Day 1, pushing Taylor Lewan over to right tackle.
2. Cleveland Browns: Jared Goff, QB, California
There is a lot of unknown with the Browns organization right now, starting with the quarterback position. Many around the league are not sold on Goff as a "franchise" quarterback, but some are and if the Browns think he can lead a team to the playoffs, they can't pass on him.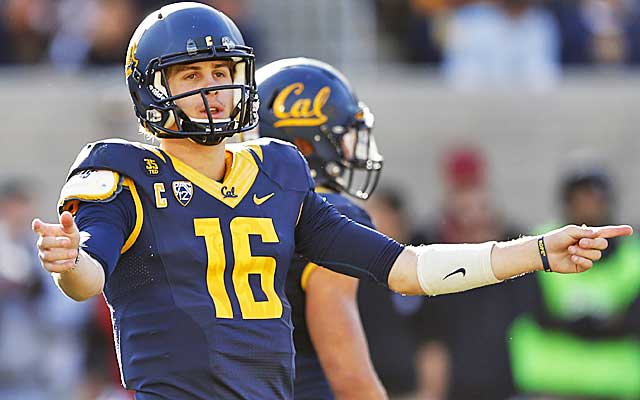 3. San Diego Chargers: Joey Bosa, DE, Ohio State
San Diego ranked near the bottom of the league in pass rush production in 2015 and needs to address the position in the draft. Although some will say he belongs in a four-man front, Bosa is scheme versatile with the skill-set and instincts to be a disruptive force from different spots on the defensive line.
4. Dallas Cowboys: Laquon Treadwell, WR, Ole Miss
The Cowboys will consider a quarterback here and need help on defense, but the window is closing with Tony Romo at quarterback and Dallas needs to surround him with more talent. Treadwell, who is similar to Dez Bryant with the way he attacks the football, would be an ideal fit opposite Dez.
5. Jacksonville Jaguars: Jalen Ramsey, CB, Florida State
The Jaguars have been searching for cornerback help for a long time, but haven't drafted the position in the first round since 1999. Ramsey has experience at safety and corner, but is better categorized as a versatile ballhawk.
6. Baltimore Ravens: Ronnie Stanley, OT, Notre Dame
Baltimore inked Eugene Monroe to a lucrative extension, but he hasn't been able to stay healthy, making it tough for the Ravens to rely on him to start 16 games in 2016. Stanley not only adds instant depth, but gives Baltimore a long-term plan at a position of need.
7. San Francisco 49ers: Paxton Lynch, QB, Memphis
The 49ers are in full rebuilding mode with needs all over the roster, including quarterback. With Blaine Gabbert under contract through the 2016 season, Lynch won't be asked to start right away, but can sit and develop at his own pace, giving San Francisco a long-term option at the position.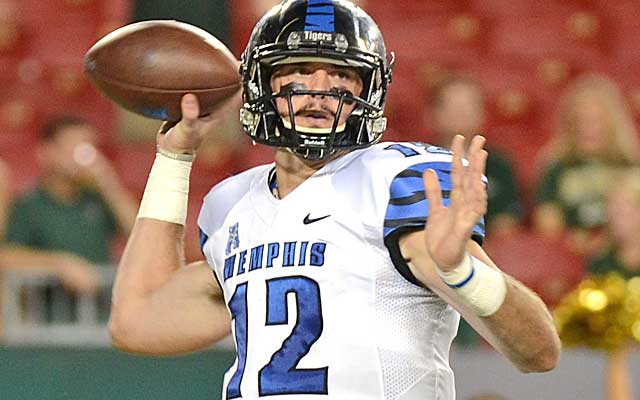 8. Miami Dolphins: DeForest Buckner, DE, Oregon
The Dolphins need to continue and invest in the defensive line and Buckner gives Miami another option on the edges.
9. Tampa Bay Buccaneers: Vernon Hargreaves, CB, Florida
Tampa will address the cornerback position next offseason, either in free agency or the draft, possibly both. Hargreaves is a tough-minded, instinctive cover man who is ready to start from Day 1 in the NFL.
10. New York Giants: Shaq Lawson, DE, Clemson
The Giants have an obvious hole at defensive end, which showed in the stat sheet, ranking 30th in the NFL in sacks this season. Lawson is an efficient pass rusher with the power, quickness and ball awareness that allows him to be successful.
11. Chicago Bears: Myles Jack, LB, UCLA
The Bears are far removed from the days of Brian Urlacher and Lance Briggs dominating the NFC and are missing impact defensive players on the current roster. Jack is an impressive athlete with outstanding instincts, showing the cover skills that will make him an instant contributor.
12. New Orleans Saints: Mackensie Alexander, CB, Clemson
The Saints haven't had much luck drafting cornerbacks in the early rounds, but the need is there. Alexander doesn't get his name mentioned much, but that's because teams stay away from his side of the field.
13. Philadelphia Eagles: Jonathan Allen, DE, Alabama
Whoever is hired as head coach in Philadelphia, the pass rush on defense will need to be addressed. Allen developed into a terror for opposing offenses this season and has the scheme versatility to play in even and odd fronts.
14. Oakland Raiders: Reggie Ragland, MLB, Alabama
A player who hits anything that moves, Ragland is a tone-setting linebacker who can play all three downs and will give the Raiders another impact player in the front seven.
15. St. Louis Rams: Connor Cook, QB, Michigan State
The Rams have a very talented roster, except at the most important position in sports: quarterback. With Jeff Fisher and Les Snead desperate to upgrade the position, Cook might be in play with this pick. He doesn't have a high ceiling, but is NFL ready now.
16. Detroit Lions: Taylor Decker, OT, Ohio State
With a new front office, the Lions will be a wild card in the first round, especially if Detroit makes a splash with one of the high-priced contracts (Matthew Stafford, Calvin Johnson, etc.) on the current roster. Decker is a plug-and-play option on the offensive line, which would address the Lions' issues at right tackle.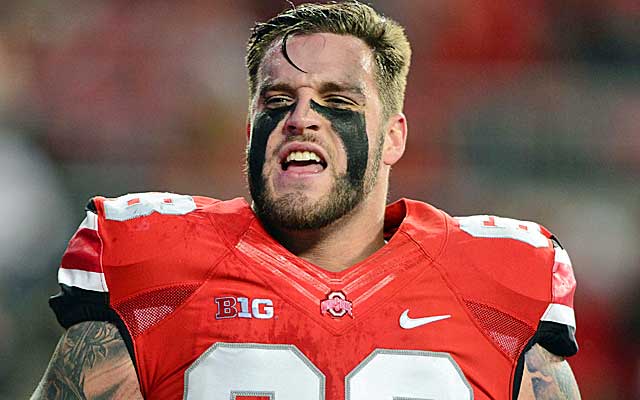 17. Atlanta Falcons: Robert Nkemdiche, DL, Ole Miss
Based on talent alone, Nkemdiche belongs in the top 10, maybe even the top three. But his off-field issues could cause him to tumble, which would be the Falcons' gain.
18. Indianapolis Colts: Ezekiel Elliott, RB, Ohio State
Indianapolis needs to improve the offensive and defensive lines, but the Colts have surprised in the first round the last few years and could again this year. Elliott isn't quite on the Todd Gurley level, but he's a complete back and will greatly help Andrew Luck and the passing game.
19. Buffalo Bills: A'Shawn Robinson, DL, Alabama
The vaunted Buffalo defense looked mediocre at times this season with many claiming that Rex Ryan's "scheme" was the issue. Robinson is a player who transcends scheme and would give Ryan a player who can play anywhere on the defensive line.
20. New York Jets: Leonard Floyd, DE/OLB, Georgia
The Jets have plenty of beef up front on defense, but need to add some sizzle on the edges to better put pressure on the pocket. Floyd is a lanky bender with pass rush upside.
21. Houston Texans: Carson Wentz, QB, North Dakota State
The Texans haven't selected a passer in the first round since their inaugural draft in 2002, but that should change this year. Bill O'Brien has been searching for the right guy to groom at quarterback and whether or not Wentz is that player, Houston needs to take a chance on a young signal-caller.
22. Washington Redskins: Andrew Billings, NT, Baylor
Although he said he will return to Baylor for his senior season, Billings is playing himself into a high draft pick and plans might change. The Redskins have used veterans to fill the nose tackle spot, but Billings would give them a long-term option.
23. Seattle Seahawks: Jack Conklin, OT, Michigan State
Seattle has several question marks on the offensive line, including the future of Russell Okung who is in a contract year. Conklin isn't the most athletic player, but he plays with patience and power to win the point of attack and control speed rushers.
24. Pittsburgh Steelers: Desmond King, CB, Iowa
Pittsburgh needs cornerback help and although King won't run the fastest 40-yard dash in Indianapolis, he has the aggressive ballskills and awareness needed to start in the NFL.
25. Kansas City Chiefs: Sheldon Rankins, DT, Louisville
The Chiefs are clicking on defense, especially up front, but like every team, Kansas City could use more depth. Rankins is a stout run defender with better than expected pass rush traits for a 300-pounder.
26. Minnesota Vikings: Corey Coleman, WR, Baylor
A lot of fingers can be pointed as to why the Vikings rank near the bottom of the league in passing yards, but the lack of perimeter weapons is a substantial reason. Coleman would add an explosive element to the offense and add one more playmaker for the defense to account for.
27. Green Bay Packers: Jarran Reed, DT, Alabama
Even with Mike Daniels locked up long-term, Reed is worthy of this pick with his versatility that fits Green Bay's odd front.
28. Denver Broncos – Jonathan Bullard, DT, Florida
With Malik Jackson and Derek Wolfe set to hit free agency after this season, the Broncos might be looking for new beef at the grocery store. Bullard can play multiple techniques on the defensive line and is a terrific run defender.
29. Cincinnati Bengals: Kenny Clark, DT, UCLA
The Bengals have been forward-thinkers lately with their first-round draft picks and adding a young nose tackle to take over for Domata Peko makes sense. Clark is a former all-state wrestler and a lot of those maneuvers carry over from the mat.
30. Arizona Cardinals: Noah Spence, DE/OLB, Eastern Kentucky
A true wild-card prospect, Spence has first-round talent, there is no question about that. But the former Ohio State Buckeye has a history of drug abuse, although he has cleaned up his habits since being banned from the Big Ten. Arizona has the front office, coaches and locker room to take a chance on a boom or bust player like this.
New England Patriots: forfeited selection
31. Carolina Panthers: Emmanuel Ogbah, DE, Oklahoma State
The Panthers need to upgrade the pass rush and add more talent on the edges this off-season. Ogbah is still scratching the surface and has the character that coaches will love.