2016 NFL Mock Draft: Rams appeal to fan base with California's Jared Goff
NFL fans in Los Angeles will certainly welcome back a Rams franchise which boasts two of the brighter young stars in the entire league in defensive tackle Aaron Donald and running back Todd Gurley. But for the relocation to pay off with long-term support from the notoriously fickle Los Angeles fans, general manager Les Snead and head coach Jeff Fisher need to finally find an answer at quarterback -- something the franchise has struggled to do since Marc Bulger led the team to its last playoff appearance 11 years ago.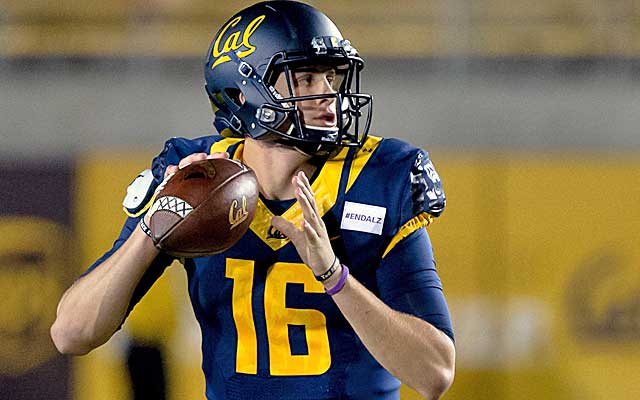 The questions about Jared Goff's relatively slight frame and true arm strength have made the California junior a little less popular among scouts than his media hype suggests, and he could still be on the board at No. 15 overall. That's where the Rams -- ever mindful of the bottom line -- could see the in-state product as the perfect pick to welcome back the fan base.
With free agency certain to shift team needs and the NFL Draft Scouting Combine likely to alter player rankings, here's the latest projection of how the first round of the 2016 NFL Draft will unfold.
1. Tennessee Titans: Laremy Tunsil, OT, Mississippi
Since 1996, the first selection of every NFL draft has been spent on a quarterback, edge rusher or offensive tackle. Given the big investments in Marcus Mariota and Brian Orakpo a year ago and the need for improved play at right tackle, Tunsil looks like the early favorite to be the Titans pick at No. 1 overall. Pairing Tunsil -- who scouts call a future Pro Bowler -- with 2014 first-round pick Taylor Lewan would give Mariota a chance to become the star this franchise needs to return to relevance in a winnable AFC South.
2. Cleveland Browns: Carson Wentz, QB, North Dakota
Showing not only all of the physical talent scouts are looking for in a franchise quarterback but the leadership and composure as well, Wentz stole the show at the Senior Bowl. Bigger and possessing a stronger arm than California's Jared Goff, Wentz is a better fit in Hue Jackson's offense and the elements that often come into play at FirstEnergy Stadium. An FCS prospect earning this high of a pick is certainly rare but not unprecedented. The Houston Oilers drafted the late Steve McNair out of Alcorn State No. 3 overall back in 1995.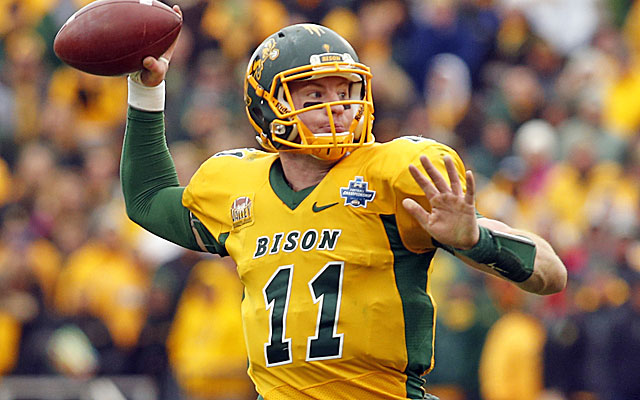 3. San Diego Chargers: Jalen Ramsey, CB/S, Florida State
Every indication is the Chargers are looking to move on from longtime standout safety Eric Weddle, a pending free agent. San Diego could see Ramsey as an ideal replacement. An Olympic-caliber athlete with instincts, size and physicality, Ramsey has starred all over the secondary and even at linebacker for the Seminoles, projecting best as a safety in the NFL.
4. Dallas Cowboys: Myles Jack, OLB, UCLA
The Cowboys face a critical decision with their first-round pick in 2016. This club is clearly more talented than the others with a top-5 pick and therefore a gambler like Jerry Jones might be tempted to add an immediate impact defender like Jack rather than select a quarterback to groom behind the 35-year old (and increasingly injury-prone) Tony Romo. Jack suffered a serious knee injury Sept. 23 but if teams are satisfied with his rehabilitation he'll draw top-five consideration. Voted the Pac-12's Offensive and Defensive Freshman of the Year in 2013 while moonlighting at running back and starring at outside linebacker, Jack has the playmaking pedigree Jones loves.
5. Jacksonville Jaguars: Joey Bosa, DE, Ohio State
With last year's No. 3 overall pick Dante Fowler, Jr. set to return in 2016 after a torn ACL ruined his rookie season, the Jaguars will already get a boost to the pass rush and therefore may prefer to address another position with this pick. But with Gus Bradley needing to win now despite a recent one-year extension, making an already stout defensive line that much stronger with the pro-ready (and Ft. Lauderdale native) Bosa is a terrific consolation prize.
6. Baltimore Ravens: Ronnie Stanley, OT, Notre Dame
The Ravens appear ready to move on from Eugene Monroe, a disappointment at left tackle since being acquired in a trade with Jacksonville. Scouts wish Stanley was a little nastier in the running game but his long arms and light feet make him a quality pass blocker.
7. San Francisco 49ers: Laquon Treadwell, WR, Mississippi
The hiring of Chip Kelly suggests that the 49ers may not throwing in the towel on dual threat quarterback Colin Kaepernick just yet. Kelly is always on the search for playmaking receivers and they don't come much more competitive than Treadwell, whose strength and body control would give San Francisco a much-needed weapon in the passing game.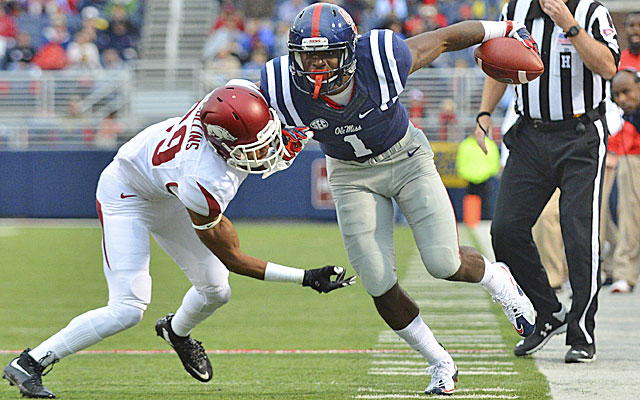 8. Miami Dolphins: Vernon Hargreaves III, CB, Florida
Despite fielding one of the more gifted defensive lines in the NFL, the Dolphins surrendered 31 passing touchdowns in 2015, more than any team which made the playoffs. Brent Grimes was the only cornerback to intercept a pass for Miami last year. The Dolphins won't have to look far for a playmaker with Hargreaves, a three-time All-SEC pick, recording 10 interceptions for the Gators over his career.
9. Tampa Bay Buccaneers: DeForest Buckner, DE, Oregon
The Bucs boast one of the NFL's best in four-time reigning Pro Bowl defensive tackle Gerald McCoy. Unfortunately, the rest of the defensive line remains a work in progress. At 6-foot-7, 290 pounds, Buckner has the bulk and strength to play both inside at defensive tackle and his customary defensive end role. While speed off the edge is important, in a division facing Cam Newton twice a year, size and strength up front is critical, as well.
10. New York Giants: Ezekiel Elliott, RB, Ohio State
Complementing Eli Manning and Odell Beckham, Jr. with a bell cow running back might be the fastest way of getting the Giants back into playoff contention. Elliott isn't the second-coming of Todd Gurley but he's clearly the top running back in this class, showing the all-around game to play on all three downs immediately.
11. Chicago Bears: Noah Spence, OLB/DE, Eastern Kentucky
Coach John Fox surprised many when he pushed for the Denver Broncos to select the "too small" Von Miller with the No. 2 overall pick back in 2011. He could see similar upside with Spence, a former five-star recruit who began his career at Ohio State and flashed dominance at the Senior Bowl. Spence comes with serious character red flags but he's the most explosive edge rusher in this draft, possessing the burst and bend to star for Fox and defensive coordinator, Vic Fangio.
12. New Orleans Saints:Jarran Reed, DL, Alabama
The Saints ranked last or close to it in virtually every defensive statistic in 2015, including points (29.8) and yardage (413.8) allowed per game. Taking advantage of this year's stellar defensive line talent to complement Pro Bowler Cameron Jordan up front is a sound strategy, especially with Reed. Known mostly for his strength and toughness as a run blocker for the Tide, Reed helped his cause at the Senior Bowl by getting after quarterbacks, too.
13. Philadelphia Eagles: A'Shawn Robinson, DT, Alabama
The Eagles have reportedly prioritized re-signing current defensive end Vinny Curry, whose burst and agility are a terrific fit in new defensive coordinator Jim Schwartz's scheme. Complementing Curry with the blue-collar run-stuffing Robinson would go a long way toward rebuilding the Eagles' defense.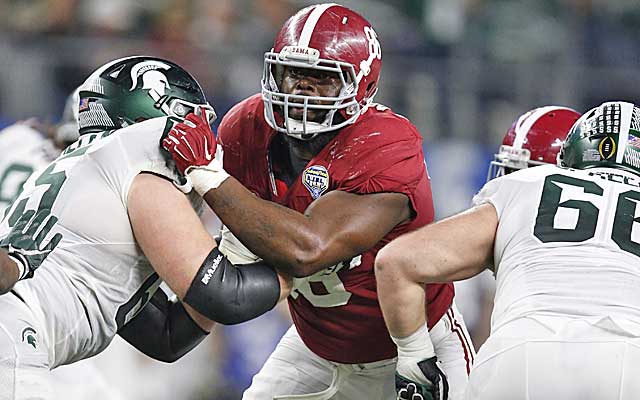 14. Oakland Raiders: Mackenzie Alexander, CB, Clemson
Raiders general manager Reggie McKenzie deserves a lot of credit for drafting Khalil Mack, Amari Cooper and Derek Carr over the past two years but his initial first round pick - cornerback D.J. Hayden - hasn't fared as well. Alexander is just a redshirt sophomore but scouts are enamored with his talent and upside.
15. Los Angeles Rams: Jared Goff, QB, California
With rookie Pro Bowl running back Todd Gurley and the playmaking Tavon Austin on offense and the NFL's most ferocious defensive line, the Rams are only a legitimate quarterback away from contention in the NFC West. Enter Goff, a relatively local product who grew up and starred in the Bay Area and whose familiarity could excite the "new" Los Angeles fan base. Goff lacks the build and arm strength scouts would prefer, but he is an instinctive quarterback who wins with anticipation and accuracy.
16. Detroit Lions: Shaq Lawson, DE, Clemson
The Lions have a growing star in Ziggy Ansah but have not yet sufficiently replaced former free agent losses Ndamukong Suh, Nick Fairley and Cliff Avril over the past few seasons. Lawson isn't the blue chip prospect that his NCAA-leading 25.5 tackles for loss would indicate, but he is powerful, agile and tenacious and, like Ansah, is still just scratching the surface of his potential.
17. Atlanta Falcons: Andrew Billings, DT, Baylor
It is hard to imagine Dan Quinn, a former defensive line coach, not pushing for help for a unit that allowed more rushing touchdowns (20) in 2015 than it had sacks (19), both worst in the NFL. The perceived problem isn't necessarily a lack of talent but consistency up front for the Falcons, which is why the powerful and passionate Billings could be a fit.
18. Indianapolis Colts: Sheldon Rankins, DT, Louisville
Along with the healthy return of Andrew Luck, the Colts need reinforcements throughout a run defense that allowed an average of 122 yards in 2015, 25th in the NFL. Rankins' quick burst and active, powerful hands make him an effective interior pass rusher - an area the Colts were especially lacking last season.
19. Buffalo Bills: Robert Nkemdiche, DL, Mississippi
The Bills probably should be looking for help on offense with this pick but as long as Rex Ryan has a say, the defensive line will get plenty of attention. Powerful and used to double-teams, Nkemdiche has the size and strength to be the defensive end Ryan had hoped Mario Williams would be. He's also quite athletic, boasting perhaps the most exciting raw talent as any defensive lineman in this draft. Ryan has never been one to shy from talent, even if it comes with red flags, as Nkemdiche does.
20. New York Jets: Leonard Floyd, OLB, Georgia
With explosive edge rushers Miller and Demarcus Ware mitigating Tom Brady's quick passes in the AFC Championship Game, the Broncos provided the rest of the NFL a manual on how to beat the New England Patriots. Adding a speed rusher like Floyd to complement an already stout defensive line could be exactly what the Jets need to end the Patriots' supremacy in the AFC East.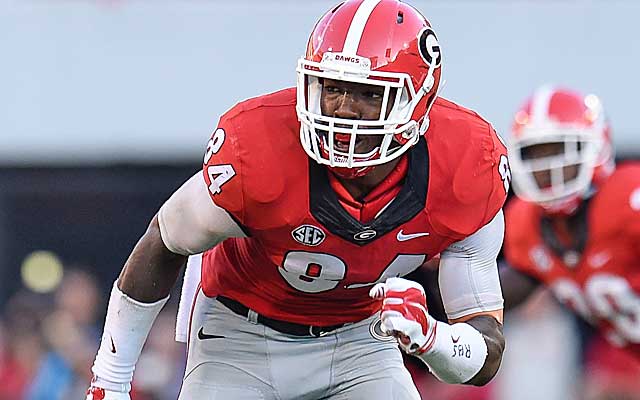 21. Washington Redskins: Reggie Ragland, ILB, Alabama
Washington surrendered 4.8 yards per carry on the ground over the regular season (31st in the NFL) and were even worse in the wildcard loss to the Packers, allowing 5.5 yards per attempt. The Crimson Tide, on the other hand, was among the stoutest run defenders in the country with Ragland, arguably the highest profile defender participating in the Senior Bowl, playing a starring role. General manager Scot McCloughan might see Ragland as able to provide an immediate impact similar to the one Patrick Willis made when Washington's top scout was heading up the 49ers front office.
22. Houston Texans: Paxton Lynch, QB, Memphis
Kudos to head coach Bill O'Brien and the Texans staff for winning the AFC South, but limitations at quarterback were key to Houston's early playoff exit, making an offseason upgrade a near certainty. Scouts are excited about Lynch's raw talent, which includes the big arm to make the deep sideline throws to effectively feature star wideout DeAndre Hopkins.
23. Minnesota Vikings: Darron Lee, OLB, Ohio State
Mike Zimmer clearly has the Vikings on the rise, with his club out-playing the two-time defending NFC champion Seahawks for much of their wildcard game loss. His fearsome defenders could be looking for a younger, cheaper alternative at outside linebacker than veteran Chad Greenway, a pending free agent. Lee has the awareness and closing speed to star against the run and in coverage, making him a potentially ideal replacement.
24. Cincinnati Bengals: Corey Coleman, WR, Baylor
The Bengals locked up A.J. Green to a huge extension prior to the season but virtually every other receiver on the roster is a pending free agent, including Marvin Jones and Mohammed Sanu. Coleman - the Biletnikoff Award winner who scored 20 touchdowns over the regular season - offers a different level of playmaking ability than Jones or Sanu, making him potentially the perfect addition to complement Green.
25. Pittsburgh Steelers: Eli Apple, CB, Ohio State
Pittsburgh's leaky secondary was a season-long issue with reinforcements almost surely coming in the offseason, whether via the draft, free agency or both. Apple has natural coverage skills, including the fluidity and quick hands to make plays on the ball. He was voted the Defensive MVP of the Buckeyes' Fiesta Bowl win over Notre Dame.
26. Seattle Seahawks: Taylor Decker, OT, Ohio State
Seattle's offensive line was a weak spot season long and with pending free agent left tackle Russell Okung likely to draw significant attention on the open market, the cap-challenged Seahawks may be forced to look to the draft for reinforcements. The 6-7, 315 pound Decker has the size and physicality Seattle's offensive line coach Tom Cable prefers at tackle and is athletic enough to block in space.
27. Green Bay Packers: Kenny Clark, DT, UCLA
Veterans Julius Peppers and B.J. Raji remained effective for the Packers in 2015 but they aren't getting any younger. General manager Ted Thompson is always on the lookout for pro-ready tough guys like Clark and he's familiar with Jim Mora's Bruins, having used a first round pick on former UCLA standout Datone Jones three years ago.
28. Kansas City Chiefs: Jack Conklin, OT, Michigan State
Eric Fisher has yet to live up to expectations after being selected No. 1 overall two years ago and depth remains an issue all over Kansas City's offensive line. Head coach Andy Reid, a former offensive line coach, himself, could be intrigued by Conklin, a former walk-on at Michigan State with the power and tenacity to fill in wherever needed.
29. Arizona Cardinals: Vernon Butler, DT, Louisiana Tech
Though youngsters Markus Golden and Rodney Gunter flashed as rookies, the Cardinals missed former standout Darnell Dockett's athleticism and versatility in 2015. General manager Steve Keim could see Butler as a bigger version of Dockett. The 6-4, 325-pound Butler offers rare agility for a man of his size, showing the disruptive ability to play all over the defensive line.
30. Carolina Panthers: Emmanuel Ogbah, DE, Oklahoma State
The Panthers could be facing big changes on defense soon with cornerback Josh Norman and tackle Kawann Short set for free agency and defensive end Charles Johnson's contract up a year later. Adding depth will be key in this draft. Ogbah lacks elite burst off the snap, but he's long, strong and relentless.
31. Denver Broncos: Jason Spriggs, OT, Indiana
Whether it is Peyton Manning or Brock Osweiler leading the Super Bowl champion Broncos next year, Denver will make reinforcing the offensive line an annual priority. Spriggs, a former tight end turned four-year starting left tackle for the Hoosiers, possesses the mobility to fit at tackle or guard in coach Gary Kubiak's beloved zone-blocking scheme.