Stanford QB Kevin Hogan's NFL Draft diary: From Rose Bowl to Senior Bowl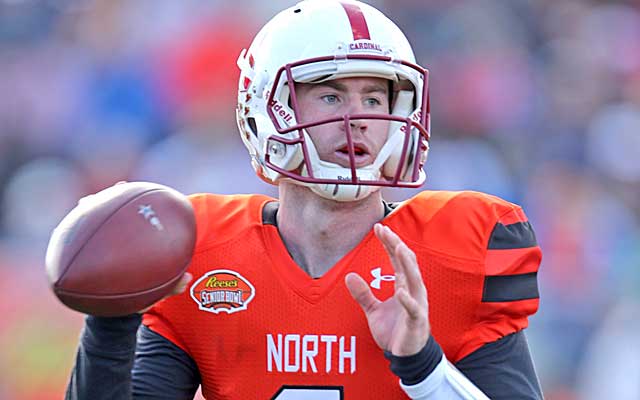 After redshirting behind Andrew Luck in 2011, Kevin Hogan emerged as one of the great quarterbacks in Stanford's storied history, leading the Cardinal to a school-record 36 wins (against just 10 losses) over a career culminating with a New Year's Day Rose Bowl championship over Iowa. The 6-foot-4, 217 pound Hogan completed 65.9% of his passes in Stanford's pro-style offense over his career, including throwing for 75 touchdowns against 29 interceptions. He rushed for another 1,249 yards and 15 touchdowns over his career, as well.
An aspiring NFL quarterback and author, Hogan has agreed to provide weekly updates through the 2016 draft for CBS and NFLDraftScout.com readers interested in following his journey to the NFL.
What's up everybody!
This is Kevin Hogan, formerly the quarterback of Stanford University. As some might know, but most may not, I've decided to write a book on my experiences at Stanford, highlighting my life as a student-athlete and all the amazing people I've come in contact with. I have a unique platform from which I feel obligated to share not just my story, but also the stories of those that make Stanford the place that it is. As I am currently pursuing my dream of playing in the NFL, putting all else on hold, and being the novice writer that I am, I figured what better way to sharpen my skills than to share my path to the 2016 NFL Draft. So here goes nothing ...
January 1, 2016: Is there a better way to begin the new year than standing on the hallowed Pasadena ground as Rose Bowl Champions? My teammates and coaches celebrated the culmination of an awesome season with hugs and pictures with the Leishman Trophy -- our second in four seasons.
Before we could let the celebration commence, we had to finish the game the same way we begin it, win or lose, with a team prayer. It was during that final prayer that the nostalgia began to sink in. This was the last time I was going to be with my boys in the locker room. Coach David Shaw said a few words and had the seniors stand to be recognized by our peers. Looking around the locker room at the guys I'd gone to battle with so many times, I couldn't help but feel an enormous amount of pride. I felt pride not just from what we'd accomplished, bouncing back from a devastating Week 1 loss to a great Northwestern team to finish the season 12-1 as Pac-12 and Rose Bowl champions, but also because of the men surrounding me in that locker room.
Some of those guys will become doctors, politicians, or scientists. Others will become entrepreneurs, engineers, or accountants. Some will go into public services; others will go into coaching or teaching. Some will continue to pursue their dreams in football. Regardless of where these men go, they will lead their fields in whatever endeavors they partake. I know this because I know the values, discipline, and work ethic instilled in us by our coaches, trainers and professors. I could go on and on about the people in that locker room, but I'm going to save that story for another day. It was a great feeling to end my college career in that fashion, but as with all things in life, we must move on.
***
After enjoying the weekend in Los Angeles and finally being able to gather my thoughts, I decided to return to Stanford for the following week because I needed to get some things in order. I needed to figure out where I was going to train leading up to the Senior Bowl, Combine and Pro Day, as well as making sure that my academics were where I wanted them to be. Most importantly, I needed a week of rest. Fans don't understand all that goes into playing the game of football, because they only see us on game day, but the game takes a tremendous toll on your body.
Some advised that I begin my training on January 4, but after talking to coaches and trainers that I trust, most importantly our head Strength coach Shannon Turley, I was convinced to relax, gather my thoughts and begin my training the following Monday, January 11. I spent some time with my academic advisors, to make sure that I had completed my degree in Science, Technology, and Society, because as we all know, you can't play football forever. Because Stanford is on the quarter system with graduation being in mid-June, most graduates are unable to attend minicamps and OTA's with the team they're drafted to because of the rule that you have to graduate before participating (unless you leave school early) so having my degree completed was of the upmost importance.
My major was an interdisciplinary, combining many different fields that I was interested in. I enjoyed STS because I got to take a variety of classes that ranged from communication and sociology to engineering and computer science. In my opinion, it is one of the best majors offered at Stanford because it is so broad and you can pursue many different careers with it. People ask me what my plans are after playing football, and the truth is I don't know. I've put so much effort into football over the past five years with the dream of playing at the professional level that I felt I would be doing myself a disservice to think about anything beyond football. While I excelled in the classroom and thoroughly enjoyed my major, why would I burn any bridges or eliminate any post-football options by determining a career that hopefully won't begin for many years? I am a firm believer that when you're doing something, you have to be 100 percent committed, and for as long possible, I am going to be 100 percent committed to football and figure out the rest after. Stanford University afforded me that ability.
After making sure everything was in order academically, I decided that I would continue my training in Southern California at Proactive Sports in Westlake, Village. My reasoning for leaving Stanford and the unparalleled instruction of Coach Turley to train was to remove myself from any distractions at school so that I could put my head down and grind. These are some of the most important months of my life and I wanted to leave no doubt about being all in. I felt comfortable heading down to Westlake because I would be with friend and Stanford teammate Aziz Shittu and I knew that there would be three great receivers to workout with.
***
Upon arriving at the gym owned by Ryan Capretta, I was pleased to learn that only 10 other players would be training at the facility, providing us with tons of individual coaching from the many trainers Ryan has on staff. The guys that I've been grinding with are Aziz, Tre Madden, Su'a Cravens, Jahleel Pinner, and Soma Vainuku from USC, Kenny Clark and Jordan Payton from UCLA, Devin Lucien from Arizona State, Jared Norris from Utah, and Braxton Miller from Ohio State. These guys are awesome. From the start you would've thought we'd been friends and teammates for years. The training staff does a great job motivating us and pushing us while also understanding the position that some of us were in with the Senior Bowl approaching on January 23 [more on this later]. Another aspect of the training that I was thrilled about was that it is very similar to the style that we emphasized at Stanford with flexibility and functional movement being most important.
As great as Ryan and his staff have been, the greatest news I received was when coach John Ramsdell agreed to be my quarterback coach and train me on position specific drills. Coach Ramsdell had just retired from coaching with the Carolina Panthers allowing him to work with me so I was thrilled to hear that he would be bringing his knowledge from 19 years in the NFL and experiences of coaching NFL greats such as Cam Newton, Phillip Rivers, Marc Bulger and Kurt Warner to work with me. Coach Ramsdell and I agreed that two weeks was much too short to tweak anything before the Senior Bowl so we focused more on the mental aspect of the game and what it takes to be quarterback.
When the Senior Bowl rosters were announced, I was pleased to hear that Braxton and Jordan would be my teammates. We had built chemistry in just those two weeks that we'd been throwing so it was a relief to know that we could carry it into the week of practice. With two weeks of solid training under my belt I felt confident heading to Mobile, Alabama with the opportunity to learn and compete with some of the best players in college football, under the instruction of the Dallas Cowboys coaching staff.
In my next post, I will share my experiences at the Senior Bowl, my goals with Coach Ramsdell heading into the NFL combine, and Super Bowl weekend spent in San Francisco. I apologize for the lengthy post, and as time goes on, my weekly posts will be much more brief. Hope you all enjoyed it and will continue to follow. God Bless.