2016 NFL Combine: Here are seven must-know underrated prospects
Evaluating NFL prospects is a year-round undertaking, beginning with a first look at the next class of top projected talent before the wake of a completed NFL Draft has even fully settled.
The process continues through the college football season and countless hours of film review leading into the all-star game circuit. Now 332 of the top prospects in the 2016 NFL Draft class are prepping for their biggest job interview -- next week's scouting combine.
Below are some players who made a strong impression during this year's pre-combine film study grind -- including several under-the-radar prospects who I had previously underrated.

Clicking on the player name will take you to a full profile, which includes a brief overview of the prospect's career along with specific strengths and weaknesses.
Players are listed alphabetically.

Kamalei Correa, OLB/DE, Boise State: Given that he recorded 19 sacks over the past two seasons, Mountain West fans certainly know Correa but most of the country won't learn his name (pronounced KAH-muh-lay / corr-AY-uh) until after the combine, where the 6-foot-3, 245-pounder will create buzz with his athleticism.

Keyarris Garrett, WR, Tulsa: Like Correa, Garrett's athleticism matches eye-popping production, with the 6-3, 223-pounder simply dominating the American Athletic Conference with his height, speed and body control to the tune of an NCAA-best 1,588 receiving yards in 2015.

Xavien Howard, CB, Baylor: The focus on any Art Briles-coached team is going to be on offense, but don't sleep on the rangy and athletic Howard, a classic press corner I expect to be the Bears' highest-drafted defensive back since the Baltimore Ravens selected Gary Baxter 62nd overall 15 years ago.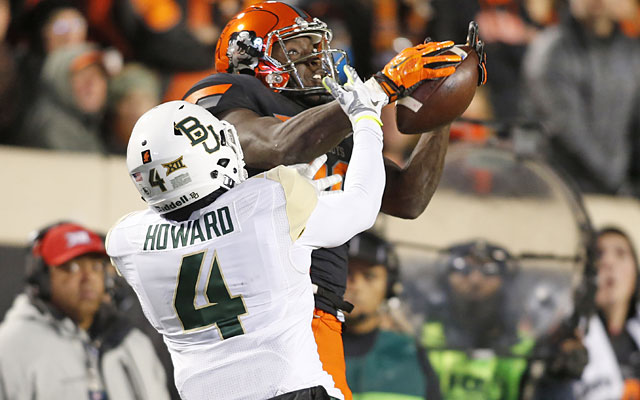 Joe Schobert, OLB, Wisconsin: It will be interesting to see how well the 6-2, 247-pound Schobert performs during the combine, but I really liked him on tape. Instinctive and slippery, he has a knack for slipping blocks and ripping the ball free.

Pearce Slater, OT, San Diego State: An immediate standout after signing as a JUCO transfer two years ago, the 6-7, 342-pound Slater is the earth-mover his size indicates, while also showing surprising coordination to block on the move.

Clint Van Horn, OT, Marshall: While perhaps not athletic enough to remain outside at right tackle (where he started the past three seasons for the Herd), Van Horn, a former walk-on, has the size (6-5, 310 pounds), strength and brawler mentality to project nicely inside at guard.

D.J. White, CB, Georgia Tech: I'm a sucker for players who perform their best under the bright lights, and that kind of poise is exactly what White demonstrated over his career. White may lack ideal size at a shade under 5-11, 189 pounds, but his awareness, competitiveness and knack for producing turnovers project well to the next level.