Accomplished Dak Prescott breaks the No. 1 rule in the NFL Draft process
The No. 1 rule for NFL prospects during the draft process: don't get in trouble. But year after year, players slip and make mistakes in the four-month job interview process leading up to draft weekend.
So the news that a mid-round NFL prospect was arrested Saturday morning for a DUI charge was unfortunately not a shock. However, it was surprising that the player was former Mississippi State quarterback Dak Prescott, whose character and leadership are reasons why NFL teams are so intrigued with him.
According to the The Clarion-Ledger, Prescott was pulled over by Starkville Police early Saturday morning and charged with driving under the influence.
Prescott put together a strong career résumé at Mississippi State as one of only four players in FBS history to throw for 70+ touchdowns and rush for +40 touchdowns. He did well at the Senior Bowl, NFL combine and Mississippi State's pro day over the last two months of the pre-draft process. But now, just seven weeks before the 2016 NFL Draft, his arrest is driving the discussion, not that he is one of the most accomplished players to ever come out of the SEC.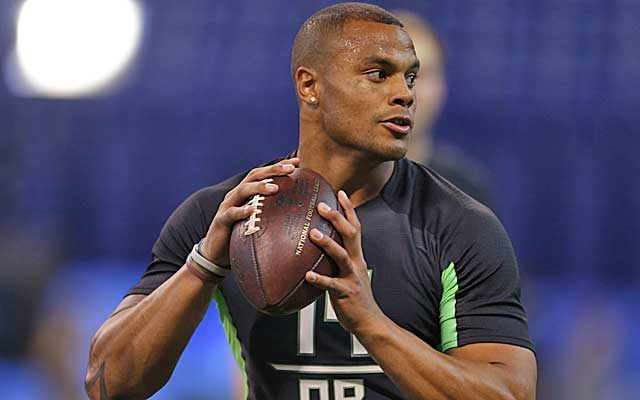 This type of situation will be treated differently by each club. Obviously it hurts Prescott's status and could cost him some money on draft weekend. However, it shouldn't be a freefall situation, mostly because he has built up enough goodwill with teams. Prescott is highly respected by his teammates and opponents alike and it is tough to find someone who will say a negative word about his character up to this point.
So teams who were interested in Prescott before will still be interested. But now they're going back to see if they missed something. Is there a habitual problem? Or was this one poor, untimely choice?
Prior to the incident, Prescott was ranked as the No. 6 quarterback prospect and projected borderline top-100 draft pick by NFLDraftScout.com.
The fact that Prescott is a quarterback adds another layer to the situation. Each team will view this unique situation differently, but regardless, it is an unfortunate turn of events for a player whose best traits are his poise and leadership.