More draft: Mock Drafts | Prospect Rankings | Pro day results, analysis
The 2014 NFL Draft has been characterized by media and NFL personnel as the deepest talent pool in years. Perhaps even more important, this class is especially rich in the premium positions valued in today's NFL.
As the league continues to gravitate toward the passing game, quarterbacks, receivers, left tackles, pass rushers and safeties have increased in value. These positions happen to be the strongest position groups of the 2014 class. On the other hand, this is a weaker than average year for traditional run-stuffing defensive tackles, inside linebackers and running backs.
My Big Board is not a mock draft, and does not factor in team needs. It is simply a ranking of the best 64 prospects in the country.
(*-denotes underclassman)
1. Jadeveon Clowney*, DE, South Carolina (6-feet-5, 266 pounds): There is no question Clowney failed to live up to expectations in 2013 from a statistical standpoint but as he demonstrated at the combine and at his pro day, the South Carolina star has a once-in-a-generation combination of size and explosiveness. Whether at defensive end or outside linebacker in a 3-4 alignment, he'll make an immediate impact in the NFL -- precisely why he has been my top-rated prospect since last spring.
2. Greg Robinson*, OT, Auburn (6-5, 332): Physical and tenacious, Robinson is a grizzly bear in the running game, mauling opponents with an exciting blend of size, strength and athleticism. Auburn's reliance on the running game, however, provided Robinson few opportunities in pass protection. With some polish, he could prove to be an Orlando Pace-like presence in the NFL.
3. Khalil Mack, OLB, Buffalo (6-3, 251): With an FBS-record 16 career forced fumbles and record-tying 75 tackles for loss, Mack's statistics jump off the page. Against the most gifted opponents he faced this past season (Ohio State, Baylor, Connecticut), it was his game that jumped off the screen. He shaved more than a tenth of a second off of his 40-yard time during his pro day, demonstrating the athleticism to intrigue scouts from 3-4 and 4-3 teams. That versatility will almost certainly land him a spot in the top six. As I've been reporting since January, some even view him as a dark horse candidate for the Texans at No. 1 overall.
4. Jake Matthews, OT, Texas A&M (6-5, 308): The son of Hall of Famer Bruce Matthews, Jake proves the cliché -- the apple doesn't fall far from the tree. He played well at left tackle last season after starring at right tackle for three years. Like his father, he projects well to any position along the offensive line. While perhaps not an elite athlete, Matthews is a terrific football player, demonstrating impressive technique, strength and consistency.
5. Sammy Watkins*, WR, Clemson (6-1, 211): Watkins lacks the elite size that helped A.J. Green, Julio Jones and Calvin Johnson earn top-six selections since 2007, but he does have virtually everything else -- including instant acceleration, impressive body control and the natural hands to pluck the ball outside of his frame. Watkins could go as high as No. 2 to the St. Louis Rams.
6. Teddy Bridgewater*, QB, Louisville (6-2, 214): There is no sense in sugarcoating it -- Bridgewater was disappointing during his March 17 pro day, showing less zip and accuracy than in any game I saw over his three seasons as a starter for the Cardinals. Rather than sling the ball with confidence, he threw tentatively, pushing the ball toward targets and forcing them to adjust too often. A case of nerves with an estimated 100 scouts in attendance isn't enough to drop him from my top spot among quarterbacks, especially given that Bridgewater previously impressed with his poise and accuracy during big games. Due to his accuracy and success in a pro-style scheme which asked him to come to the line of scrimmage with multiple plays and pick the correct one based on the defense, I believe Bridgewater to be the most pro-ready quarterback of the class.
7. Anthony Barr, OLB, UCLA (6-5, 255): Barr's emergence as an elite NFL prospects after languishing as a running back early in his college career has been well documented. Barr exploded in 2012 in his first season on the defensive side of the ball and backed it up with another spectacular campaign in 2013 -- 65 tackles, 20 tackles for loss, 10 sacks and five forced fumbles, earning him the Lott IMPACT Trophy. His burst and bend around the corner make him an immediate threat as 3-4 rush linebacker. He shaved nearly a quarter second off of his combine 40-yard time at UCLA's pro day, clocking in at 4.44 seconds and improved his numbers in the bench press from 14 to 19.
8. Blake Bortles*, QB, Central Florida (6-5, 232): A prototypically built pocket passer with good awareness, athleticism and arm talent, Bortles looks the part of an NFL star quarterback. He also played well against top talent (including South Carolina, Penn State and Baylor) and impressed me with his willingness to compete at the combine. He was good -- not great -- during his workout in Indianapolis and his March 19 pro day, demonstrating plenty of velocity but inconsistent accuracy, especially on the deep ball. Bortles did show improved footwork in his pro day workout, evidence that he may be just scratching the surface of his potential.
9. Darqueze Dennard, CB, Michigan State (5-11, 199): Quick feet, loose hips and a fluid turning motion make Dennard a classic cover corner capable of shutting down half the field. Dennard allowed only three completions in 31 passes of 15-plus yards last season, and was recognized with the Thorpe Award as the nation's top defensive back. A solid workout in Indianapolis eased concerns about his straight-line speed. Critics of his overall athleticism were rebuked when Dennard posted an 11-foot-2 broad jump -- which would have tied Baylor running Lache Seastrunk for the longest recorded from any player tested at the 2014 combine.
10. Justin Gilbert, CB, Oklahoma State (6-0, 202): With the NFL increasingly favoring offenses, the value of playmakers on either side of the ball has never been higher. Gilbert led the Big 12 with seven interceptions in 2013 and returned six kickoffs for touchdowns over his career. There are other defensive backs in this class who offer a more well-rounded game, but in terms of size, agility and speed, no cornerback offers a more intriguing skill set than the Cowboys star.
11. C.J. Mosley, OLB, Alabama (6-2, 234): While a bit undersized, Mosley might be the best pound-for-pound player in the draft. Athletic and instinctive, he is a true three-down linebacker capable of making plays against the run and pass. Mosley lacks the bulk scouts want in a pass rusher but his awareness in coverage is special. While the tape is phenomenal, Mosley has undergone multiple surgeries (knee, shoulder) over his career and could be the latest Alabama player to receive medical red flags from some evaluators.
12. Mike Evans*, WR, Texas A&M (6-5, 231): In dominating SEC competition the past two seasons, Evans has earned comparisons to Tampa Bay Buccaneers star Vincent Jackson, exhibiting a shocking combination of size, strength and deceptive speed. He is a nightmare to defend in jump-ball situations, a trait teams are finding increasingly valuable with the size of cornerbacks growing throughout the NFL. Evans sat on his numbers after a strong combine workout, but looked sharp in his cuts and displayed soft hands catching the ball from Johnny Manziel at their private pro day.
13. Zack Martin, OL, Notre Dame (6-4, 308): The vast majority of Martin's school-record 52 career starts came at left tackle but his squareish frame and 32¼-inch arms will earn him a projection inside to guard for many. Regardless of where he lines up, Martin plays with the controlled aggression I love along the offensive line, latching on and controlling opponents with excellent strength. Martin was the best player on the field in Mobile for the Senior Bowl.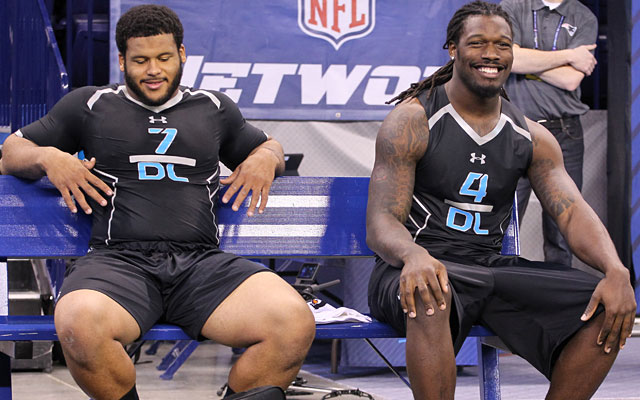 14. Aaron Donald, DT, Pittsburgh (6-1, 285): Given the way he dominated competition in the ACC, at the Senior Bowl and at the combine, no player has enjoyed a steadier rise up draft boards this year than Donald. His size likely limits him to a three-technique role in a 4-3 alignment but given the NFL's increasing reliance on the pass, he is entering the league at the perfect time to star in just this capacity.
15. Ryan Shazier*, OLB, Ohio State (6-1, 237): Shazier may lack elite size but his instincts, speed and bone-jarring hits make him a fearful defender that offenses must account for on every snap. Statistics don't always tell the story, but they do with Shazier, whose 143 tackles, including an eye-popping 22½ tackles for loss, not only led the Big Ten last season, they combined to rank among the best seasons from any Buckeyes defender over the past quarter century. Shazier's unique explosiveness also came through in tests. His 42-inch vertical jump led all participants at the 2014 combine and his 10-foot-10 broad jump ranked fourth. Shazier was also unofficially clocked at a staggering 4.36 seconds in the 40 at his March 7 pro day.
16. Taylor Lewan, OT, Michigan (6-7, 309): Massive, durable and ridiculously athletic for the position, Lewan's talent is obvious. The former defensive lineman plays with the tenacity and physicality you would expect but remains overly reliant on his natural tools. Further, he sometimes allows his emotions to get the better of him, too often drawing silly penalties throughout his career. His reputation as an instigator wasn't helped with news that he's facing three misdemeanor assault charges based on an incident outside of a bar in Ann Arbor hours after the Wolverines lost to Ohio State last season. Lewan has top-10 talent but in order to maximize his potential, he'll need to show improved maturity in the NFL.
17. Johnny Manziel*, QB, Texas A&M (6-0, 207): Manziel's vision, elusiveness and accuracy on the move make him a magician in the improvisational game. Red flags were raised with mediocre performances against LSU and Missouri to end the regular season, however, as each team was able to contain his backyard style of play by penning him in the pocket. Unable to create passing lanes with his feet, Manziel struggled with anticipation and accuracy. While there were no defenders at his March 27 pro day, Manziel did very well during a scripted 65-pass throwing regimen -- all while taking snaps from under center.
18. Kony Ealy*, DE, Missouri (6-4, 273): While teammate Michael Sam generates more media attention, scouts are increasingly intrigued by Ealy due to his impressive combination of size and athleticism. He led all defensive linemen at the combine with a 6.83-second time in the 3-cone drill -- a test designed to show change-of-direction ability, and shaved more than a fifth of a second off of his combine 40 time (4.92) at his pro day (4.70). He remains a bit rough around the edges, but Ealy is a highly versatile defender who projects well to the 4-3 and 3-4 alike.
19. Timmy Jernigan*, Florida State (6-2, 299): Jernigan played a critical role in the Seminoles' run to the BCS title, showing a unique burst to penetrate gaps as well as the leverage and strength to hold up against the run. He has a powerful frame that makes him well-suited to handling interior duties in the 4-3 or 3-4 alignment and has exciting upside.
20. Marqise Lee*, WR, Southern Cal (6-0, 192): A nagging left knee injury hampered Lee for much of the 2013 season, robbing the 2012 Biletnikoff Award winner of his trademark elusiveness and acceleration. Finally healthy in the Las Vegas Bowl against Fresno State, Lee showed off his playmaking ability, hauling in seven passes for 118 yards and two scores. Lee didn't look as dynamic during the combine, however, and elected not to try to improve upon his somewhat pedestrian 4.52 second 40-yard dash time at his March 12 pro day, increasing concern about his focus and long-term durability.
21. Calvin Pryor*, FS, Louisville (5-11, 207): Pryor was overshadowed a bit by Bridgewater with the Cardinals, but his stock will climb once scouts turn their attention to the instinctive and hard-hitting defender. He measured in smaller (listed at 6-2, 208 by the Cardinals' official website) and slower than scouts would have liked at the combine but certainly plays big and fast.
22. Louis Nix III*, DT, Notre Dame (6-2, 331): Though neither his combine nor pro day workout necessarily drew oohs and ahhs from scouts for aesthetic (or athletic) qualities, the portly nose guard proved during drills that he is fully recovered from the knee injury that ended his collegiate career prematurely. Stout, strong and surprisingly quick, Nix is the best nose guard of the 2014 draft -- a designation that could earn him a spot in the top 20.
23. Eric Ebron*, TE, North Carolina (6-4, 250): Ebron has a jaw-dropping combination of size and athleticism that has earned comparisons to 49ers star Vernon Davis. Like Davis, however, Ebron struggles with consistency, relying too much on his athleticism rather than dedicating himself to learning the finer techniques of the position. Some team may very well gamble earlier on Ebron's incredible upside than my ranking indicates, but he drops too many easy passes for a spot in the top 15 for me.
24. Brandin Cooks, WR, Oregon State (5-10, 189): Cooks has enjoyed quite the past six months -- winning the Biletnikoff as the nation's top receiver and then $100,000 at the combine from Adidas for running the fastest 40-yard dash time for anyone wearing a pair of the company's cleats. The real winner, however, could be the NFL team that takes the dynamic athlete in the first round.
25. Hasean Clinton-Dix*, FS, Alabama (6-1, 208): While Pryor ranks as my top all-around player at the position, Clinton-Dix has the fluidity, instincts and ball skills (seven interceptions in 19 career starts) to earn the title of the draft's best coverage safety. Clinton-Dix isn't without red flags, however. He flashes rather than dominates and wasn't as athletic during combine drills as expected. It is also worth noting how few of Alabama's highly regarded defensive backs have lived up to their draft status since leaving Nick Saban's tutelage.
26. Stephon Tuitt*, DL, Notre Dame (6-5, 304): Tuitt began his junior campaign out of shape (after missing spring due to hernia surgery) but played better as the year went on. Diagnosed with a Jones fracture in his foot at the combine, Tuitt was unable to work out in Indianapolis or at Notre Dame's pro day. Instead, he performed for scouts during a personal pro day and has since undergone surgery to repair the fracture. When healthy, Tuitt has shown a combination of size, strength and athleticism to earn comparisons to Richard Seymour from some scouts.
27. Dee Ford, DE/OLB, Auburn (6-2, 252): Ford dominated the Senior Bowl with his burst off the edge and surprising power. He has also shown intriguing agility when asked to drop into coverage, making him a candidate for virtually every team in the NFL. Medical red flags were raised at the combine due to an old back injury, but he worked out quite well at his March 4 pro day. If teams are satisfied with his medical, Ford is a cinch for the first round.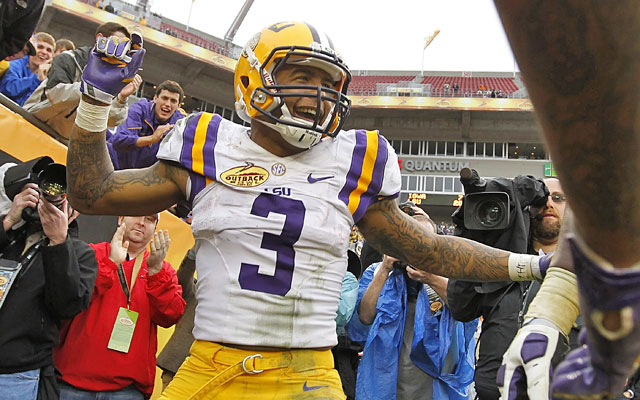 28. Odell Beckham Jr.*, WR, LSU (5-11, 198): Given the competition he faced in the SEC, it is a testament to Beckham's athleticism that he stood out as a big-play threat throughout his career. It is the overall improved concentration and consistency he demonstrated in his first season in Cam Cameron's pro-style offense, however, that makes him such an easy projection to the NFL. Beckham's well-built frame and explosiveness make him a potentially dynamic receiver and returner.
29. Jason Verrett, CB, TCU (5-9, 189): Verrett lacks the size so en vogue in today's NFL, but agility and ball skills never go out of style for cornerbacks. While light, Verrett is scrappy and tenacious, making him an ideal nickel corner with the tackling ability to threaten on an occasional blitz. He wowed at the combine with his speed but also raised concerns, announcing that he will undergo surgery after his pro day to repair a torn labrum.
30. Xavier Su'a-Filo*, G, UCLA (6-4, 307): Despite playing out of position at left tackle due to injuries to teammates, Su'a-Filo was voted the top offensive lineman in the Pac-12 by those who would know -- the conference's defensive linemen. Quick, powerful and balanced, he's equally effective driving defenders off the ball in the running game or settling in pass protection.
31. Derek Carr, QB, Fresno State (6-2, 214): Carr's staggering production (68.2 completion percentage, 50 TDs, 8 INTs) was certainly inflated by head coach Tim DeRuyter's QB-friendly spread attack and Fresno State's talented receiving corps, but any questions about his talent were put to rest with a stellar Senior Bowl week and an eye-popping pro day workout. In short, there is no doubt that Carr is the most gifted thrower in this year's draft class. But there are questions about his poise, in part due to the fact that he was 0-2 in bowl games with the Bulldogs.
32. Kyle Van Noy, OLB, BYU (6-3, 243): Van Noy may not be the most physical linebacker in the draft, but he might just be the most efficient. As he demonstrated throughout a spectacular career in Provo and again at the Senior Bowl, he's just as slippery and savvy in attacking the line of scrimmage as he is in dropping back into coverage.
The next 32
Kyle Fuller, CB, Virginia Tech
Cyrus Kouandjio*, OT, Alabama
Jimmie Ward, FS, Northern Illinois
Morgan Moses, OT, Virginia
Demarcus Lawrence, DE/OLB, Boise State
Troy Niklas*, TE, Notre Dame
Bradley Roby*, CB, Ohio State
Donte Moncrief*, WR, Mississippi
Ra'Shede Hageman, DT, Minnesota
Jimmy Garoppolo, QB, Eastern Illinois
Scott Crichton, DE, Oregon State
Trent Murphy, DE/OLB, Stanford
DaQuan Jones, DT, Penn State
Austin Seferian-Jenkins*, TE, Washington
Allen Robinson*, WR, Penn State
Davante Adams*, WR, Fresno State
William Sutton, DT, Arizona State
Kelvin Benjamin*, WR, Florida State
Weston Richburg, C, Colorado State
Bishop Sankey*, RB, Washington
Marcus Roberson*, CB, Florida
David Yankey*, G, Stanford
Tre Mason*, RB, Auburn
Marcus Martin*, C, Southern Cal
Bruce Ellington*, WR, South Carolina
Paul Richardson*, WR, Colorado
Marcus Smith, WR, Louisville
Carl Bradford*, ILB, Arizona State
Deone Bucannon, SS, Washington State
Trevor Reilly, OLB, Utah
Gabe Jackson, G, Mississippi State
Terrence Brooks, FS, Florida State