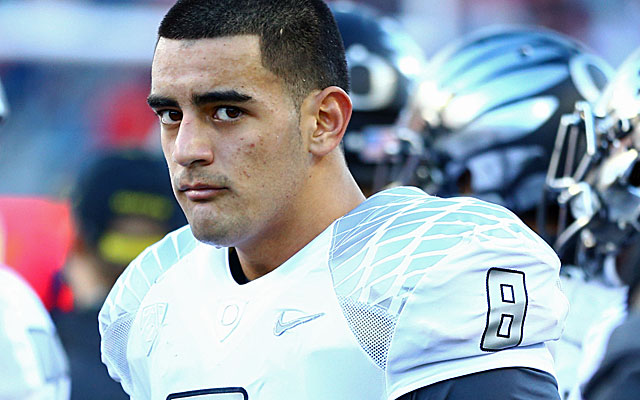 The 2014 NFL Draft? That's for the history books. Scouting prospects is a year-round exercise, and at this early juncture the 2015 class is shaping up to have the most intriguing quarterback talent in years.
Along with depth at pass rusher, offensive tackle and -- for the first time in three years -- running back, television ratings may again smash records. If a trio of quarterbacks make the early leap into the NFL, we could see another significant change with the Pac-12 overtaking the SEC as the conference of choice for first-round picks in 2015.
Player evaluations will fluctuate plenty between now and next spring. There is a full season to be played, and this time last year Southern California wide receiver Marqise Lee and Notre Dame defensive tackle Louis Nix were considered first-round locks for the '14 class. There are several players on this initial list who possess first-round potential but who must develop more consistency to fulfill their potential. One such talent -- former Missouri wideout Dorial Green-Beckham -- has already put his draft stock in flux with off-field issues that led to his being kicked off the team.
So take this initial Big Board ranking of the top 32 NFL prospects for 2015 as it is intended -- a fun peek ahead at who to keep a close eye on this fall.
1. Marcus Mariota, QB, 6-4, 212, rJr., Oregon: Say what you will about Jadeveon Clowney's elite talent, if Mariota had entered the 2014 draft he would have been the first overall pick. The Hawaii native is that kind of talent. Mariota has gained 20 pounds of muscle since signing with the Ducks, adding to his arm strength and retaining his remarkable speed. He's further along as a passer already than the player he's often compared to (San Francisco's Colin Kaepernick), and is only going to get better.
2. Cedric Ogbuehi, OT, 6-5, 300, rSr., Texas A&M: Former Aggies Luke Joeckel and Jake Matthews were the second and sixth overall picks the past two years, and Ogbuehi has more pure talent than either of them. Long-armed and remarkably light on his feet, he'll join them as a top-10 pick if he takes to left tackle in 2014 as easily as anticipated.
3. Leonard Williams, DE, 6-4, 290, Jr., Southern Cal: The Pac-12 has produced plenty of quarterbacks in recent years but not as many dominant defensive linemen. Therefore, when freakish players like Haloti Ngata, Star Lotulelei and Williams come along, they're tough to miss. Long, strong, athletic and passionate, Williams is a future top-10 pick.
4. Randy Gregory, DE, 6-5, 255, Sr., Nebraska: Pass rushers rank second only to quarterbacks in value in today's NFL and though the juco transfer remains a bit rough around the edges, his length, burst and powerful hands are undeniable.
5. Jameis Winston, QB, 6-3, 228, rSo., Florida State: Boasting the build, touch and on-field composure of an NFL pro already, Winston looks every bit the part of a top-five selection. He doesn't come without questions, however, including a slower-than-ideal release and repeated off-field mistakes that simply will not be tolerated at the next level. Frankly, he's closer to slipping down my board past fellow quarterbacks Brett Hundley (UCLA) and Kevin Hogan (Stanford) than he is to challenging Mariota for the top spot.
6. Andrus Peat, OT, 6-6, 312, Jr., Stanford: Given the fact that a number of highly regarded Stanford offensive linemen before him have earned plenty of buzz only to slip a bit on draft day, it isn't surprising that Peat isn't yet generating top-10 talk. Wait for others to watch the film, though. Peat is an extraordinary athlete with great size.
7. Brett Hundley, QB, 6-3, 222, rJr., UCLA: Hundley isn't yet as accurate as scouts would like, but he's a natural athlete with a fluid throwing motion who has made steady improvement throughout his career.
8. Landon Collins, SS, 6-0, 215, Jr., Alabama: Former teammate Ha Ha Clinton-Dix was rated the top safety in the 2014 class by NFLDraftScout.com. By the time he's done at Alabama, Collins may very well wind up ranking higher as he's stouter against the run and an even more coordinated athlete.
9. Shilique Calhoun, DE, 6-4, 250, rJr., Michigan State: It isn't often that a sophomore wins the Big Ten Defensive Player of the Year, but that is precisely what Calhoun pulled off in 2013. With more strength, the conference honors might be just the start a year from now.
10. Kevin Hogan, QB, 6-4, 228, rJr., Stanford: Hogan doesn't have the mobility of his Pac-12 peers but he is a savvy and refined passer with a good arm and underrated athleticism. He's not the second coming of Andrew Luck but has the tools to intrigue as a future franchise quarterback.
11. Amari Cooper, WR, 6-1, 205, Jr., Alabama: After a spectacular debut in 2012 in which he broke Julio Jones' school freshman records with 1,000 yards and scored 11 touchdowns, Cooper struggled with nagging injuries last year. He's an explosive athlete with excellent body control and hands who projects as a No. 1 target in the NFL.
12. Dante Fowler Jr., DE, 6-3, 266, Jr., Florida: An intriguing edge rusher with experience at linebacker and defensive end, Fowler is an explosive athlete with range and flexibility. He led the Gators with 10½ tackles for loss in 2013 and looks primed to explode in his second full season as a starter.
13. Devonte Fields, DE, 6-4, 240, rSo., TCU: The Horned Frogs consistently produce NFL talent and Fields looks like the next superstar. He missed all but the first three games in 2013 due to a foot injury but dominated the Big 12 as a freshman in '12, logging 18½ tackles for loss and 10 sacks.
14. P.J. Williams, CB, 6-0, 190, Jr., Florida State: Williams will have to prove he's just as effective in 2014 without the terrific safety tandem of Lamarcus Joyner and Terrence Brooks. He's fluid, fast and physical and could be on the verge of a breakout campaign.
15. Brandon Scherff, OT, 6-5, 315, rSr., Iowa: Hawkeyes head coach Kirk Ferentz is one of college football's elite developers of offensive lineman. In Scherff, he has yet another first-round prospect whose combination of power and technique should make him a plug-and-play right tackle in the NFL.
16. Todd Gurley, RB, 6-1, 232, Jr., Georgia: As a resident of the greater Seattle area I don't take comparing any back to Seahawks star Marshawn Lynch lightly, but Gurley runs with a combination of balance, burst and unabashed power that screams Beast Mode.
17. Ifo Ekpre-Olomu, CB, 5-10, 185, Sr., Oregon: Instinctive, athletic and tough in run support, Ekpre-Olomu has stood out in the pass-heavy Pac-12 throughout his career. He doesn't have the frame scouts would prefer, but the tape doesn't lie.
18. T.J. Yeldon, RB, 6-1, 218, Jr., Alabama: Say what you will about the lack of success of Alabama running backs in the NFL outside of Eddie Lacy so far, Yeldon has an impressive combination of vision, jump-cuts and acceleration.
19. Vic Beasley, OLB, 6-2, 235, rSr., Clemson: Beasley only emerged as a full-time starter last year but exploded with 23 tackles for loss and 13 sacks and considered making the NFL leap. Reportedly given a second-round grade from the NFL Advisory Committee after his junior season, Beasley is a natural pass rusher with a lightning first step.
20. Cameron Erving, OT, 6-5, 320, rSr, Florida State: Erving initially played defensive tackle for the Seminoles but successfully made the switch to left tackle in 2011. He is understandably a work in progress in pass protection but is aggressive, long and light on his feet.
21. Josh Shaw, CB, 6-1, 195, rSr., Southern Cal: The love affair with big, physical defensive backs isn't going away soon and Shaw, a Florida transfer, is a proven commodity at corner and safety.
22. Lael Collins, OT, 6-5, 315, Sr., LSU: Collins has a portly build better suited to guard in the NFL, but he possesses long arms, light feet and surprising balance for such a big man.
23. Shawn Oakman, DE, 6-8, 285, rJr., Baylor: Like Oregon's Arik Armstead, Oakman flashes rather than dominates at this time, but the Penn State transfer offers an incredible combination of size, power and athleticism.
24. Michael Bennett, DT, 6-3, 285, Sr., Ohio State: While not as explosive as 2014 first-round picks Aaron Donald and Dominique Easley, Bennett's burst and agility make him an intriguing interior pass rusher.
25. Jalen Collins, CB, 6-1, 195, rJr., LSU: The NFL is all about upside and scouts are buzzing about Collins' length and fluidity.
26. Melvin Gordon, RB, 6-1, 207, rJr., Wisconsin: No program is better at churning out NFL running backs than the Badgers, and Gordon offers as much juice as any of them, showing agility and breakaway speed to go with good size.
27. Carl Davis, DT, 6-4, 315, rSr., Iowa: The Hawkeyes are well known for producing offensive linemen and Davis has the frame of an NFL tackle, boasting long arms and a trim middle. His agility and strength make him an intriguing run defender who could fly up draft boards if he can improve against the pass.
28. Shaq Thompson, OLB, 6-2, 225, Jr., Washington: Over his first two seasons Thompson has proven every bit the standout expected after signing as a Parade All-American. Whether he remains at outside linebacker or makes the switch to safety in the NFL, scouts will appreciate his instincts and closing speed.
29. Devin Funchess, TE, 6-5, 235, Jr., Michigan: Funchess doesn't offer the bulk and tenacity to currently offer much as a blocker, but he has the speed to challenge the seam and can make the circus catch due to strong hands and incredible body control for a man of his size.
30. Kasen Williams, WR, 6-2, 212, Sr., Washington: Williams hasn't generated a great deal of national attention, especially after missing the final half of the 2013 season because of a fractured foot, but if he can prove his health, he'll catch scouts' fancy soon enough. Williams boasts an exciting skill set with a legitimate NFL build, acceleration and leaping ability.
31. Noah Spence, DE, 6-3, 252, Jr., Ohio State: Teams are always willing to gamble on athletic pass rushers, and Spence offers the blend of size, agility and strength to build upon a breakout sophomore campaign in which he led the Buckeyes with eight sacks.
32. Arik Armstead, DT, 6-7, 292, Jr., Oregon: Armstead hasn't played with the consistency to warrant this lofty projection yet, but he boasts extraordinary size and athleticism. Now that he's focusing on football rather than splitting his time on the basketball court with the Ducks, he could be ready to soar up draft boards.