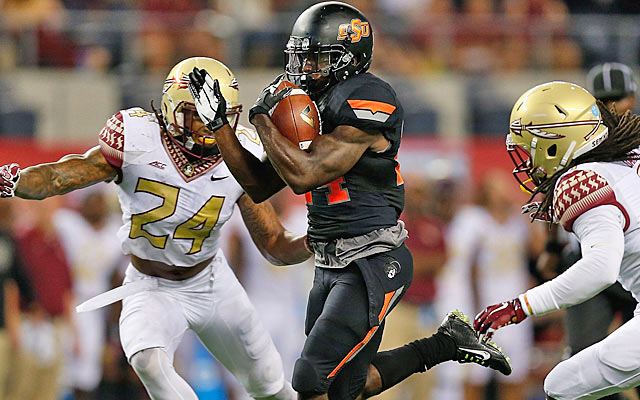 Oregon quarterback Marcus Mariota and Georgia running back Todd Gurley busted out of the gates in the opening week of college football season, proving why they're the top prospects at their positions. It was also easy to see what all the offseason fuss was about with Oklahoma State's new playmaker, Tyreek Hill.
The start of the 2014 season, unfortunately, wasn't as cheery for other highly regarded prospects. Quarterbacks Jameis Winston and Brett Hundley weren't as sharp in their 2014 debuts as expected. Potentially even more impactful, top defensive prospects Leonard Williams (Southern Cal) and Randy Gregory (Nebraska) suffered leg injuries that bear watching.
Much will change between now and the first pick of the 2015 NFL Draft. As it stands now, however, these are my top 32 NFL prospects in college football.
1. Marcus Mariota, QB, 6-4, 215, 4.52, rJr, Oregon: Questions of effort dogged Jadeveon Clowney throughout his road to the No. 1 overall pick in 2014 and critics are just as likely to rely upon Oregon's spread offense to knock holes in Mariota's game. Like Clowney, Mariota is blessed with rare athletic tools for his position. He has a strong, accurate arm and staggering straight-line speed, and though he's rarely credited for it, good awareness and instincts for the position.
2. Cedric Ogbuehi, OT, 6-5, 300, 4.98, rSr, Texas A&M: Former Aggies Luke Joeckel and Jake Matthews were the second and sixth overall picks over the past two years, and Ogbuehi has more talent than either of them. He stood out at right guard and right tackle the past two seasons, but his long arms and nimble athleticism have always projected him best to left tackle. Ogbuehi looked like a natural on the blind side in A&M's thrashing of South Carolina.
3. Leonard Williams, DE, 6-4, 290, 4.88, Jr, Southern Cal: The Daytona Beach, Fla. native has been a standout in the Pac-12 from the start, earning the conference's Defensive Freshman of the Year honors two years ago with 64 tackles, 13.5 tackles for loss and 8.0 sacks at defensive tackle and again last season with similar numbers at defensive end (74-13.5-6). When healthy, Williams shows rare athleticism for a man of his size. A sprained left ankle in practice on Sept. 2, however, is something to watch.
4. Randy Gregory, DE, 6-5, 255, Jr, 4.76, Nebraska: The 'Huskers hit a home run in the JUCO ranks with Gregory, who exploded for 66 tackles, 19 tackles for loss and 10.5 sacks during his first season of FBS football. Gregory needs to play stronger against the run but possesses all of the traits scouts are looking for in a pass rusher, including an explosive get-off, flexibility, long arms and active hands and tenacity. Like Williams, Gregory is already dealing with injury, as an "old" knee injury was aggravated in the season-opener against Florida Atlantic and required a scope Aug. 31, which is expected to sideline the Huskers' star for a game or two.
5. Jameis Winston, QB, 6-4, 235, 4.83, rSo, Florida State: After throwing just 10 interceptions during his Heisman-winning 2013 season, Winston was picked off twice in a season-opening win over Oklahoma State. To Winston's credit, he remained poised, demonstrating the mental toughness scouts are looking for at the position to go with his impressive physical talents.
6. Brandon Scherff, OT, 6-5, 315, 4.93, rSr, Iowa: Powerful, tenacious and technically-sound, Scherff may just prove the best in the long line of NFL linemen tutored by coach Kirk Ferentz.
7. Landon Collins, SS, 6-0, 215, 4.53, Jr, Alabama: Collins only emerged as a starter for the Tide in 2013, but his agility, speed and explosiveness as a hitter already has the NFL buzzing.
8. Shilique Calhoun, DE, 6-4, 257, 4.72, rJr, Michigan State: Calhoun earned the Big Ten Defensive Player of the Year last season (37 tackles, 14 tackles for loss, 7.5 sacks), his first as a starter. He isn't yet as strong as his frame suggests but has the burst, balance and bend scouts covet on the edge.
9. Vic Beasley, OLB, 6-2, 235, 4.58, rSr, Clemson: With pressure on the quarterback priority No. 1 on defense, teams are more willing than ever to trade size for speed off the edge. Like recent "undersized" first-round rushers Von Miller, Bruce Irvin, Barkevious Mingo and Dee Ford, Beasley boasts a lightning-quick first-step and the agility to stalk mobile quarterbacks.
10. Todd Gurley, RB, 6-1, 232, 4.52, Jr, Georgia: NFL teams can debate whether it is prudent in today's pass-happy era to invest a first-round pick in a running back, but every time Gurley steps onto the field he proves his talent. In a highly anticipated matchup against a talented Clemson squad, Gurley simply broke the all-time single-game mark at Georgia with 297 all-purpose yards and four touchdowns. Gurley's vision, power and acceleration for a man his size are rare, earning comparisons to Marshawn Lynch and former All-Pro Jamal Lewis from NFL scouts.
11. P.J. Williams, CB, 6-0, 190, 4.48, Jr, Florida State: Williams will have to prove he's just as effective in 2014 without the terrific safety tandem of Lamarcus Joyner and Terrence Brooks, but he's fluid, fast and physical.
12. Sammie Coates, WR, 6-2, 201, 4.36, rJr, Auburn: Coates' production (48 receptions for 1,016 yards and nine touchdowns) pales in comparison to others throughout the country, but he's a freakish athlete just scratching the surface of his potential.
13. Ifo Ekpre-Olomu, CB, 5-10, 185, 4.46, Sr, Oregon: Instinctive, athletic and tough in run support, Ekpre-Olomu has stood out in the pass-heavy Pac-12 throughout his career. He doesn't possess the frame scouts would prefer, but the tape doesn't lie.
14. Andrus Peat, OT, 6-6, 312, 5.28, Jr, Stanford: Peat possesses remarkable quickness and agility for a man of his size. With improved power and a nastier disposition on the field, he could leap to the top of the tackle rankings.
15. Dorial Green-Beckham, WR, 6-5, 225, 4.49, rJr, Oklahoma: The character concerns which prompted Green-Beckham's transfer from Missouri will certainly require investigating, but there is no denying his blend of size, acceleration and ball-skills. The skill-set is so rare, in fact, that DGB is likely to earn first-round consideration in 2015 even with the NCAA ruling the junior ineligible to play this year.
16. Brett Hundley, QB, 6-3, 227, 4.64, rJr, UCLA: The same intoxicating combination of size, athleticism and arm strength that has long intrigued scouts was evident in Hundley in the Bruins' 2014 debut (against Virginia), but so was the quarterback's frustrating tendency to drop his eyes and run at the first sign of a free rusher. To boost his stock, Hundley must learn better discipline. That may be easier said than done behind a leaky offensive line.
17. Devin Funchess, WR/TE, 6-5, 230, 4.73, Jr, Michigan: Funchess doesn't offer the bulk and power of a traditional tight end but split out wide in a Jimmy Graham role, his speed, strong hands and incredible body control make him almost impossible to stop. Just ask Appalachian State, which surrendered three touchdowns to Funchess in his first official game as a wide receiver.
18. Marcus Peters, CB, 6-0, 198, 4.52, Jr, Washington: Peters is a highly aggressive and physical press corner who entered his junior campaign with eight career interceptions and a knack for playing well against top competition.
19. Melvin Gordon, RB, 6-1, 207, 4.52, rJr, Wisconsin: Gordon answered any questions about whether he possessed "SEC speed" by galloping for 140 yards and a touchdown (on just 16 carries) against LSU in the season-opener. A hip injury suffered against the Tigers, however, limited Gordon to just three carries in the second-half and could threaten his draft stock, as scouts want to be sure he can handle a the lead job after splitting duty with Montee Ball and James White the past two seasons.
20. Lael Collins, OT, 6-5, 315, 5.12, Sr, LSU: Collins doesn't get the national attention of other tackles in this class, but the big man is surprisingly agile in pass protection and is a mauler in the running game.
21. Shaq Thompson, OLB, 6-2, 231, 4.56, Jr, Washington: Anxious to get to their playmakers closer to the line of scrimmage, the Huskies moved Thompson to linebacker after he signed with the team as a highly regarded safety. Thompson possesses excellent athleticism and is a reliable open-field tackler, but needs to show better strength and aggression at the point of attack.
22. Amari Cooper, WR, 6-1, 205, 4.56, Jr, Alabama: Cooper has great agility and first-step acceleration to generate big plays, but needs a healthy junior season (and less drops) to solidify his first round status after a disappointing sophomore campaign. He started off the season in fine form against West Virginia, showing off his trademark burst and hauling in a career-high 12 passes for 130 yards.
23. Kevin Hogan, QB, 6-4, 228, 4.72, rJr, Stanford: While clearly not the same pinpoint passer as predecessor Andrew Luck, Hogan offers many of the traits scouts look for in a franchise quarterback, including a strong, accurate arm, stout frame and natural scrambling ability.
24. Dante Fowler Jr., DE, 6-3, 266, 4.84, Jr, Florida: A talented pass rusher with experience at outside linebacker and all over the defensive line, Fowler is an intriguing athlete with range and flexibility. He led the Gators with 10.5 tackles for loss in 2013 and with improved strength and recognition, could easily surpass those numbers this season.
25. Spencer Drango, OT, 6-5, 315, 5.10, rJr, Baylor: Drango is lighter on his feet than his square-ish frame suggests and is balanced, powerful and savvy. His recovery from back surgery and the struggles of past Baylor offensive linemen in the pros could make him one of the more highly scrutinized offensive linemen this fall.
26. Carl Davis, DT, 6-4, 315, 5.24, rSr, Iowa: A classic two-gap nose guard or five-tech defensive end, Davis is broad, powerful and almost impossible to move off the line of scrimmage.
27. Cameron Erving, OT, 6-5, 320, 5.16, rSr, Florida State: Erving initially played defensive tackle for the Seminoles but successfully made the switch to left tackle in 2011. As he showed in allowing too much pressure off the edge against Oklahoma State in the opener, Erving remains a work in progress in pass protection but is aggressive, long and light on his feet.
28. Shawn Oakman, DE, 6-8, 275, 4.92, rJr, Baylor: Shockingly athletic given his imposing frame, Oakman registered an eye-popping 12.5 tackles for loss last year as a reserve: quite a feat considering it was his "rookie" season. Oakman sat out his first two years of college football due to a redshirt (2011) and transfer from Penn State (2012).
29. Josue Matias, OG, 6-6, 331, 5.32, Sr, Florida State: The second representative on my Board from the best offensive line in college football, Matias, starting his third year at left guard, has the height and agility of a tackle but the power and nastiness scouts prefer on the interior.
30. Mario Edwards, Jr. DE, 6-3, 294, 4.88, Jr, Florida State: Edwards looked a bit slow off the edge in the Seminoles' season-opener against Oklahoma State, but it is important to keep in mind that few 295-pounders rush out of the two-point stance, as he was asked to do against the Cowboys. Edwards' versatility, agility and strength are intriguing, but he'll need to show improvement in the coming weeks to remain on the Big Board.
31. Tyreek Hill, WR, 5-10, 185, 4.41, Jr, Oklahoma State: Hill, a JUCO transfer and track star, has played just one D-I game, so it may seem premature to list him here. That one game, of course, was the season-opener against Florida State in which Hill dashed through and around the defending champs for 278 all-purpose yards as a running back, receiver and returner. Raw? Sure, but explosiveness like this is rare.
32. Noah Spence, DE, 6-3, 252, 4.68, Jr, Ohio State: Teams are always willing to gamble on athletic pass rushers and Spence offers the blend of size, agility and strength to build upon a breakout sophomore campaign in which he led the Buckeyes with 8.0 sacks.
Just missed the cut
Ty Montgomery, WR, 6-2, 215, 4.42, Sr, Stanford
Gabe Wright, DT, 6-2, 285, 4.98, Sr, Auburn
T.J. Yeldon, RB, 6-2, 218, 4.46, Jr, Alabama
Michael Bennett, DT, 6-2, 288, 4.96, Sr, Ohio State
Trae Waynes, CB, 6-1, 183, 4.53, rJr, Michigan State
Denzel Perryman, LB, 5-11, 242, 4.72, Sr, Miami
Jalen Mills, S, 6-1, 189, 4.53, Jr, LSU
Jaelen Strong, WR, 6-4, 212, 4.55, rJr, Arizona State
Danny Shelton, DT, 6-2, 323, 5.17, Sr, Washington
Mike Davis, RB, 5-9, 216, 4.52, Jr, South Carolina

Rob Rang (@RobRang) is a senior analyst for NFLDraftScout.com