Matchup advantages in the passing game are more valued than ever, and with that in mind, scouts are salivating over one of the richest crops at tight end in league history.
Should gifted, if underutilized, underclassmen like Alabama's O.J. Howard and Virginia Tech's Bucky Hodges join a senior class led by Mississippi's Evan Engram, the first round of the 2017 NFL draft could feature as many as three tight ends. A trio of first-round tight ends has been a reality only once (2002) since the NFL adopted the seven-round format in 1993. Based on the first six weeks of the season, here is my ranking of the top 32 draft-eligible prospects in college football, The Big Board.
Players are listed by name, position, school, year, height, weight and 40-yard dash time
1. Myles Garrett, DE, Texas A&M, Jr, 6-5, 262, 4.74
A pesky ankle injury robbed Garrett of his trademark explosiveness in the showdown with fellow Big Board pass rusher Derek Barnett (No. 29) and the Tennessee Volunteers but he still registered a sack and forced fumble in limited duty. Garrett has proven much more disruptive than stats (14 tackles, including six tackles for loss and four sacks through five games) might suggest, consistently disrupting opponents despite frequent double-teams. The former consensus five-star recruit has been a terror since stepping onto the field for the Aggies, answering his breakout freshman season (53 tackles, including 14 for loss and 11 sacks) with an even better one last year (59-19.5-12.5). Boasting a prototypical blend of explosiveness, flexibility and length off the corner, Garrett has the look of a future Pro Bowl regular.
2. Jonathan Allen, DL, Alabama, Sr, 6-3, 292, 4.85
With 12 sacks last season, Allen was the most disruptive of Alabama's dominant defensive line a season ago. In fact, one of the reasons why A'Shawn Robinson and Jarran Reed surprisingly slipped into the second round in the 2016 draft is that talent evaluators realized the best prospect of the bunch -- Allen -- had returned to school. Allen has been every bit as good this season, registering 25 tackles, four sacks, two pass breakups, a blocked kick and a 75-yard touchdown return of a fumble through six games. Allen, who reminds me a little of Seahawks' Pro Bowler Michael Bennett, is position versatile with surprisingly light feet and dynamite sticks for hands.
3. Malik McDowell, DT, Michigan State, Jr, 6-5, 282, 4.92
McDowell made waves in the preseason by announcing his plans to return to East Lansing unless he was projected "in the top three." He may be rethinking these plans with the reigning Big Ten champs currently on a three game losing streak. While the Spartans are down, McDowell's stock is not because of his combination of length, strength and agility offer exciting position and schematic versatility at the next level.
4. Leonard Fournette, RB, LSU, Jr, 6-1, 230, 4.45
Fournette has slipped a few spots as he continues to battle an ankle injury and has watched fellow future NFL running back Derrius Guice put up Heisman-like numbers in his absence. At this point in the season, in fact, Guice is the Tigers' leading rusher with 402 yards and four scores compared to Fournette's 386 and two. Make no mistake, Fournette is an exceptional talent. Put simply, I believe he is the most exciting talent at the position since Adrian Peterson. Like Peterson, Fournette gets a lot of attention because of his rare combination of size, speed and power but his vision and agility are the stuff of legend, as well.
5. DeShone Kizer, QB, Notre Dame, rSoph, 6-4, 230, 4.84
Kizer is the most gifted draft-eligible quarterback prospect in the country with a prototypical blend of build, arm strength and functional athleticism. Intangibles -- pre-snap awareness and a calm demeanor -- scouts need to see are evident for this field general. He lacks consistency with just 17 career starts under his belt and teams will not overlook that Brian Kelly has produced just one NFL quarterback (2010 sixth-round pick Tony Pike, Carolina) in 26 seasons as a head coach.
6. Jabrill Peppers, SS/OLB, Michigan, rSoph, 6-0, 208, 4.48
Michigan is loaded with NFL prospects and Peppers, just a redshirt sophomore, is the best of the bunch. Peppers is the latest in a new line of defensive 'erasers' capable of lining up at safety, linebacker or cornerback similar in style to recent first-round picks Deone Bucannon, Damarious Randall and Shaq Thompson. Arguably the most versatile player in the country, Peppers leads Michigan in tackles for loss (10) and is averaging 73.7 all-purpose yards per game as a returner and runner.
7. Christian McCaffrey, RB, Stanford, Jr, 6-0, 202, 4.48
With his easy agility, instant acceleration and soft hands, McCaffrey is a weapon of mass destruction as a runner, receiver and returner, warranting comparison to another former Pac-12 star, Reggie Bush. Like Bush, McCaffrey lacks the bulk to be a true bell-cow back at the next level but his versatility translates very well to today's wide-open NFL. McCaffrey was "banged up" in Stanford's loss to Washington State according to head coach David Shaw, but don't blame him for the team's struggles. When healthy, he's been just as dynamic as he was last season.
8. Jamar Adams, S, LSU, Jr, 6-0, 211, 4.48
It is easy to mistake Adams for former LSU star Tyrann Mathieu, given their similar instincts and highly aggressive style of play. Like Mathieu, Adams possesses the agility and speed to handle coverage duties on slot receivers, possesses soft hands for the interception and is a tenacious run defender. Adams' kamikaze style of play can lead to occasional mistakes but he is always around the ball, including in LSU's 42-7 shellacking of Missouri in Week 5, when he led the team in total tackles (13) for the second consecutive week.
9. Cam Robinson, OT, Alabama, Jr, 6-5, 327, 5.28
As his monstrous size implies, Robinson is a road-grader in the running game and he has proven surprisingly quick in pass protection this season, distancing himself from the rest of the pack as the top offensive lineman in the country. A former five-star recruit who has starred at left tackle since winning the job as a true freshman, Robinson is an easy NFL projection with top 10-talent. Teams will have to investigate his decision-making off the field, however, given his arrest in May on guns and drug charges. The charges were later dropped.
10. Deshaun Watson, QB, Clemson, Jr, 6-2, 210, 4.64
Watson has guided the Tigers to a 6-0 start but troubling decisions with the ball and his struggles with shaky accuracy from inside the pocket are not what scouts want to see from a quarterback in his third season as a starter. Watson's slight frame and Clemson's relatively simple offense are other legitimate concerns. Watson's stock is slipping but he remains firmly in the first-round conversation at this point as he possesses exciting potential as a dual-threat quarterback and has proven his poise in big games.
11. Teez Tabor, CB, Florida, Jr, 6-0, 199, 4.52
Until this summer, Tabor's first name was Jalen, though his new name may provide a more accurate description of his game. Tabor teases with an exciting combination of size, fluidity and speed, standing out in coverage and as a gunner on special teams the past two years. After boasting about Florida's recent domination of Tennessee in the week leading up to their September 24 matchup, Tabor was beaten for a long touchdown, contributing to Florida's collapse. Tabor is one the nation's top smack-talkers but he usually backs it up. He was suspended (reportedly for a fight with a teammate) for Florida's season-opener but has three interceptions in four games since, including one in a close win over Vanderbilt.
12. Marlon Humphrey, CB, Alabama, rSoph, 6-1, 198, 4.53
The son of former Alabama (and NFL) standout Bobby Humphrey, Marlon looks like a chip off the old block with his easy change of direction and acceleration. He's built well for a young player at a solid 6-1, 198 pounds and is an aggressive tackler, including in run support. Humphrey and true sophomore Minkah Fitzpatrick gives Alabama the best duo of cornerbacks in the nation.
13. Reuben Foster, ILB, Alabama, Sr, 6-1, 240, 4.72
Reggie Ragland was the SEC Defensive Player of the Year last season but Foster could earn a higher draft selection this spring. Foster is a more explosive athlete, showing ridiculous closing speed and an utter disregard for his own safety or that of his opponents. Foster might be the most intimidating hitter in all of college football and he possesses the fluidity and speed to cover.
14. Dalvin Cook, RB, Florida State, Jr, 5-11, 206, 4.46
Cook struggled out of the gate this season but has been dynamic since, accumulating over 200+ all-purpose yards and at least one score in each of the past three games, including rushing for a cool 150 yards and hauling a 59-yard touchdown pass in Saturday's upset of Miami. While not as big as Fournette nor as explosive as McCaffrey, Cook is a natural runner with excellent vision, agility and burst who projects nicely in today's pass-happy NFL.
15. Zach Cunningham, LB, Vanderbilt, rJr, 6-3, 230, 4.74
Despite not starting until the fourth game of the season, Cunningham emerged as one of the most disruptive defenders in the entire country last year, earning First Team All-SEC honors with 103 tackles, 16.5 tackles for loss and four forced fumbles. He is following up last year's breakout campaign with 62 tackles, including 10.5 for loss this season, both most among all SEC defenders. Instinctive and aggressive in meeting and discarding blockers, Cunningham is well-suited to remaining inside at the next level but I believe that he's athletic enough to play outside, as well.
16. JuJu Smith-Schuster, WR, Southern Cal, Jr, 6-2, 220, 4.52
The touchdown machine scouts thought we'd be seeing this year returned in Week 5 with the powerfully built Smith-Schuster hauling in seven passes for 123 yards and three scores against Arizona State. Highly competitive with terrific body control to make tough grabs look easy, Smith-Schuster is a potential No. 1 target in the NFL, but I have reservations about his straight-line speed.
17. O.J. Howard, TE, Alabama, Sr, 6-6, 242, 4.57
Howard is the best tight end in the country even if he plays a relatively marginal role in the Alabama offense. He only has 13 receptions for 186 yards and a single score in 2016 but scouts saw what he could do when featured during last season's national title game against Clemson. His freakish combination of size, speed and strength make Howard a mismatch nightmare in the passing game and he's made major strides this season as a blocker.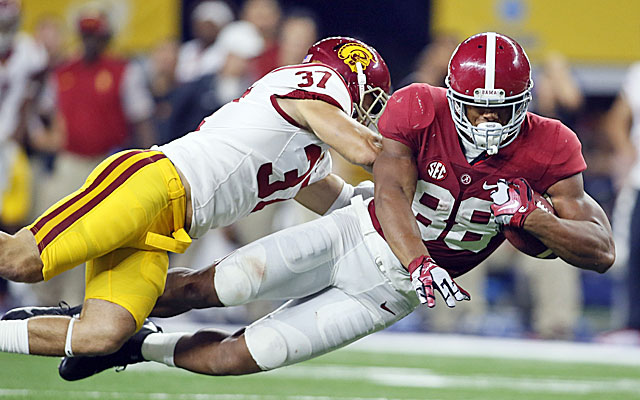 18. Carl Lawson, DE, Auburn, rJr, 6-2, 253, 4.67
With all due respect to the top-ranked Garrett, Lawson has been the best pass rusher in the SEC over the past month, already eclipsing his previous single-season high with six sacks so far this year. Finally healthy after missing 19 of 26 games over the 2014-15 seasons with a torn ACL and hip injury, Lawson is winning with a fearsome combination of initial burst, core strength and a relentless motor. He was voted the SEC's Defensive Lineman of the Week for his two sack (and forced fumble) performance in a road win over Mississippi State in Week 6.
19. Mike Williams, WR, Clemson, rJr, 6-3, 220, 4.50
According to Clemson coaches, Williams is in the same class athletically as former teammates Sammy Watkins, DeAndre Hopkins and Martavis Bryant. An imposing target with explosive speed and the body control to win contested passes, Williams is only a clean bill of health away from competing with Smith-Schuster to be the top receiver prospect in the country.
20. Desmond King, CB, Iowa, Sr, 5-10, 200, 4.53
King's eight interceptions last season generated most of his buzz and for good reason, as he showed terrific instincts, soft hands and a knack for making the big play at critical moments to earn the Thorpe Award as the nation's top defensive back. Average speed, however, led to King returning to his court as a senior and this could limit his stock in 2017, as well.
Best of the rest: 21. Lowell Lotulelei, DT, Utah, Jr, 6-2, 310, 5.28
22. Bucky Hodges, TE, Virginia Tech, rJr, 6-6, 245, 4.78
23. Adoree' Jackson, CB/WR/RS, Jr, Southern Cal, 5-11, 185, 4.43
24. Dan Feeney, OG, Indiana, rSr, 6-4, 310, 5.09
25. Charles Harris, DE, Missouri, rJr, 6-3, 255, 4.74
26. Royce Freeman, RB, Oregon, Jr, 5-11, 230, 4.49
27. John Ross, WR, Washington, rJr, 5-11, 190, 4.35
28. Chad Kelly, QB, Mississippi, Sr, 6-2, 224, 4.76
29. Derek Barnett, DE, Tennessee, Jr, 6-3, 257, 4.76
30. Dorian Johnson, OG, Pittsburgh, Sr, 6-5, 300, 5.20
31. Marcus Williams, FS, Utah, Jr, 6-0, 195, 4.56
32. Evan Engram, TE, Mississippi, Sr, 6-3, 227, 4.64