NFL Week 3 as told by Twitter: The Browns fail at tanking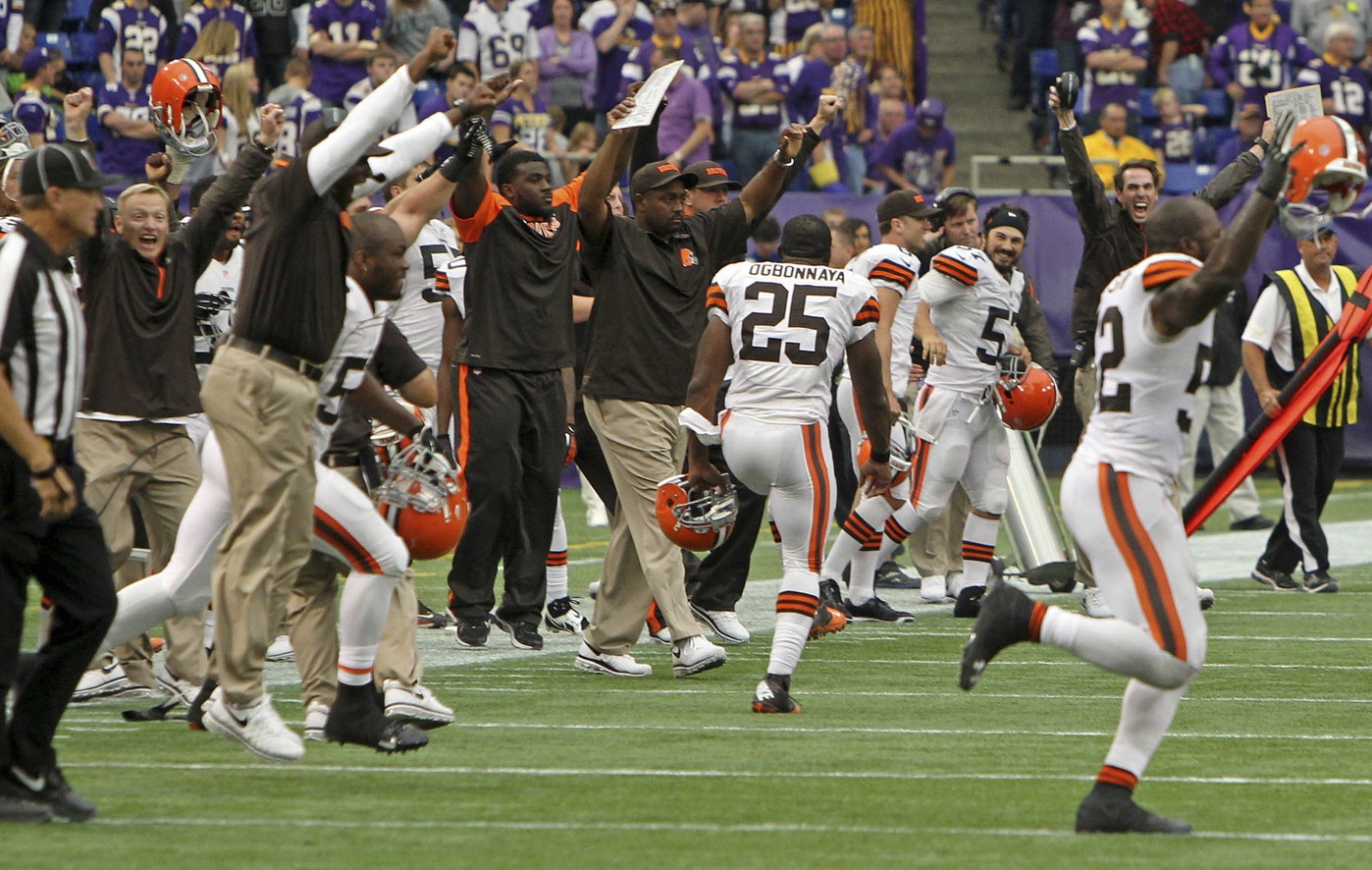 Just four days before the Browns' Week 3 game, it looked like Cleveland's season was over after just two weeks of football. Third-stringer Brian Hoyer was the starting quarterback and the third overall pick in the 2012 draft was now a Colt instead of a Brown.
Tanking for Teddy Bridgewater or Jadeveon Clowney seemed like Cleveland's goal.
Then the Browns won. That confused Twitter users who thought tanking was their target.
Addition by subtraction in Cleveland? Looked like Browns management took page out of movie Major League to discourage team, but win anyway.

— Chris Pika (@BlogAndTackle) September 22, 2013
Somebody in Cleveland is saying, "Browns can't even tank right."

— Tony Grossi (@TonyGrossi) September 22, 2013
Winning a game after deciding to play for next year is the most #Browns thing ever.

— Matt Miller (@nfldraftscout) September 22, 2013
Browns and Colts win. Maybe we'll see some more NFL trades this week...

— Andrew Brandt (@adbrandt) September 22, 2013
The Browns have won. If the NFL had relegation the Vikings would be on their way to the CFL.

— Ramzy Nasrallah (@ramzy) September 22, 2013
Being a Cleveland Browns fan is like watching Jurassic Park every week and cheering for the goat. (via @robfee)

— Funny Or Die (@funnyordie) September 22, 2013
Imagine if this Browns team had a running back

— Anthony Lima (@AnthonyLimaFAN) September 22, 2013
THE BROWNS WIN THE BROWNS WIN THE BROWNS *meteor*

— Spilly (@IAmSpilly) September 22, 2013
As for Trent Richardson's new team, this tweet perfectly sums up the Colts' methodical dismantling of last year's NFC champions.
Even Andrew Luck's TD celebrations look polite

— Matt Eurich (@MattEurich) September 22, 2013
The 49ers aren't the only 2012 NFC playoff team having trouble.
Ergo, Seattle is the only 2012 NFC Playoff team with a winning record. The other five are 1-2, 1-2, 1-2, 0-3, 0-3. #whatisgoingon

— Jason Kint (@jason_kint) September 22, 2013
The Jaguars are having trouble in all aspects of football, especially the offense.
Jacksonville offense at half: Five punts, four first downs, two sacks, one INT. It's like the 12 Days of Christmas of offensive futility.

— CBSSports.com (@CBSSports) September 22, 2013
Good news: The Jaguars have that stud third-round punter.
Field level. Behind #Jaguars bench... This guy. His sign... I maneuvered my way down to get this shot... pic.twitter.com/8h7FiUCWIq

— Hopeless Honky (@BoldCityCap) September 22, 2013
This is an appropriate way to define a career.
Incredible stat regarding Vinateri: made FG in 39 different stadiums. Testament to longevity since there are only 32 at a given time.

— Mike Lefko (@MikeLefko) September 22, 2013
Lions tight end Joseph Fauria actually performed 'N Sync's signature "Bye, Bye, Bye" dance after scoring a touchdown. After the game, he tweeted the lyrics to confirm his dance.
You may hate me, but it ain't no lie...

— Joseph Fauria (@BigJoeFauria) September 22, 2013