NFL commits to three games in London for 2014 season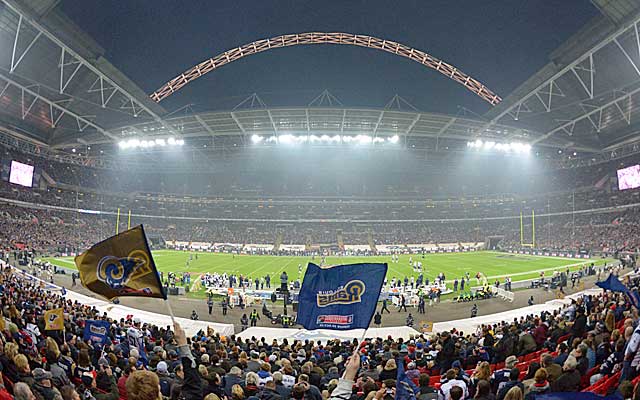 If you thought one NFL game in London was enough, the league defied you by adding two for the 2013 season. And if you thought two games per season were really good enough for the UK crowd, the NFL once again has disagreed.
In fact, the league announced at the owner's meetings Tuesday that three games would be played in London for the 2014 season. That means the Jaguars, the Falcons and the Raiders all will spend one of their home games away from the U.S. and will play in London instead. The dates and the opponents have not yet been announced.
"Our fans in the UK have continued to demonstrate that they love football and want more," commissioner Roger Goodell said. "Both of this year's games in London sold out quickly. The fan enthusiasm for our sport continues to grow. By playing two games in the UK this year, we are creating more fans. We hope that with three games in London next year we will attract even more people to our game."
The rowd for this year's Vikings-Steelers game did well, even though it featured a pair of winless teams at the time, as more than 83,000 souls jammed into Wembley Stadium to watch the NFL. The Jaguars play host to the 49ers at Wembley for Week 8, and Jacksonville will be going back to London every year for the next three seasons after this.
"The experience the Jaguars have had already in London has been every bit what we anticipated and more, and this is all before we've even played our first game in Wembley Stadium," Jaguars owner Shad Khan said. "We made the right decision to commit to playing a home game in London each season through 2016. The Jaguars have a broader worldwide fan base today and the anticipation for our London game later this month is shared by our loyal fans in Jacksonville, so it's a perfect scenario for everyone. The energy and appetite for the NFL in the UK is incredible. The Raiders and Falcons will see for themselves next season."