Broncos' John Fox fires back at Irsay over Peyton Manning comments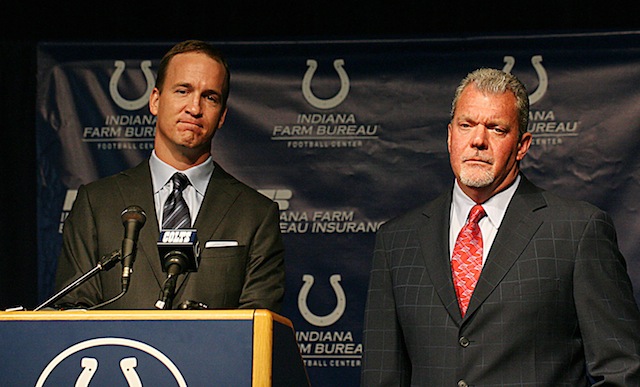 Not that Peyton Manning's return to Indianapolis needs another storyline, but we might have one anyway and it involves Denver's normally mild-mannered coach John Fox.
In an interview with SiriusXM NFL Radio on Tuesday, Fox was asked about recent comments that Colts owner Jim Irsay made about Manning in an interview with USA Today. Irsay's comments echoed remarks he made in July when he said he was 'disappointed' the Colts only won one Super Bowl during the Manning-era.
Fox didn't take kindly to what Irsay had to say.
"I saw the comments. And to be honest with you, I thought it was a bit of a cheap shot," Fox said. "To me, in my opinion, they were disappointing and inappropriate."
The Broncos coach then went on to say that Irsay sounded unappreciative of the 14 years he had with Manning.
"[Irsay's comments] sounded a little ungrateful and unappreciative to me," Fox said, before turning the subject back to Manning. "For a guy who has set a standard, won a Super Bowl, won division titles, won four MVP awards. I'd be thankful of that one Super Bowl ring, because a lot of people don't have one."
Rather than thankful, Irsay seems slightly irked he doesn't have another one. "We've changed our model a little bit, because we wanted more than one of these," Irsay said, holding up his right hand to show his Super Bowl XLI championship ring. "(Tom) Brady never had consistent numbers, but he has three of these. Pittsburgh had two, the Giants had two, Baltimore had two and we had one. That leaves you frustrated."
The big offensive numbers Manning put up in Indy were nice, but only one number seems to matter to Irsay and that's Super Bowl titles. "You make the playoffs 11 times, and you're out in the first round seven out of 11 times. You love to have the Star Wars numbers from Peyton and Marvin (Harrison) and Reggie (Wayne). Mostly, you love this," Irsay said, referring once again to his Super Bowl ring.
There's drama in every breakup and that seems to include Manning's split from Indianapolis. You can hear Fox's interview below.