Sorting the Preseason Pile: Which rookie QB starts first in 2014?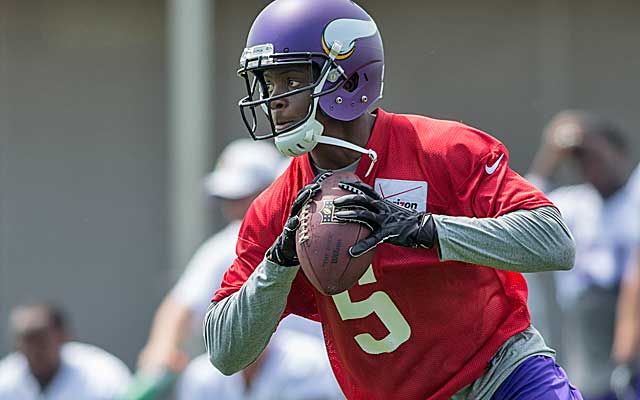 More NFL: Photos | Videos & GIFs | Stories | Training Camps | Johnny Manziel watch
Sorting the Preseason Pile takes a weekly look at the biggest storylines from around the NFL each week during the preseason.
A fortnight of training camp is already enough to completely confirm something we already knew: this crop of rookie quarterbacks will present more of a challenge for incumbents than their 2013 predecessors.
It won't mess with the success of 2012's class, which saw rookies largely handed the reins (with the exception of Russell Wilson) and none of those Day 1 starters fought off a serious challenger.
This presason is a bit more, well, complicated: Johnny Manziel, Teddy Bridgewater and Blake Bortles might all be the future of their respective franchises, but they'll have to fight to win a starting job out of the gate.
Johnny Manziel: Cleveland draws the most attention and it's not like the Browns are doing much to keep the hype around Johnny Manziel to a minimum. The team's instruction manual for handling the headline-bombing superstar must've gotten lost in the mail. How else would you explain this eight-step debacle:
1. Draft JFF
2. Act like JFF is NBD, on or off the field
3. Watch JFF party his a-s-s off around the country
4. Try not to panic
5. Panic
6. Issue public statements and comments about him growing up
7. Cut a hole in that box Keep suppressing expectations about JFF winning the job
8. Let "JFF closed the gap" chatter percolate
The latest move is the best though. Mike Pettine was asked a question about Manziel closing the gap (specifically: if he "would characterize" the quarterback competition as "closer than when training camp opened") and in the Browns initial transcript said he "would" characterize it that way. On the updated transcript? Not so much.
Don't read that much into it as everyone's audio was muffled (even the Browns!) and it doesn't really matter, right? Cleveland isn't a 10-win team. They're stockpiling talent and improving, but they are much closer to 10 losses than 10 wins right now, even if everything breaks right. So whether Pettine wants to say Manziel closed the gap -- or didn't -- is largely irrelevant.
Which means Brian Hoyer should hold onto the lead -- specifically, as my colleague Jason La Canfora noted during his camp visit, because of his experience -- for some time. Manziel's gonna play but given his style of play, the lack of weapons and his competition, the odds are against him.
Teddy Bridgewater: Meanwhile in Minnesota there's an entirely different type of situation unfolding. Bridgewater is the polar opposite of Manziel. Not only does he not care for the spotlight, he isn't "comfortable" talking about who will win the quarterback job.
Well, it could be him. Speculation out of Minnesota points to first-year coach Mike Zimmer giving Bridgewater the nod as the starter for the Vikes in their first preseason game.
There's limited upside to Matt Cassel, even under Norv Turner. He's a known factor and he's not changing his spots.
Bridgewater's biggest appeal is being pro ready out of the box. For all the ridiculous criticism heaped on the Louisville star before the draft, no one could point to him and say he was a "project," etc.
If he plays well, the upside he offers could/should outweigh the boring safety of Cassel, especially with the clock already ticking on the front office's selection of a franchise quarterback.
Blake Bortles: There's more patience available in Jacksonville, where the Jaguars seem completely content to let Bortles develop slowly, with Chad Henne playing the classic role of "bridge quarterback." He's a perfect bridge, really, and that's both a compliment and an insult.
Our Pete Prisco always argues teams should play the young guy (because you want to see what you've got) and he's taking that stand with Bortles, notably because it's possible the rookie is progressing faster than expected.
"On this night [the Jaguars scrimmage], even some so-called skeptics had to re-consider the idea that sitting him is the best option," Prisco writes. "The feeling is that Bortles is making bigger strides than most in the organization expected at this juncture."
At some point Bortles gets to play in 2014. Even if Henne plays well, it's hard to imagine the Jaguars storming into the playoffs (but they're better than people think!) next season. If they hit a stretch of losses, Bortles should get the nod. But given their insistence on patience, it's hard to imagine him winning the job for Week 1. It's certainly worth monitoring as training camp progresses though.
FOOTBALL. BACK.
OH, YEAH. Football is back, kind of. The Bills and Giants squared off in Canton, Ohio during Sunday night's Hall of Fame game. It was something that could be described as football, which is about as nice as you could be here.
The Giants unleashed their new offense under new offensive coordinator and former Packers coach Ben McAdoo. The results were mixed. The Giants left the starters out longer than they would've preferred, likely to generate some momentum. They got it in the third series of the game, marching down the field against Buffalo's second-team defense for an Andre Williams touchdown.
The Boston College rookie, a fourth-round pick, looked impressive, but so did free-agent acquisition Rashad Jennings, who finished with 43 total yards on seven carries and three catches.
Manning finished 6-for-7 but averaged just 6.41 yards per attempt. He did produce a pretty superb #ManningFace moment though.
"I thought it went well. We found completions. Obviously I had that one mistake with the sack and the fumble," Manning told NBC's Michelle Tafoya during an in-game sideline interview. "That third possession -- ran the ball well, found high-percentage completions and had a good drive to get a touchdown."
The hope is he turns in a Philip Rivers-like resurgence in 2014 and McAdoo is targeting 70 percent completions for Manning. Eli hit on more than that Sunday night but when the running back catches half your completions it doesn't say much about you winging the ball down the field.
EJ Manuel didn't make any really weird looks, but he shouldn't be happy with himself after finishing 2-for-7 for 19 yards. Once again, the Bills have weapons. C.J. Spiller should bounce back from a disappointing 2013. Sammy Watkins didn't get a chance to flash Sunday but he's been the talk of training camp. Robert Woods caught four balls for 49 yards and a score Sunday. Add Marquise Goodwin, Mike Williams (who looked good Sunday in limited action as well) and Marcus Easley/T.J. Graham and you've got the potential to put up points.
Concerns about the offensive line linger. Rookie Cyrus Kouandjio was abused multiple times during the preseason action. No telling if he's actually healthy.
Buffalo's defense stifled the Giants. And, again, the offense has potential. But they're only going as far as Manuel will take them. Scary proposition for the current Bills regime.
Rookie wideouts to watch
Down south in the NFC, a trio of teams drafted wide receivers in the first round. The Buccaneers took Mike Evans, the Saints took Brandin Cooks (and traded up to do so) and the Panthers took Kelvin Benjamin.
Benjamin easily felt like the biggest reach. Is it possible we just didn't consider he could maximize his potential? With his size (6-foot-5, 240 pounds), speed (4.61) and *catch radius* (roughly the circumference of Pluto) he can be a superstar. He flashed that way at times for Florida State last year. Best example was the Florida game, though it also showed off Benjamin's bad side as well.
He's "catching everything" and it's apparently "obvious" he's got the look of a No. 1 wide receiver. It is early and the preseason goggles are on, but if everyone but Dave Gettleman was wrong and Benjamin accelerates his growth as a wide receiver, he'll be by far the best weapon Cam Newton's ever had.
Meanwhile, Cooks continues to dazzle for the Saints in training camp. He fired everyone at the Greenbrier up early with a screen he took to the house ...
And basically every Saints practice/scrimmage/whatever is one big dance party for Cooks, who's been given every compliment in the book. No surprise as he's a speedy talent with high-end production in college and a good head on his shoulders.
When Sean Payton trades up for a first-round pass catcher, you can expect big things. Expectations might be getting out of control a bit at this point, but Cooks won't be asked to play the role of a "No. 1" in New Orleans offense.
He'll move around, do some Darren Sproles things and generally just hit home runs. It's going to be fun to watch.
Moving in reverse order, Evans also drew praise from Bucs camp.
Mike Evans had a solid day. Bullied CBs in redzone 1-1's. Vincent Jackson is the perfect guy for him to watch every day. Huge upside

— Daniel Jeremiah (@MoveTheSticks) July 31, 2014
Evans and Vincent Jackson are going to be a pair of massive downfield targets. The bigger concern there is Josh McCown.
Home sweet home to me
It's entirely possible the highlight of the entire 2014 NFL season will end up being Peyton Manning dancing a jig to Rocky Top during Broncos training camp.
And this is the Internet so now Manning's dance moves are set to "Pony" by Ginuwine.
War of attrition
The Colts aren't a "premier" team in the AFC quite yet, sitting nicely behind the Broncos and Patriots until they put the necessary pieces around Andrew Luck. This past week was a major blow for them on that front, losing several critical players.
First we saw Vick Ballard go down for the year with an Achilles injury, then starting guard Donald Thomas suffered a quad injury and will miss the year as well.
Suddenly even more weight is placed on Trent Richardson's potential success and Ahmad Bradshaw staying healthy.
In light of the issues facing Indy before the calendar even flipped to August, Pep Hamilton put it well:
In the wake of injuries to Ballard/Thomas, #colts OC Pep Hamilton reiterated stance NFL is 'war of attrition.' Truth.

— Mike Chappell (@mchappell51) August 1, 2014
On the other hand, having to pass the ball or create an up-tempo offense with Andrew Luck in charge and Reggie Wayne/Hakeem Nicks/T.Y. Hilton/Da'Rick Rogers/Donte Moncrief catching passes wouldn't be the worst thing in the world. It's just not the gameplan.
Potent quotables
Worth 1,000 words